Instagram images come in all shapes and sizes. But when they are on the wall of a gallery instead of just existing on the iPhone or Android app, the once ephemeral images cast with filters take on a completely different meaning. As Duchamp did with a urinal nearly 100 years ago, Instagrammers are doing with throwaway ephemeral imagery – taking it out of the massive social Web stream and putting it in a gallery.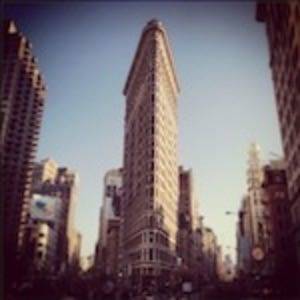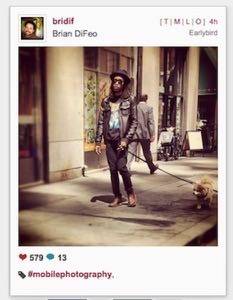 In New York City, Brian Difeo, head of the Instagram NYC community, recently put on an exhibition of Instagram images. His aim with the show was to elevate the Instagram image to new heights. Instagram users become "Insta-artists" who are documenting their daily lives in New York City using the tiny mobile photo-sharing app. But it's not really possible for Instagram to truly escape its associations with twee hipsterdom. Perhaps it's the comments and little heart "likes" that make the disassociation truly impossible.
Difeo explains that there are 41 images in the show all culled from six of Instagram's most popular NYC photographers, including @bridif, @astrodub, @johndeguzman, @newyorkcity, @uptowneastnyc and @cxcart. DiFeo includes himself as one of the six people in the exhibition. A total of twelve images were submitted through the W Times Square's social media contest. Instagrammers were asked to tag their photos with #wdesign for a chance to win a spot in the exhibition. Users also had to follow the Instagram page.
"We received more than 6,000 entries ranging from interesting viewpoints of the city's skyline to urban street art found on buildings and murals throughout the boroughs," said Jim McPartlin, the GM of W Hotels who spearheaded the project alongside DiFeo.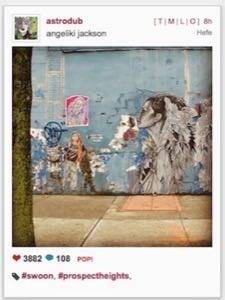 In Fort Lauderdale, Florida, at almost the same time, another Instagram exhibition was going on. Joshua Miller, the executive director of C&I Studios, decided to put together an Instagram art show. Using the hashtag #CIPhotoADay, he ran a photo-a-day contest for 25 days. Every day people submitted photos based on the theme.
"When has your brother or your sister ever been able to show their stuff at an art gallery?" says Miller. "I love using Instagram and so does my staff, and there are tons of people who aren't professional photographers but can do amazing stuff with Instagram."
In total, the space received about 1,600 images. Many of the people who submitted them came by the studio on opening night to see them in the flesh. Miller and his team downloaded the Instagram images from the Internet and printed them out, and hung them on the wall. In the gallery, they handed out little red hearts, and people were able to just stick them onto actual images that they "liked" or "loved."
Some of the categories included "international," "sky," "eyes" and "nature." The images were arranged around the gallery in clusters.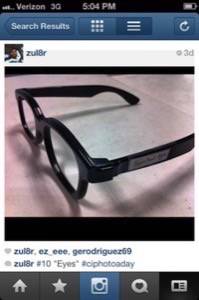 Instagram Redefines the Term "Amateur Photography"
Amateur photography was once a hobby that people had to invest more in than just a phone. Of course, the iPhone or Android is more than just a phone – it's a mini computer in your pocket. By investing in the smartphone, you're secretly also investing in photography – and in that sense, everyone is a photographer.
"I think Instagram makes photography more accessible than ever because mobile phones today have really good cameras and editing apps," says the NYC Instagram show curator Brian DiFeo. "And since it is tied to social media, an amateur photographer can share a news-worthy image that may get noticed by media outlets."
With Facebook's acquisition of Instagram, it seems like the types of images will change – but DiFeo believes otherwise.
"I don't think the Facebook acquisition will change Instagram all that much, unless they adopt Facebook's TOU, which will definitely impact some people's photography," DiFeo says. "The user base will probably continue to grow, but I don't think it will change too much."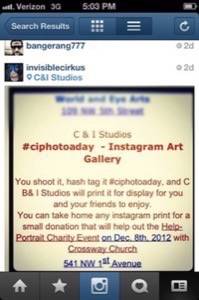 This show follows on the heels of last year's London exhibition, MyWorldShared, which exhibited images that the show directors said "record our world around us, our lives, our outlook, our views and share that view with the rest of the world. It is an individual view, but one that others can relate to – like postcards from a friend."
DiFeo expects the Instagram art show trend to continue growing.
"This is the first exhibit of its kind in NYC and it's been 18 months since the app came out," he says. "I think there are a lot of themes on Instagram, like street photography, that would look great in a gallery collection."
Lead image via @johndeguzman.