A global and digital economy has led to a growth in digital nomads in the modern visual workplace. Could the contemporary workplace come with a couch, chips, and Netflix?
The Future of Remote Work
In a recent survey of 1000 U.S. based office workers aged 18-60, CloudApp found that 57% of Gen Z are working the majority of the week remotely. 50% of Millennials were following suit, and even 46% of GenXers said they prefer the comfort of remote work.
The numbers alone show a generational shift in the modern workplace.
For the last 20 years, tech and other companies like Google, Facebook, and Apple (which opened its new headquarters in 2017) have prided themselves on their HQ.
The Googleplex based in Mountain View features a 24/7 gym, onsite doctor, dry cleaners, and a bevy of eating options. The newish Apple HQ was estimated to cost around $5 billion and looks like something from a sci-fi movie.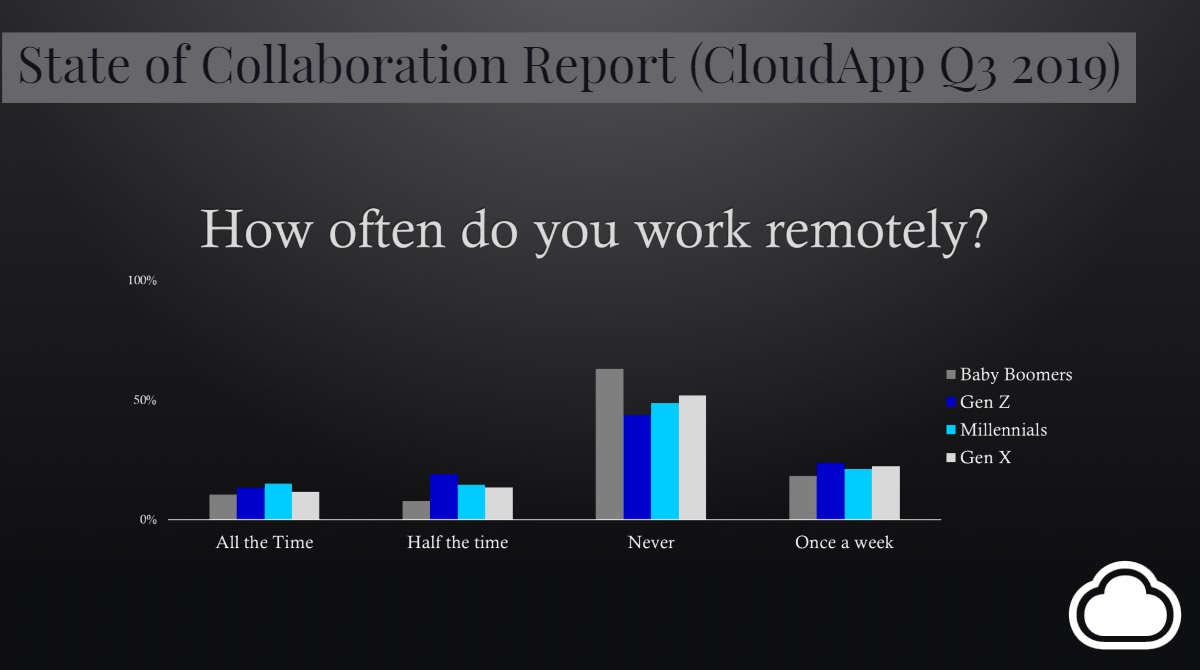 Have we seen the end of the business HQ?
Are all of these for naught? The up and coming Gen Z movement, which recently surpassed Millennials as the largest generation at 32% of the world population, says they prefer working from home.
These workers want the ability to take their dog for a walk before a meeting or grab a coffee at their local shop before a 2 p.m. strategy session.
Gen Z and Millennials are tossing their two-hour commute for something more reasonable to fit their quality of life.
Focusing more on balance and mindfulness could lead to fewer and fewer workers concentrate on the bright shiny lights of the early 2000's HQs.
Although these traditional offices still do provide a great way for employees to connect and have a cultural 1:1 relationship.
People still want in-person connection
62% of office workers still prefer in-person communication. For digital tools, Gen X is 4x more likely to prefer video conferencing while Gen Z and Millennials are 3x more likely than the others to use Slack.
There is still very much a place for an HQ.
It can serve as a recruiting tool in an intensifying demand for engineers and AI experts, but how can companies like Google, Apple, and Adobe adapt to the evolving modern workplace?
Collaboration 2.0
94% of office workers list team collaboration as a top priority for them. Gen Z was the generation that showed the most affinity for collaboration. Maybe all of those mandatory team classes from Universities are having an impact.
Collaboration isn't much of a changing trend.
Businesses have always been focused on ways to improve teamwork, create unity, and inspire collaboration.
What has changed is how we collaborate.
Email is fading in popularity with visuals and connections replacing it. More than 60% of Gen Z and Millennials said they would collaborate more if it's done visually.
One of two office workers, regardless of generation said they would collaborate more if done visually.
This isn't hard to see, we live in a visual world where video conferencing is the standard, Instagram fills our lunch breaks, and TikTok fills Gen Z's weekend and night time.
Visuals are the key to the future of collaboration, businesses that can harness the following tips will have a leg up to the next generation.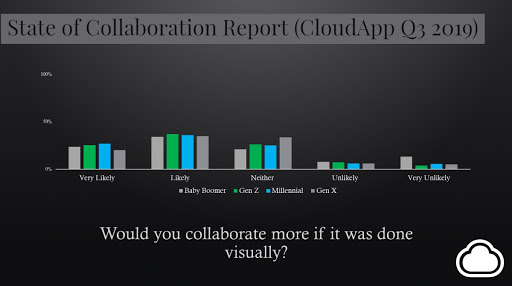 How to join the modern workplace
With all of the focus on improving business, expanding omnichannel experiences, and keeping customers loyal, it can be easy to forget about employees. The old guard ways may not be enough to get the most out of future leadership.
So what are some ways that businesses can incorporate the new collaborative and visual ways of the remote work future?
Change the culture
The time is now to put a culture in place to support remote work. For a startup, remote work may be how your entire company rolls. It can be a great way to save costs initially as you ramp up.
If you are an enterprise company, you probably won't be leaving the comforts of HQ for 10's of thousands of employees. What you can do is support those who do choose to work remotely.
Supporting those who wish to work remotely opens up the opportunity to recruit outside of your footprint and hire where the talent is vs. having to compete in a few areas.
A culture shift could be something as simple as moving the standard meeting from a phone call to a video conference call or providing home office options for employees.
Lead by example
Transitioning to supporting a remote future of work starts from the top. Leaders can do this by doing All Hands over a video conferencing tool or providing recordings to all meetings that may happen when people aren't able to attend.
The key to the modern workplace is for companies and leaders to find ways to embrace their potential future on their team.
Leading a remote team can be challenging. You need a focus on bringing your team together with common goals and a culture that supports your team not having spontaneous conversations throughout the day.
To be able to lead a remote team you need to try and put yourself in a remote mindset.
It could be beneficial to work remotely yourself a couple of times a week, or at least initially. It will help you to more fully understand the complexities that can come with not being next to your team, all day long.
Provide the tools
The modern workplace is remote, but also full of options for collaboration. There are many great tools to choose from to help enable your remote teams.
2019 was led by two tools growing in popularity in Slack and Zoom. Both of these collaboration tools became tech giants when they hit the stock market last year.
They fit the mold of the modern worker by providing a visual live connection through Zoom or BlueJeans. The modern water cooler is Slack.
Asana for task management, Air Table for calendar collaboration, and CloudApp for asynchronous communication with shareable screenshots, GIFs, and video make up the modern toolbox
Visual Communication
More than 60 percent of Gen Z said they would communicate more if done visually.
Businesses who provide training and culture to support visual communication will thrive. The modern toolbox features a movement towards remote work.
One way to do this would be to have video conferencing as the standard.
For global enterprise-level companies, it can help to connect different satellite offices and remote workers better than a traditional phone call.
Conclusion
High costs of living and long commutes in tech-centered areas have led to an increase in desires for remote work.
As Millennials and Gen Z office workers begin to take leadership positions, these generational shifts will change the way we work.
Businesses who enable remote work will have the ability to recruit globally and thrive outside the comforts of HQ.