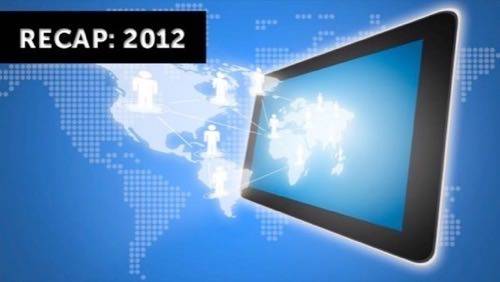 Velocity Of Mobile Adoption
The overall velocity of smartphone adoption may be starting to slow in the United States and other first world markets like Western Europe, but the rest of the world is starting to see extraordinary mobile adoption rates. For instance, according to analytics firm Flurry, China's growth rate of iPhone and Android devices was 291% between October 2011 and October 2012. Countries like India and other populous Asian states are starting dip into the smartphone pool in force as well and the sheer magnitude of those populations will be the primary driving force in smartphone adoption over the next several years. 
The U.S. is very close to its saturation point for smartphone adoption. Nearly 181 million people in the U.S. have an iPhone or an Android and total smartphone adoption is likely near 208 million or so. If you consider that the population of the U.S. is about 315 million and a good third or so of the populous are either too young, too old or too poor to buy a smartphone, there is not much more room for smartphone adoption in the states. But, for people that do own smartphones, their use of apps and the mobile Web is increasing year-over-year, quarter-over-quarter. For instance, Flurry notes that people spend 127 minutes a day on mobile apps, an increase from 94 minutes a day in December 2011. 
2012 saw the first billion smartphones in consumers hands. The next billion is not far behind. 
In many ways, the U.S. will be a blueprint for how mobile adoption evolves in the rest of the world. More smartphones by more consumers mean more app usage and more money everywhere in the ecosystem. It is a classic case of network effects, only on a global scale.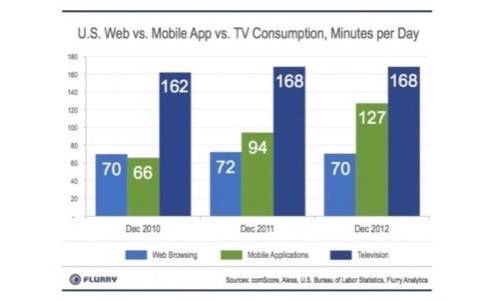 App Stores Boom
The biggest visual impact of the velocity of smartphone adoption across the world has been the parallel rise of app economy. 
Both Apple's iOS App Store and Android's Google Play have more than 700,000 apps. Amazon's Appstore for Android recently announced 50,000 apps for its Kindle Fire devices. Windows Phone has about 100,000 apps and the recently renamed BlackBerry World has 80,000 or so, with RIM making a big push to get developers to build apps for BlackBerry 10. 
And downloads are booming. Apple has more than doubled the amount of iOS app downloads in the last year. Apple users downloaded nearly as many apps from October 2011 to September 2012 (about 17 billion) than had been downloaded from the App Store before October 2011 (about 18 billion). Google Play hit 25 billion downloads in September 2012, averaging nearly 46 million downloads a day for more a little less than a year. As Android increasingly dominates the smartphone global smartphone industry, look for Google Play to increase download volume by orders of magnitude. 
For mobile developers, this means two things: great opportunity and extreme competition. It is easier to build a mobile app than ever but it is also harder to get people to pay attention considering the sheer volume of the ecosystem. That is a problem that is not going to change any time soon.
For mobile consumers, you can find almost any type of app that you could dream of. Think of a category (food, sports, utility, dating, social … anything) and there is a plethora of apps to choose from. Discovering the app that is right for you may prove more difficult as Google Play and Apple's App Store are a glut of apps without well defined discoverability engines. 
Tablet Wars Come To Full Scale

In 2010, we dubbed it "The Year Of The iPad." At the time, we thought that the tablet wars would mature and 2011 would not be dominated quite so much by Apple's signature slate. Well, we were wrong. 2011 was indeed "Year Of The iPad, But Even More So." The iPad competitors that emerged last year turned out to be anything but, mostly because Android was perhaps not ready for prime time tablet computing. The only product that made a dent in iPad sales in 2011 was the Kindle Fire, but close inspection of that particular device shows it was more flawed than Amazon wanted you to believe. Samsung, Motorola and a variety of others released tablets last year that also failed to gain market traction.
That has all changed in 2012. In many ways, 2012 was to tablets what 2010 was to smartphones. In a two words: more and better. In 2012 we saw second (and third in some cases) iterations of tablets from manufacturers like Samsung, and Amazon make real gains against the iPad. Two major players also jumped into the tablet mainstream in 2012 with Google releasing its Nexus series of tablets (the Nexus 7 and Nexus 10) that have seen decent adoption rates. Microsoft has finally jumped into tablet wars in full force with Windows 8 and Windows RT. The market now has more quality tablet options for consumers than any time before. 
Apple has not stood still either. It released two versions of its original 9.7-inch iPad in 2012 as well as the iPad Mini in October. 
The increased competition plus Apple's double down on the iPad led research firm IDC to increase its projection of tablet shipments for years to come. IDC increased its tablet shipment projection for 2012 by nearly five million units for the rest of the year and nearly 20 million for 2016. The market will still be led by Apple and its iPad variations but Apple's slice will decrease year after year as Android and Windows make inroads on the business and consumer side of tablet computing.
Android's Increased Dominance
The rise of Android led us to believe that 2011 was really, "The Year Of Android" in the smartphone arena. Like many trends that started in 2011, 2012 was a year where that trend became magnified. That is especially true for Android.
According to third quarter data reported by research firm IDC, Android had a 75% stranglehold on worldwide smartphone shipments. That was up from 68% in the second quarter and the 50-odd percent through most of 2011.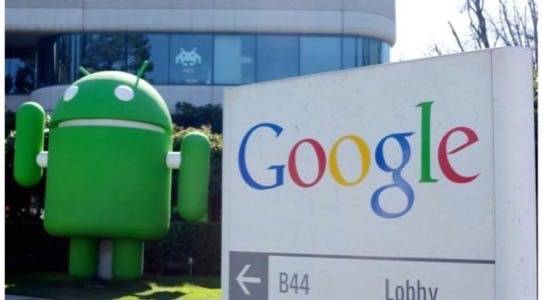 Android's strength is built from its wide base of manufacturers making many different smartphones at many different price points for many different worldwide cellular carriers. The variety has turned into Android's biggest strength and given rise to companies like Huawei that have thrived by selling cheaper Android devices overseas. HTC, Samsung, Motorola and LG make up many of the top-market Android devices and seed versions of their smartphones to most major carriers. For instance, HTC has the Droid DNA on Verizon, the One X on AT&T and the Evo 4G LTE on Sprint. The Galaxy S III and Galaxy Note II from Samsung can be found on every major U.S. carrier. It is becoming increasingly hard for competitors like Microsoft's Windows Phone and Research In Motion's BlackBerry to compete against the depth and breadth of Android's offerings. 
The story is a little bit different in the United States. Among sales from the top three carriers (AT&T, Verizon, Sprint), the iPhone is the top-selling smartphone variant, taking upwards of 60% of sales. Overall, the iPhone carries about a 50% share (when taking prepaid plans and smaller carriers into account) of the entire U.S. smartphone market. 
Looking For The Third Platform (Or Not)
Speaking of Android's dominance (and its duopoly with Apple), the hunt to make a dent in to two behemoths' profits is on. And 2012 was a bad year for the competitors. 
Research In Motion delayed the release of its new BlackBerry 10 operating system several times in 2012. It also was forced to change the name from BBX to BlackBerry 10 (in Dec. 2011) after trademark questions. Overall, 2012 was very much a lost year for RIM in terms of sales as it spent the year liquidating much of its old BlackBerry stock to foreign markets and not releasing any new meaningful products. Since its first BlackBerry Jam developer conference in May, RIM has taken to the road to give developers a preview of BB 10 in cities across the world and develop an application base for its new platform once it is announced on January 30th, 2013. RIM may have one last gasp with BlackBerry 10. If its new operating system turns out to be a flop on the consumer market, RIM may not survive as a major player in the mobile ecosystem through the year.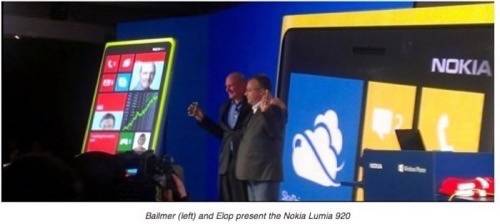 2012 was supposed to be a big year for Windows Phone and Microsoft's primary manufacturing partner Nokia. It did not materialize that way. Nokia has fallen further than RIM, especially considering it was still battling for the top of the smartphone scrap heap as recently as the beginning of 2011. According to Boston-based research firm Strategy Analytics, the third quarter saw Nokia fall out of the top three in smartphone shipments for the first time ever, all the way down to 9th place behind basically every other major smartphone maker. 
Nokia's inability to crack the top of the smartphone consumer market did not bode well for overall Windows Phone sales. Nokia released the Lumia 900 in the U.S. in April to mixed (though mostly positive) reviews. The Lumia 920 was not viewed quite as favorably, running Windows Phone 8, though it does have interesting technology such as wireless charging and innovative Near Field Communications abilities. Consumers are simply not flocking to Windows Phone as Microsoft, Nokia and (to a certain extent, HTC) might have hoped. 
Like RIM, Windows Phone will have another shot to right the ship in 2013. But, the chances that these platforms will have to take market share from Android and iOS are running out. It takes a lot of resources to successfully build a mobile operating system and then make partnerships with manufacturing partners and then market the devices. Companies like Nokia and RIM can only keep flowing money into a losing cause for so long before there is nothing left.
On the horizon, two potential operating systems have been in development in 2012 that could have an impact in 2013: Tizen and Firefox OS. Both are HTML5-based and will heavily stress the mobile Web. Tizen is part of The Linux Foundation and is the bastard offspring of what used to be Maemo/Moblin/MeeGo from Intel and Nokia. The Linux Foundation has the backing of companies like Intel and Samsung and there is a chance a real Tizen phone may actually come to market in 2013. Firefox has been building its own operating system for mobile and will target emerging markets with cheap handsets, likely by the second half of 2013. 
Top photo courtesy Shutterstock.