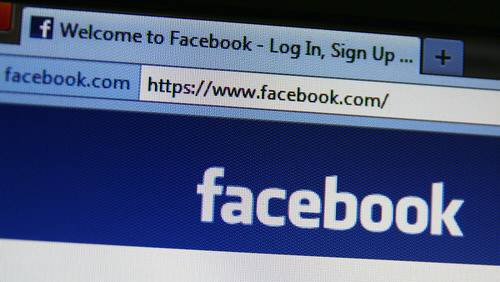 In January, Facebook CEO Mark Zuckerberg stated quite plainly:
We're not going to build a phone.
Later this week, he is expected to announce a Facebook Phone.
But the rumored announcement of a Facebook Phone isn't just a repudiation of that plan, it's also another step on Zuckerberg's slow journey torward accepting the superiority of so-called "native apps" over the Mobile Web running on HTML5.
For years, Zuckerberg has championed the Mobile Web's ability to deliver a consistent user experience across multiple devices with a single development effort. But last summer Zuckerberg admitted defeat and publicly changed course on HTML5. As ReadWrite noted at the time:
Facebook released a completely rebuilt version of its iOS app for iPhone and iPad today, changing a fundamental aspect of the company's mobile strategy. Gone is the Web-centric, HTML5 approach. In its place, Facebook has rebuilt the iOS app using Apple's native framework. The result? A more streamlined, faster app for the iPhone and iPad.
And, in fact, the iOS native Facebook app has proven faster, smoother and quicker to load versus its Mobile Web counterpart.
Native Apps Heavily Preferred
Facebook seems to have learned its lesson, but what about the rest of the mobile industry? A new survey by Compuware APM confirms that users greatly prefer native apps to the mobile web. (Compuware APM summarizes the survey in this press release. The full survey is available here, though it requires fairly extensive registration.) For example, the survey's key takeaway:
85% of mobile device users prefer apps over mobile websites.
The primary reasons users prefer native apps over mobile websites are:
Apps are considered more convenient
Apps are faster
Apps are "easier to browse"
Nonetheless, a slight majority (56%) said they have experienced issues recently with apps. App crashes and app launch problems were by far the biggest problems.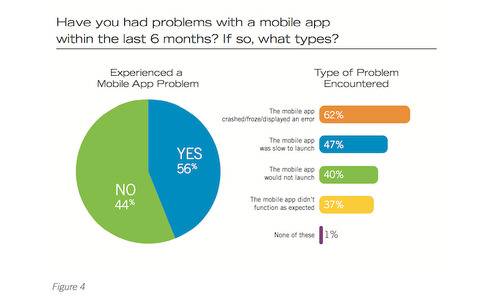 Ironically, the preference for apps over the Mobile Web places additional pressure on developers. It turns out that users demand more from a mobile app than they do from a mobile website. For example, 4 out of 5 app users expect an app to launch in three seconds or less. Other preferences include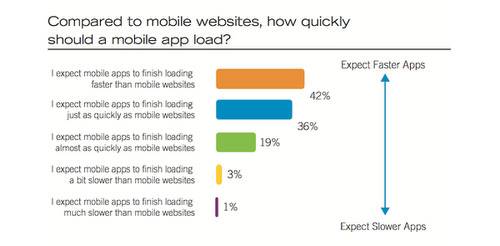 The App Revolution
The scope of the "app revolution" is astounding. As Compuware notes, more than 30 billion iOS apps and 15 billion Android apps have been downloaded so far – and the total is now growing by more than 1 billion every month.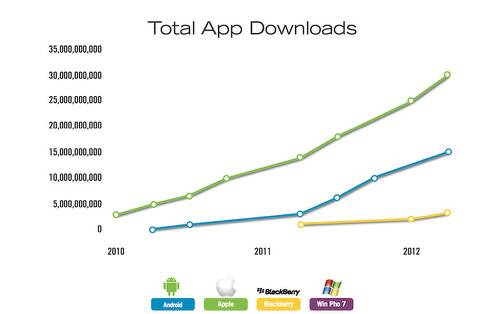 In the U.S., the average number of apps per smartphone user is 41. This is a 28% increase over the average from a year ago. Despite this increase, however, total time spent by users with apps has remained relatively flat: 39 minutes per day versus 37 minutes per day in 2011.
As most people know Apple's App Store and Google Play far outstrip competing platforms in the number of apps available.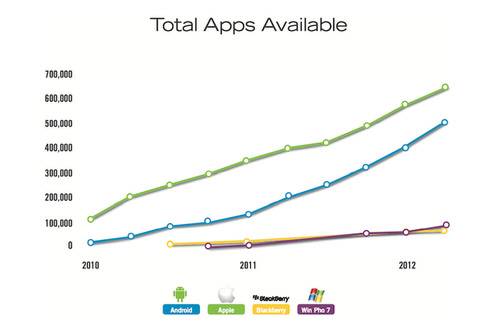 Facebook will reveal this Thursday exactly what its "new home on Android" really means. If the company wants anyone to actually live in that new home, though, it had better be fully optimized for the Android platform. Smartphone users can be an unforgiving lot.
(NOTE: According to Compuware, the survey involved 3,535 smartphone and tablet users (1,002 in the U.S., 509 in the U.K., 509 in France, 508 in Germany, 502 in India and 504 in Japan) over the past six months. The company claims it is a statistically projectable survey with a margin of error of +/- 1.6%.)
Facebook photo courtesy of Shutterstock.