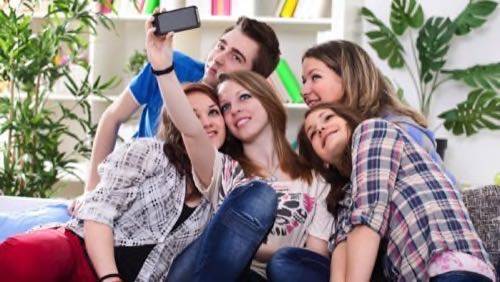 U.S. teens' passionate embrace of smartphones and a "mobile first" mentality to the Internet shows no signs of slowing down. According to the latest Pew Research on teens and technology.
37% of teens in the U.S. have a smartphone.
25% of those aged 12-17 access the Internet "primarily" via a cell phone or smartphone.
Among teens with a smartphone, however, 50% access the Internet primarily via the mobile device.
Girls are more likely than boys to rely on their smartphone as their primary Internet access device.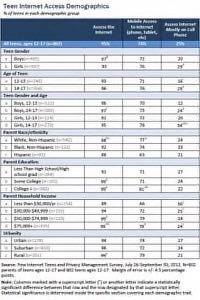 The rapid adoption of smartphones and the parallel demands for a real-time, location-based and personalized Internet will clearly have a significant and potentially lasting impact on work, shopping, entertainment, the PC industry – and even the structural underpinnings of the Internet. According to Pew:
In many ways, teens represent the leading edge of mobile connectivity, and the patterns of their technology use often signal future changes in the adult population. Teens are just as likely to have a cell phone as they are to have a desktop or laptop computer. And increasingly these phones are affording teens always-on, mobile access to the internet — in some cases, serving as their primary point of access.
(See also "Good Luck Building A Business In Today's Youth Market.")
Adoption of the mobile Web by teens appears to be accelerating.
37% of American youth ages 12-17 now have a smartphone, up from 23% in 2011.
Already, 23% of teens own a tablet.
No group is more connected to the Internet overall than teens.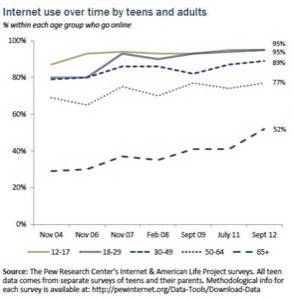 Household income and urbanity are strongly correlated with teen smartphone use. Black and Hispanic teens are more likely to own a smartphone than their White counterparts. The smartphone could be the tool that eradicates the digital divide.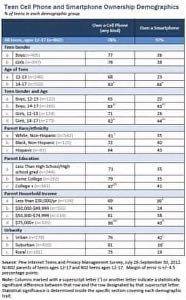 What Parents Don't Know
A 2012 University of Washington study noted that teens in general considered their rather high level of connectivity as necessary for effective cultural development and to prevent social isolation.
This does not mean, however, that teens are eagerly sharing these many online engagements with their parents. Smartphones, which by their very nature are designed for use by a single person – unlike a family computer in the living room, say – may make it even harder for parents to know what their children are doing online. A McAfee study last year, for example, noted that 70% of teens actively seek to hide their online behavior from their parents. (The McAfee study examined digital activity across multiple computing devices, not just smartphones.)
For parents, monitoring their child's online behavior may become more difficult given the rapid adoption of smartphones. As Pew noted:
The shift to mobile internet use changes the ways teens access information and creates new challenges for parents who wish to monitor their children's Internet use. Given bandwidth constraints and the fact that many websites are not yet optimized for mobile devices, teens who access content primarily on their cell phone may have to work harder to get important information. On the other hand, for parents who may wish to restrict access to their children's exposure to certain kinds of content online, mobile devices can make it more difficult for parents to use the passive monitoring strategies they tell us they prefer, instead requiring more technical solutions.
It is not yet fully understood how the always-connected teen might alter the economy, work, even culture – though it will no doubt touch nearly every aspect of society. For example, there has already been a "drastic drop" in the number of teens getting driver's licenses, likely due to their adoption of mobile technology and social media. Expect many more changes to come. Today's teens have grown up online – and online increasingly means via a smartphone.
Image of happy teens courtesy of Shutterstock