Browser or app: Which is a better way to reach readers on mobile platforms like iOS and Android? Publishers and developers haven't been shy about offering their opinions, but what about the people who actually use the devices? Among tablet owners, at least, reading on the mobile Web is preferable to using native apps, according to a recent survey from the Online Publishers Association.
Forty-one percent of tablet-bound readers prefer reading on the Web, compared to the 30% who would rather launch a standalone app from a specific publisher. Aggregated news-reading apps like Flipboard and Zite rated surprisingly low on the list.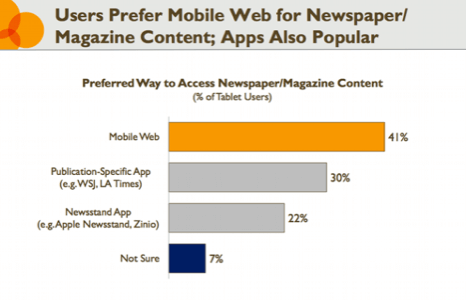 Last month, Jason Pontin, editor of MIT Technology Review, wrote a widely read takedown of native apps, citing Apple's steep revenue share and the technical and design challenges associated with producing such apps.
"But the real problem with apps was more profound," Pontin wrote. "When people read news and features on electronic media, they expect stories to possess the linky-ness of the Web, but stories in apps didn't really link."
On the other side of the debate is Wired publisher Howard Mittman, who champions the app-centric approach that his magazine has adopted.
Many publishers have found that approach problematic. Apple's infamous 30% subscription revenue cut prompted the Financial Times to abandon its iOS apps and instead focus on developing a cross-platform Web app written in HTML5.
"I've seen Apple's results," FT.com Managing Director Rob Grimshaw said at the PaidContent 2012 conference last month. "It seems to be working for Apple. I've also seen some publishers' results, and it's not working for publishers."
Evidently, the native-app approach is not working for readers, either – at least, not as well as the Web. FT has seen an increase in readership and paid subscriptions since going the HTML5 route, Grimshaw said.
Native apps do offer potential advantages in terms of the reader's experience. They can be more immersive and lack some of the design limitations of the Web. Still, in far too many cases, apps created by publishers end up being little more than digital reproductions of the print product with a few bells and whistles tacked on.
From the reader's standpoint, it makes sense that the Web would be a popular option for tablet reading. After all, there's much more content there, and it's intricately linked together. A digital magazine can offer a refreshing escape from the anarchy of the Web, but it's only a matter of time before readers find it necessary to return to a browser.
The OPA report contained other revealing data about tablet users. Overall, tablet ownership is surging. The devices have become "deeply embedded" in users' lives, 74% of whom use them daily. Tablet owners are using the devices primarily to interact with content of various kinds, and most (61%) show a willingness to pay for it.