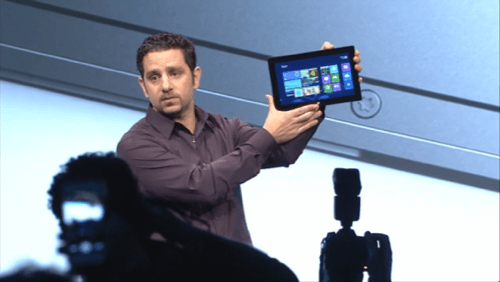 Microsoft has priced its Surface Pro Windows 8 tablet, due in January, at about the same level as an ultrabook – only without that pesky keyboard.
In a blog post, Microsoft Surface chief Panos Panay revealed the price: $899 for a Surface Pro with Windows 8 and 64GB of flash storage, and $999 for the 128GB version. That's consistent with what Microsoft indicated at the Surface launch this past summer: that the Surface RT would be priced on par with rival tablets, and that the Surface Pro, which includes an Intel Core processor like the ones used by the majority of PCs and uses a standard version of the Windows 8 operating system, would be priced comparably with an ultrabook.
There's a minor gotcha, though: While each Surface Pro version will include the new Surface Pen stylus, they won't include either a Touch Cover or Type Cover, meaning that users will have to shell out an additional $119 for the Touch Cover or $129 for the Type Cover with the more fully-formed keyboard. Users can also buy (or may already own) a third-party Bluetooth keyboard.
For reference, the Microsoft Surface RT with 32GB of storage without a cover was priced at $499, while adding a Touch Cover bumped it to $599. The 64GB version of the Windows RT Surface, with a black Touch Cover, is $699. That was slightly less the Apple iPad with the Retina Display, which costs $499 for a 16GB version, and $599 for a 32GB model. Both cost more than a number of Android tablets, however.
Surface Pro Is A Keyboard-Less Ultrabook
But when you think about the Surface Pro, you need to think about ultrabooks as much as tablets. From a specifications perspective, the Surface Pro compares well to a notebook: It has a Intel Core i5 processor, which gives a graphics boost to the Surface Pro's 10.6-inch, 16:9 ClearType touchscreen running at 1920 x 1080 resolution. It also includes a Mini DisplayPort to drive an external display up to 2560 x 1440 resolution, plus Bluetooth and a full-size USB 3.0 port.
Oddly enough, the Swedish site Webhallen took a lot of heat earlier this year for publishing what it thought would be the expected price of the Surface Pro: just over $800, with other models priced significantly higher. And you know – it turns out they were right on the money.
"It's clear with the Surface Pro pricing Microsoft is targeting notebooks, not tablets," Patrick Moorhead, principal analyst with Moor Insights, said in an email to ReadWrite. "Very few people will pay $899 for a tablet but they will for a notebook. The Surface Pro with the Type Cover makes a very nice compact and light solution."
"I've given up on having Surface RT compete with an iPad," Moorhead added. "To do that, it would need to be priced at $699. But it isn't. Therefore, I am looking at it through the new lens of a notebook. Microsoft won't sell nearly as many at $899 as they would at $699, and overall, they won't sell many."
That means that our earlier analysis is still in play. Sarah Rotman Epps, a consumer and mobile analyst for Forrester Research, said in July that Microsoft could be worried about competing with its manufacturing partners like Asus or Dell. One way to avoid that problem, she said, would be to price the Surface high enough to avoid direct competition.
"Keeping the price point of the Surface high limits the threat to Microsoft's OEM [original equipment manufacturing] partners," Rotman Epps said. "At a $1,000 price point, this won't be a mass market product, but it will still have the desired effect of exciting consumers and inspiring OEMs to do more with hardware design for Windows 8."
The Case For The Surface Pro
Earlier this year, I made the case for the Surface Pro as the ultimate business tablet. The Surface Pro has little competition in that arena. The iPad is being used in some corporate environments, but what pressure both might have felt from specifically business-oriented products like the Cisco Cius and RIM PlayBook have largely evaporated.
While I didn't know the price at the time, that's largely immaterial: Once you start aligning a product with corporate budgets, products begin to be measured less on price than on feature sets, especially as the value of the employee using it increases. The included digitizer pen will also satisfy content creators and other creative types; the tablet includes a "Palm Block" technology that will allow users to rest their hands on the tablet.
The most important aspect of the Surface Pro is its ability to run Windows; my recent trip to Dubai to explore Windows 8 applications revealed that yes, companies are developing apps for Windows 8, and some are using Windows RT. But it simply costs less to develop an app for one Windows platform, especially where legacy, Windows 7-era apps are involved.
The question, of course, is whether or not Microsoft truly wants to sell its own tablets, clear out space for its hardware partners or essentialy offer another premioum service in the vein of the Microsoft Signature experience, where the company will sell you a notebook free of the third-party bloatware that hardware partners often load.
NPD released some unsettling news on Thursday: Third-party Windows 8 tablets are virtually non-existent at 1% of all retail sales from mid-October to mid-November, and Windows device sales are down 21% overall from a year ago (see Is Windows 8 Winning? Microsoft Say Yes; Data Say No). A super-expensive Surface Pro won't help those numbers. But if companies are looking for a Windows 8 tablet for professional use, the Surface Pro will still likely be their number one choice.