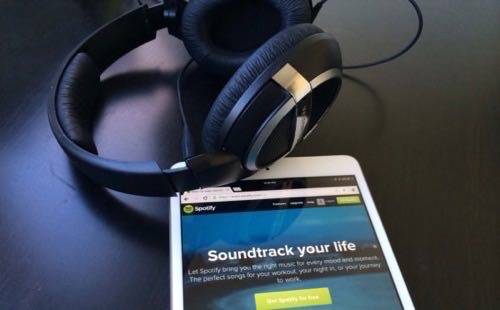 Popular music streaming app Spotify is going free today. Sort of.
At an announcement in New York City, Spotify CEO Daniel Ek announced Spotify for free, a new service from the company that will allow users on iOS and Android devices to stream music for free in shuffle mode. Spotify charges $10 a month for full access to the app on mobile devices and today's announcement does not effect that plan.
Spotify also announced full access to its tablet app for free, making it similar to the free access to playlists and songs that users get on the desktop. The tablet and desktop app now both work on a "freemium" model that gives users a certain amount of access to Spotify with embedded advertisements. The freemium model will not be available for smartphones.
Spotify Shuffle for free on mobile devices is akin to other music streaming apps like Pandora or Rdio. It streams music tuned to the listener's interest, but gives users more granular control over what they listen to. The free model will not allow for on-demand music or full search queries. What Shuffle boils down to is that you can shuffle all of your own playlists, your friends' playlists or an entire artist's catalogue. Users will not be able to drill down into individual albums.
One of the greatest strengths of Spotify is the ability to search for any artist and stream to their music on the spot. Users that pay the $10 for Spotify Premium will continue to get that ability on any device.
Spotify also announced today that it is concentrating on creating a bigger global footprint and is adding 20 new markets to its footprint, bringing its total to 55. Ek announced that Spotify users have streamed 4.5 billion hours of music this year and have created 1.5 billion playlists. Spotify announced earlier this year that it has 24 million subscribers, 6 million of which pay for Spotify Premium.
The company also announced that the entire catalogue of Led Zepplin will be available through the app, exclusive to Spotify.