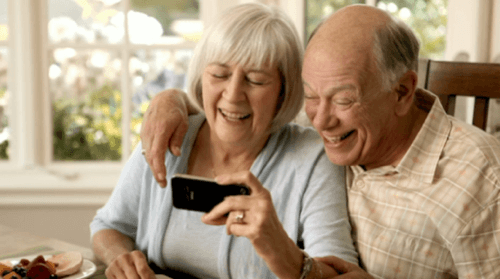 The iPhone owes its ongoing success partly to Apple's success at making it one of the coolest devices a consumer could buy. But perception is shifting, and now the iPhone is coming to be seen as "your Mom's smartphone." At least, that's what Samsung wants you to believe.
The culmination of the crusty-iPhone meme is Samsung's recent television ad, the latest move in the company's year-long campaign to damage the hipster-hyped image of the iPhone. The scene takes place in a line on a sidewalk outside what could be an Apple store. The denizens of the line recognize a guy how had switched to a Samsung Galaxy device in a previous commercial. "Hey, you're back," they say. He isn't. Turns out he's just saving a spot for his exceedingly un-hip parents.
Samsung's commercials are smart and funny, and they jab at both Apple's design and manufacturing choices as well the community that embraces the iPhone, who are presented as iSheep.
The reason that older people choose the iPhone is that it is considered the easiest smartphone to use. It is familiar, iconic and laden with social status. It's easy to figure out and, as long as everything works properly, there is not a lot of heading scratching. People ask me all the time what smartphone they should buy. My family gives their friends my phone number and they call me asking what they should get. This is one of the reasons I wrote How To Buy A Smartphone: so I could just point people to one resource that represents my point of view.
I do direct different types of people to look into different devices. To mobile app developer types, I often recommend the latest Android Nexus device. I point many tech-savvy, but not developer focused, people toward an HTC/Samsung/Motorola Android device. To non-tech savvy folks that want it to be as easy to figure out as possible, I recommend the iPhone.
My mother has an iPhone. You might remember my mother if you are a frequent ReadWriteMobile reader. She reviewed the Nexus 7 tablet and thought it was OK, but wanted to hold out for the iPad Mini. When her friend Patty called me wondering what smartphone to buy, it was a no-brainer to send her to the iPhone because of the ease of use. Patty is in no way tech-savvy, but she recognizes an app when she sees it.
But that's just anecdotal. Is there data that verifies the iPhone's appeal to fusty oldsters?
Behavioral Demographics
Surprisingly, there is little hard demographic data available to the public on iPhone/iPad buyers. Research firm Gartner (which tracks worldwide smartphone shipments by vendor) does not know who is buying these devices. Apple and the mobile carriers like AT&T and Verizon are certainly not giving out demographic information. The best sources are advertisers and marketers. Essentially, any company that specializes in behavioral and demographic targeting.
In that vein, the best targeting information comes from companies like comScore that focus on surveys and tracking on behalf of advertisers and publishers. In comScore's latest data (from Aug. 2012), 47.2% of iPhone users are aged 35 years or older. So those under 35 years old actually make up the majority of iPhone users. For tablets, the iPad skews a little older with 55% of users 35 years old or older. See the charts below.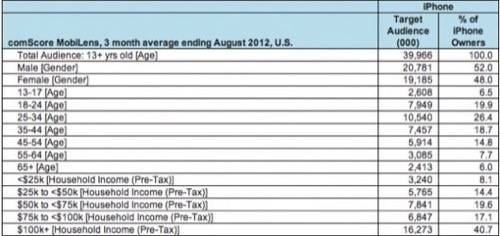 Note that the more money families make, the more likely they are to buy expensive consumer electronics, so it would make sense that iPhone/iPad usage tends to skew older. At the same time, the largest single demographic for both iPhone and iPad usage is in the 25-34 year old range, as younger adults tend to have more disposable income and desire for the latest products.
Does Android skew towards a younger demographic? The numbers might surprise you. According to comScore, 52.4% of all Android users are aged 35 years or older. That is five percentage points higher than the iPhone. Near 55% Android tablets users are also older than 35.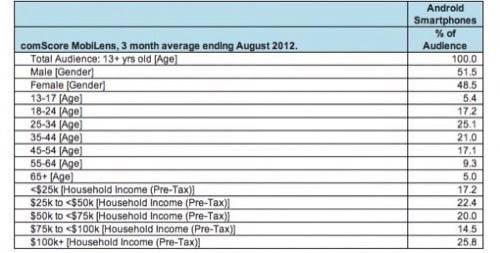 So, according to comScore, Android is your mother's smartphone. The perception apparently does not match up to the reality that Samsung – and many tech pundits, myself included – would have you believe.