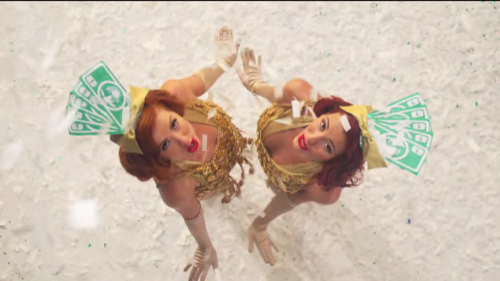 Snapchat jumped on the payments bandwagon on Monday, through a deal with Square Cash which allows users to transfer money to their friends as easily as sending photos of their naughty bits.
Simply trust the Snapchat app with your debit card number, as you might your personal pics, type $ and the amount you wish to send in the chat-text field, and hit the payment button. The recipient has 24 hours to accept the cash infusion, or it disappears back into your bank account.
Snapchat introduced the new service, available now for Android and coming soon to iOS, with a discount Busby Berkeley musical-style video featuring dancing girls and raining money. But security concerns from potential users are sure to ensue now that Snapchat is attempting to compete with Venmo and Google Wallet in peer-to-peer money transfer.
Snapchat, after all, launched as a photo-sharing app that deletes images seconds after they're viewed. And nobody wants to think about their money "disappearing"—or, worse, the opposite. Just imagine your hard-earned cash leaking all over the Internet, as happened in October with hundreds of thousands of personal pics purloined from a third-party Snapchat photo-saving app.
Square is handling all the debit card details, with established security protocols for money transfer that should prevent your life savings from popping up all over the Internet. As for your future photos, Snapchat has updated its privacy policy to let you know it can't be expected to protect your photos from leaking: "Don't send messages that you wouldn't want someone to save or share."
Screenshot via Snapchat