Our mobile devices are more than just a vital conduit to our friends and family. They're where we keep our most intimate and personal details—photos, music, financial data, and personal information. So having our gadgets stolen is more than an inconvenience—it can disrupt our entire life.
If you've had your smartphone stolen, take solace in the fact you're not alone. A report from mobile security firm Lookout found that one in ten U.S. smartphone users have been victims of theft, with nearly 70 percent unable to recover their device.
Technology like Apple's Find My iPhone, Google's Android Device Manager, and other software that locks and wipes missing devices reduces the benefits of stealing them. Still, smartphone theft is on the rise. In 2013, 3.1 million smartphones were stolen in the United States, almost double the year before, according to Consumer Reports. (Lookout has a vested interest in bringing attention to this problem: It offers its own security software for stolen phones.)
See Also: Some Jerk Stole My Camera And Forced Me Out Of My Photography Rut
It's become such a rampant issue that policymakers and law-enforcement authorities are getting involved in our software choices. Last fall, New York City police officers hit the streets to encourage users to update to iOS 7, a new version of Apple's software which made it harder to reprogram a stolen iPhone or iPad.
The Business Of Stealing Smartphones
Chances are, if someone steals your phone, they're going to try and sell it.
In San Francisco, about 50 to 60 percent of all robberies are smartphone-related, according to the San Francisco Police Department. And if someone doesn't get their phone back, it could fall into the hands of someone outside of the U.S.
"A lot of times a person who steals a phone is simply a middle man—they sell it to someone else," said Albie Esparza, a public information officer for the SFPD. "There is a network of people involved. The phones can end up overseas or in South America."
As illegal drugs flow south to north, stolen phones move in the opposite direction. Phones taken in the U.S. can end up in places like Colombia or Ecuador. The stolen phone, stripped and repackaged, is then resold to consumers as a brand new product.
Stealing and selling smartphones can be a lucrative enterprise. One pair of thieves reselling phones in Hong Kong made almost $4 million in less than a year before they were caught in Northern California.
To prevent mobile-phone theft and save consumers money, lawmakers and carriers are lobbying for a so-called "kill switch" to be implemented in all new smartphones that would render stolen phones useless. Privacy pundits are afraid a kill switch would be used for more than destroying stolen property: In theory, governments and carriers would be able to turn your phone off at leisure. However, most Americans support such a measure. A February study showed 99% of consumers thought carriers having the power to turn off mobile devices was a good idea.
Don't Be A Hero To Get Your Smartphone Back
If your mobile phone is stolen, law enforcement and security officials have one piece of advice: Don't try and get it back yourself.
According to the data from Lookout, 68 percent of phone-theft victims are willing to put themselves in danger to retrieve a stolen device.
"We were a little bit shocked to see there were so many people willing to resort to vigilantism," Alicia diVittorio, head of security communications for Lookout, said in an interview. "Police work with our users to track down stolen phones. It makes for a fairly seamless recovery of a phone if the police are willing to work with you."
The problem with taking your own initiative is that you never know when a criminal might have a weapon and do even more damage to you, personally. The information on your phone can be backed up to a computer, but there's no way to replicate yourself.
Officer Esparza stressed that if someone is a victim of theft, they should report it to police.
"Instinctively, as humans we want to take what's ours, and rightfully so," Officer Esparza said. "The thing is, people that are committing crimes, you never know if they have weapons involved, and you don't want to find out."
How Not To Get Your Smartphone Stolen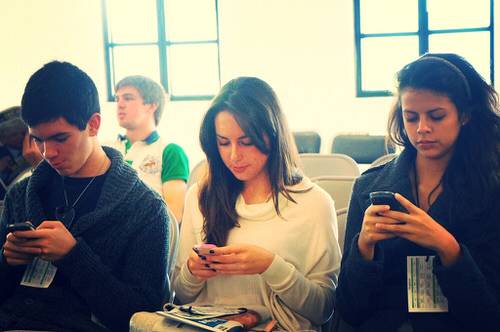 According to Lookout, a majority of thefts occurred when the victim left their device in a public place, like a restaurant or nightclub, only to realize later it had gone missing. The obvious way to prevent nonviolent theft is to double-check your belongings before you leave a public area. If you frequently misplace your phone, hardware tags like HipKey or Duet alert you when you leave a location without your phone.
Forceful robberies are another matter entirely.
"Oftentimes people on their phone are so engaged that they're oblivious to their surroundings," Esparza said. "That's when a criminal sees an opportunity."
San Francisco's buses and trains regularly play warnings—largely ignored—to "keep your eyes up and phones down" when riding.
There are a number of things users can do to prevent theft, according to the SFPD:
Be aware and pay attention to your surroundings
Avoid using your smartphone in public when you can
If you're wearing headphones, keep your music on low to hear people coming
If you're in a poorly-lit area, don't be on your phone when no one is around
Call the police if you've been a victim of theft or robbery
If you haven't already, it's a good idea to enable tracking and wiping technology like Android Device Manager or Find My iPhone. It won't make you feel any better about having your phone stolen, but at the very, least you can limit the damage a perpetrator can do.
Lead image by *sax on Flickr; smartphone image by Esther Vargas on Flickr