ReadWriteDrive is an ongoing series covering the future of transportation.
Last month at the Washington Auto Show, U.S. Transportation Secretary Anthony Foxx said he's considering a plan to collect data about car accidents involving bicyclists and pedestrians. Nearly 5,000 pedestrians were killed in 2012, the most recent year the data is available—a new high. Tens of thousands more are injured every year.
That's not a bad idea at all. And some car companies are already figuring out how to improve bike safety using the influx of data they already have from car sensors—which, among other things, can essentially "know" when a bike is approaching,
A Tap On The Shoulder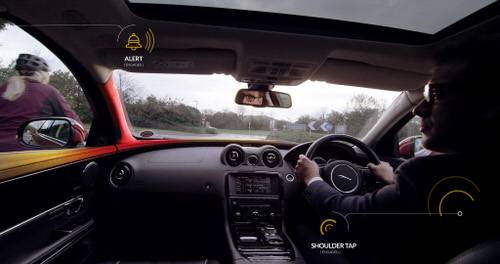 Jaguar Land Rover, for instance, wants to know the best way to get drivers to quickly respond. The British automaker recently announced results from its "Bike Sense" research project.
Jaguar believes we should go beyond standard vehicle warnings. In its Bike Sense program, the vehicle uses lights and sounds—or a vibration on the car seat that taps the driver on the shoulder. When the driver opens a door in the path of a speeding cyclist, the handle buzzes.
The job of anticipating car-bike accidents is becoming easier, thanks to sensors and connectivity. At CES 2015 in January, Osram Opto, a German maker of laser and photodiodes—working with Phantom Intelligence, a tier-one auto supplier—equipped a Maserati with a lidar-camera unit that dramatically cuts the cost of a laser sensor down to about $150. Osram hopes a low-cost unit, designed specifically to detect pedestrians crossing in front of vehicle, could be deployed to millions of vehicles.
The Connected Bike Helmet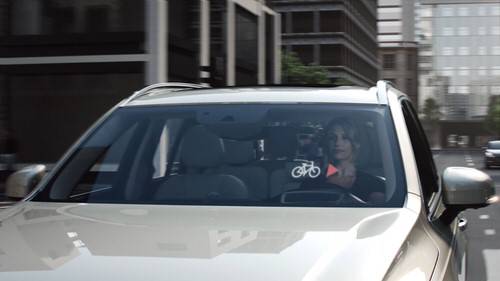 In 2013, Volvo's introduced "Cyclist Detection" technology. Using a radar in the front grille and a camera mounted in the rear-view mirror, the car can not only warn the driver, but will automatically brake if it detects a pedestrian or cyclist. The technology is offered in about seven Volvo models.
Also at this year's Consumer Electronics Show in Las Vegas, Volvo showed off the next iteration of its bicycle detection and warning technology. The automaker teamed up with POC, a Swedish engineering and industrial design firm, and Ericsson, the communications company, to put the car and bicycle in contact with one another.
Using Strava, a popular bicycle app, the position of the car and cyclist are shared to Volvo's cloud-based network. If an accident appears imminent, the Volvo driver gets an alert via a heads-up display, while a light on the cyclist's helmet flashes.
"By exploring cloud-based safety systems, we are getting ever closer to eliminating the remaining blind spots between cars and cyclists and by that avoid collisions," said Klas Bendrik, VP and Group CIO at Volvo Cars.
Big Data on Two Wheels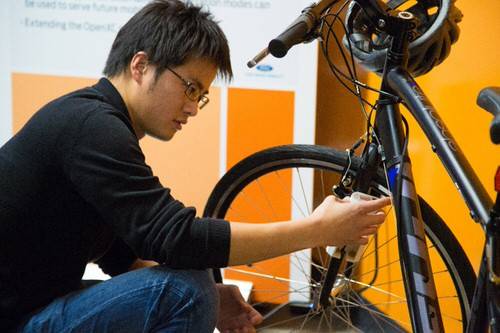 What if the conditions that lead to car-bike accidents could be predicted?
On a recent visit to Ford's new research center in Silicon Valley, I saw a demonstration of the American car company's "Info Cycle" experiment—part of its Big Data program. The project uses a custom sensor for bicycles to collect data on the bicycle's roll, pitch, yaw, acceleration, pedal position and speed, and even lighting conditions.
The bicycle becomes what Ford calls a "thin probe," one that can be combined with the thick probe of a car's bigger footprint and reams of data collected by the vehicle itself and uploaded to Ford's cloud-based network. The combination of thick and thin probes creates a set of data that, one day, could identify spots where bicyclists repeatedly face danger. Cities could change speed limits, road signs, or lighting to make roads much safer for cyclists.
Lead photo courtesy of Volvo; others courtesy Jaguar, Volvo and Ford