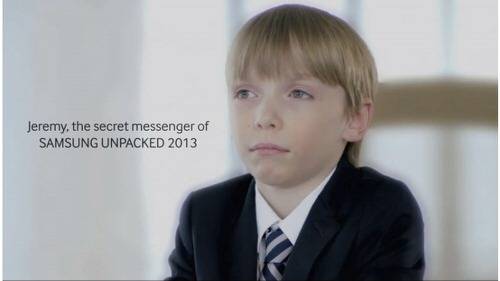 For a smartphone with as much hype and anticipation as Samsung's Galaxy S4, we know surprisingly little about it. We know that it is likely to launch on March 14th at Radio City Music Hall in New York City. We know that Samsung will have a huge marketing plan around it and worldwide distribution on a mammoth scale.
That's Samsung. Big is what it does. Other than that? Not so much.
This Maxwell Equation Doesn't Compute
We got a couple more hints today at what Samsung will unveil next week. First, we get a truly terrible video from the Samsung marketing department that is so cringe-worthy that it makes me want to drown a burlap sack full of kittens. It features Samsung's "secret messenger," a preppy young white boy by the name of Jeremy Maxwell. Little Jeremy signs what is likely a non-disclosure agreement, gets a peak into the Samsung "Unpacked" box and takes his trophy home, where he starts to be terrorized by the neighbor girl. The video ends "to be continued."
Let's hope not.
I will be at the launch event for the Galaxy S4 and I hope that annoying little twit Jeremy Maxwell makes it nowhere near the stage. See him in action below, if you dare.
Other than playing cute with suburbanites, the video does not actually reveal anything about the supposed S4. For actual rumor-mongering, we turn to The New York Times.
Eye Scrolling?
The Times reports that the Galaxy S4 will have a feature where users can scroll down a page… using their eyes. The software will track a user's eye movement to navigate the screen.
Well, so much for the touchscreen revolution. Samsung apparently has figured out a way to interact with a smartphone without touching it at all. The Times also uncovered patents by Samsung for "Eye Scroll" describing it as: "Computer application software having a feature of sensing eye movements and scrolling displays of mobile devices, namely, mobile phones, smartphones and tablet computers according to eye movements; digital cameras; mobile telephones; smartphones; tablet computers."
The Times' source does not know if Eye Scroll will be debuted at the Unpacked event on the 14th.
What's On The Rumor Mill?
It seems funny that Samsung is better able to keep a secret than Apple is these days. That may be because Samsung makes many of the components for its devices – like the processors – whereas Apple's supply chain is prone to leaks and rumors. We knew almost everything there was to known about the iPhone 5 by the time it was released. We know very little about the Galaxy S4.
TechRadar reports that it will have a 5-inch screen (bigger than the 4.8-inch screen of the Galaxy S3), 2 GB of RAM, a quad-core processor and Android Jelly Bean 4.2.2. CNET reports that it will have a 13 megapixel back camera and 2 MP front camera.
If the Times' source is to be believed, the software features running on the S4 "outweighed the importance of the hardware." This is probably true, at least from Samsung's perspective. Over its last couple of device releases, Samsung has focused on shiny new features it's layered onto Android, such as camera options, the S Pen (and assorted "S" apps) and various ways of playing and sharing video, music and what-have-you.
Over time, the trend is clear: Samsung want the experience of using its phones to be as unique as possible, likely to the point that Android may become completely unrecognizable on its devices. That may be a very good or very bad thing, depending on your opinion of Samsung's software decisions.