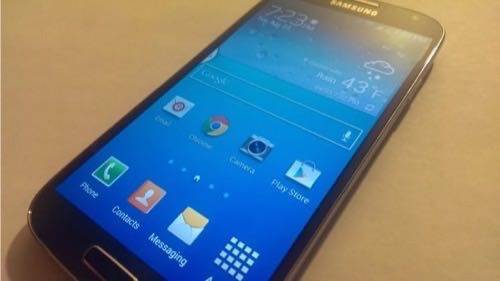 Your smartphone should not be a source of stress. With its new Galaxy S4, it seems Samsung may not have gotten the memo.
It seems that every feature Samsung could possibly dream up ended up in the Galaxy S4. The company pushes the envelope with technologies and features that keep the rest of the industry on its toes. Yet it packs the Galaxy S4 with so many of its own branded apps, so many features of questionable value that don't even work properly, that it detracts from the overall quality of the device.
Samsung does allow you to strip away many of those features. Its custom-made widgets can be thrown out, and functions like Air Gesture and Smart Pause can be turned off. Once you strip away all the superfluous garbage, the Galaxy S4 is actually a pretty nice device. And there are indications that Samsung recognizes the problem.
"Galaxy S3 and Note II are very feature-rich products. As is the S4. That is very core to the brand of 'next big thing,'" said Nick DiCarlo, VP of Portfolio Planning and Product Marketing at Samsung Telecommunications America. "With the S4 you will notice that we have done a ton of things to make things simpler. We hope that this could be a phone that you would recommend to your mom."
The Smartphone For Your Mom?
The term "fear of missing out" – FoMo – has been applied to the sociological concept of not wanting to miss anything your friends are doing in relation to social media, but it could just as easily apply to the Galaxy S4. With all the things that this smartphone can do, it's easy to get the feeling that you are missing out on the capabilities of your own device.
Let's take a look at some of the new features in the Galaxy S4:
Air View: Hover over an item like an email or a calendar date and Air View will display a preview of what is inside. This feature originally appeared in Samsung's Note 2 with the built-in stylus but now can be done with a finger.
Air Gesture: Theoretically, you can answer a phone call, change songs on a music playlist, swap browser tabs or perform a variety of other functions just by waving your hand over he device. An extra infrared sensor picks up the motion and executes the command. At least it is supposed to. Except for one limited instance (moving an app from one home screen panel to another), I was not able to get Air Gesture to work. And this turned out be a disappointing theme with the Galaxy S4.
Smart Stay/Smart Pause/Smart Scroll: With Smart Stay, the screen stays on as long as you are looking at it. Smart Pause is intended to pause a video if your eyes look away. Smart Scroll is supposed to follow your facial motion and the tilt of your device to automatically scroll down a website. But no matter how hard I tried, with a wide variety of apps, I could not get Smart Pause to work. Smart Stay seems to work OK, but it was often hard to tell since I mostly seem to look at my smartphone for only a few seconds at a time. It was also difficult to get Smart Scroll to work. The instructions for these features note that your face and the background behind you must be well-lit, so Samsung seems to acknowledge that these functions won't work all the time.
Multi-Window: You Can use two apps at the same time. A little tab appears on the left of the screen and essentially acts as a "recent apps" menu.
[See Also: Samsung Galaxy S4: The Phone So Complicated, It Has An 'Easy' Mode]
Easy Mode: For people who ave trouble using complicated devices, the Galaxy S4 has an entire mode with bigger fonts, icons and less home screen space. This works, but there's no surer sign of the S4's feature bloat than the need for an "easy mode."
WatchOn: OK, this feature is cool. WatchOn uses the device's infrared sensor to turn the S4 into a programmable TV remote control. It even recognize your TV and cable/satellite provider and displays a programming guide.
Samsung Hub: Samsung used to have several different media "hubs" for books, music, video and so forth. They have now all been consolidated to one Hub.
Group Play: This feature lets you to connect to other Samsung devices and play the same song through all of them at the same time, with one person acting as the DJ. This could be fun in some situations, but it's mostly just a gimmick.
Expanded Settings/Notifications: Android comes with a simple drop-down notification center. Samsung's TouchWiz has historically added radio buttons to it to control Wi-Fi, GPS, rotate and other functions. Since the S4 has so many new functions, the company added an entirely new section to the drop-down settings to toggle all the various features on and off.
"What we have done is create a form here which allows people to learn about the feature and decide if you want to turn it on our off. It is another way making these really, really powerful features more accessible," DiCarlo said.
The Galaxy S4 comes pre-loaded with widgets and apps on its Android home screen panels out of the box, but these can be easily removed. See the composite image below for the pre-loaded apps and widgets on a Sprint version of the S4. (Note: Spotify does not come pre-loaded. I put that in to the only available space I could find on the Galaxy S4. )
With all this… stuff, is this really the phone that I would recommend to my mother? Or anyone's mother?
Camera
The S4's cameras have so much going on it deserves its own focus. Fortunately, though, the advanced camera functions are easy to use and understand. The Galaxy S4 has a 13-megapixel back camera and 2MP front camera – more than most competitors.
The goal of the Galaxy S4 camera is to give regular people (not just professional photographers) the ability to use more of its features. "Where we really focused was allowing people to really get a professional kind of photo experience super, super easy," DiCarlo said.The camera interface uses a simple "mode" button on the display to toggle through the different ways the Galaxy S4 let you take a picture.
Best Photo: Takes a burst of eight pictures and selects the best.
Auto: Classic smartphone camera feature, automatically adjusts for light settings. On by default.
Beauty Face: Enhances facial features automatically.
Best Face: Combines five photos of a face to create the ideal image.
Sound & Shot: Takes a still photo and records nine seconds of sound to go with it. Annoyingly, the clips play automatically when you flip through photos in the gallery.
Drama: Takes multiple pictures of a moving object and transposes them to one shot. A standard feature on most digital SLRs.
Animated Photo: You take a picture of someone waving at you. You can then go back into the picture and freeze portions of it, but keep the waving hand moving. Kind of like taking a picture to create an animated GIF.
Rich Tone: Hi-definition. Most smartphones do this nowadays.
Eraser: Is there something moving in your photo you want t oeliminate. Eraser lets you edit the photo to remove people walking in the background, or traffic in the foreground. Eraser does not work on stationary objects (like someone photo-bombing your pictures).
Panorama: Creates a simple multiple panel shot – already standard on Apple and HTC smartphones.
Sports: Speeds up the camera take capture pictures of fast movement.
Night: Improves low-light pictures without flash.
Its quite a list, although a few functions, like Animated Photo, don't work quite as well as they could. The camera also has a dual-function mode where you can insert your face from the front camera into the view finder of the back camera. All in all, except for maybe the HTC One, there may not be a better smartphone camera on the market.
One note: Some of the functions (animated photo, sound and photo) are saved to the Galaxy S4 in a proprietary Samsung file and can be shared only with other Samsung devices.
Hardware & Design
The specs on the Galaxy S4 are comparable to other top smartphones on the market. The U.S. version sports the same Qualcomm Snapdragon 600 processor as the HTC One and LG Optimus Pro G.
It has all the usual sensors – Gyroscope, accelerometer, proximity – as well as that extra infrared sensor that powers the gesture-based controls. It also is said to have a barometer and humidity sensors, but I have no idea what they do or how to use them.
The Galaxy Sr's 2600 mAh battery, biggest in a non-"phablet" smartphone, will definitely last all day and then some.
The Galaxy S4 has the same flimsy plastic removable back as other Galaxy S models. DiCarlo explained the company's reasoning:
In terms of the material, we definitely heard the criticisms and comments. It definitely did not go unheard. Our thinking on that is that a removable battery is a good thing. If you are at CES working all day or at a concert or whatever, having an alternate battery is certainly a good thing. A lot of people still like removable memory. And a lot of our accessories allow the device to stay thin by replacing that back cover for wireless charging or whatever. There are a lot of user benefits as well as durability factor, something you can carry around with you in a case. Not to make any excuse for it, but just to explain the thinking.
Samsung's accessories, like the flip cover back, are definitely a big reason for the removable back. So is weight. At 4.59 ounces, it is almost a half-ounce lighter than the full-metal-casing HTC One.
Even though the S4 is a little smaller than the Galaxy S3, its screen is a little bigger, growing from 4.8 inches to 5 inches. The very nice screen is HD Super Amoled, coming in at 441 pixels per inch. If anything, the colors may seem a little over saturated.
You Might Want This Smartphone, You Might Not
Samsung will sell a lot of Galaxy S4s. Consumers will like the size and shape, the screen and the camera. Developers will like the chance to play with the gesture-based controls like AirView (if they can actually get them to work). Enterprises won't mind employees bringing the device to work with its capability to use Knox, Samsung's mobile enterprise management solution.
Really, the Galaxy S4 is a solid smartphone, in just about every way.
You just have to put up with Samsung's insistence on loading you down with bloatware, pre-loaded apps and features that you will likely never use and just get in the way. Once you cut through all that, the Galaxy S4 is a first rate smartphone.