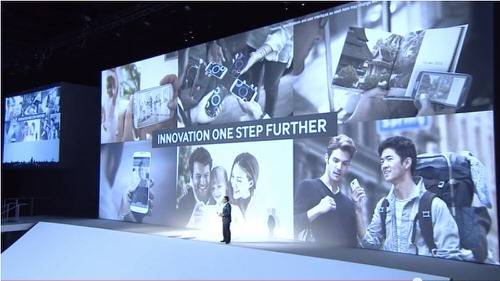 Samsung is nothing if not intriguing. It battles everybody in the gadget industry on all fronts including Apple, Microsoft, Nokia and, yes, even Google. So, it comes only as a mild surprise that Samsung today announced that it will hold its very own developers conference in San Francisco come October.
Apple has been holding its World Wide Developers Conference for the better part of two decades. Google has its own I/O developers conference that started in 2008. Microsoft has Build, its longrunning developer focused event that was held in San Francisco in June. Samsung, never one to be missing from the action, will hold its first developers conference at the Westin St. Francis Hotel in San Francisco from October 27-29.
Interested participants can enter their email on the conference's promo site, which offers little as to what's to come except for a few tag lines inviting application makers to "collaborate with fellow developers" and "engage with industry leaders." Ars Technica reports that a Samsung representative made clear that the developers conference will be "cross product and cross platform."
Samsung is likely looking to attract developers to key features for its various unique features it builds into its smartphones, tablets, televisions and laptops. On smartphones and tablets, Samsung has software developer kits (SDKs) and application programming interfaces for the likes of its Wallet product, smart televisions and the S Pen stylus that ships with its Galaxy Note products. Samsung originally launched the S Pen with the first Galaxy Note "phablet" with apps that it had built itself. In the Galaxy Note II, Samsung had partnered with several app makers, including new aggregator Flipboard, to institute features like Air View that highlight content in an app when you hover a finger or stylus over the screen. Samsung also builds smart televisions and has its own media and app store in with its Media Hub
The move to hold an independent developer conference could increase the notion that there is tension between Samsung and Google. The Wall Street Journal reported in February that Google is "getting concerned" over Samsung's stronghold on the Android smartphone ecosystem.
Samsung has said it will be selling smartphones later this year in emerging markets that will run on Tizen, an operating system backed by The Linux Foundation which is funded, in part, by Samsung and Intel.