Google and Samsung have reportedly come to an agreement to clean up Android.
There's been a growing schism between the two companies in the last year, one that threatened to put their lucrative partnership in jeopardy. Samsung is far and away the largest maker of Android smartphones and tablets on the planet, hence it is also one of the companies most responsible for spreading Google services across the globe.
But in a passive-aggressive manner, Samsung has been pulling away from Google recently. When it announced its flagship Galaxy S4 smartphone last March, the Korean manufacturer launched it with the built-in "Samsung Hub," an app store and media library full of books, movies and television shows. Samsung placed its "Media Hub" on home screens across the Galaxy smartphone and tablet lines, but doing so created a direct threat to the Google Play app store and media library. Why should a Android device come equipped with two app stores and two places to buy movies and music?
Samsung also replicated many of the same core apps Google builds for Android, including the browser, email system, notifications, messaging service and other apps. Any Samsung device user would have to decide between which apps to use: Google's or Samsung's?
See also: Why Samsung Is Cloning Google Play On Its Smartphones
According to technology publication Re/code, the two companies have reached an agreement where Samsung will no longer replicate Google's core apps on its Galaxy devices. The report does not specify which Samsung apps are getting the axe, but it seems that at the very least that the Samsung Media Hub would get the boot as a competing app store and content repository. Samsung's browser, email and calendar may also be likely for the cutting block.
Why Samsung Made Its Own App Store
When the Galaxy S4 was released last year, I asked Samsung why it had basically cloned Google Play on its new flagship device.
"Hub is really intended for people that own multiple Samsung devices," Samsung director of product marketing Ryan Biden said at the time. "It now allows us to deliver content to other devices from Samsung."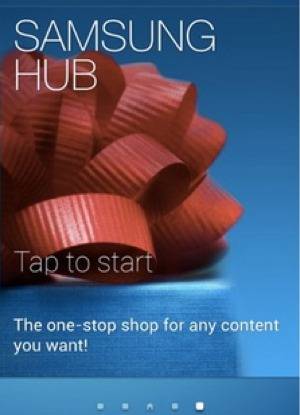 Essentially, if you own a Samsung television, tablet and PC, you could easily cast your content from one device to another with Samsung's screen mirroring technology and WatchON services. At least, that was the surface justification that didn't rock the boat.
Another theory, reported by The Wall Street Journal last year, was that Samsung wanted to distance itself from reliance on Google within Android. The thought was that Samsung was one of the heavy investors in Tizen, the bastard child of the woebegone MeeGo operating system, which was in development at The Linux Foundation. If Samsung could remain king of mobile mountain without employing Android anymore, it would need its own operating system (from Tizen) and apps for content and functionality that weren't Google's.
According to Re/code, Samsung and Google began talking about what Samsung was doing to Android at this year's Consumer Electronics Show. Google took umbrage to a new feature on a Samsung tablet announced at CES called "Magazine UX," which streamlined content on the new device and looked like a weird conglomerate of Android and Windows 8 user interfaces. Wednesday's report says Samsung will ditch Magazine UX, along with several other duplicate Android apps, from future Galaxy devices.
A developer with knowledge of the Tizen project's progress recently told me it has basically been neglected over the past couple of months, even by its biggest backer in Samsung. Hence it is unlikely Samsung can break off from Google with its own operating system any time soon. The other avenue of independence would be to fork Android in much the same way that Amazon has for its Kindle Fire products, but that would leave Samsung wholly responsible for updating the operating system, something that is not among the giant gadget maker's core competencies.
How Samsung Developers Are Affected
There are two groups of developers working with Samsung that could possibly be affected by this change. There's one group of developers that have already put time and energy into Samsung Hub—if Samsung's app store is dropped, all of that time and energy was basically wasted—while Samsung has been courting another group of developers to build on top of its proprietary features like Air View and Smart Scrolling within the version of Android running on Galaxy smartphones. These apps work through gesture and facial matching technologies that are not (yet) present in Android itself as provided by Google.
It is unlikely Google would force Samsung to ditch these features because they are ancillary to, as opposed to duplicative of, the core of Android and Google's own apps. Hopefully developers Samsung has courted through its developer conference and other outreach initiatives over the last year won't have to toss their work.