While talking to musically inclined entrepreneurs Jimmy Winter of RockDex and Shannon Schlappi of Locker Partner, I was reminded of something startup-scene veteran Robert Scoble mentioned in passing at Gnomedex. "I want to see a CEO who is passionate about what that startup is doing," he said. Business acumen be damned, Scoble and I agreed that a true fan makes for a great leader.

Winter is undoubtedly a huge music fan; moreover, he's got the web and business experience to make his own music-related web endeavors successful. Music Arsenal is one of his online-music-promotion-and-planning tools; we spoke tonight about RockDex, a tool bands can use to measure their social media clout and growth, as well as his upcoming merger with Locker Partner, which will allow those bands to take marketing actions based on the analytics RockDex already provides.
Winter spent the end of his teenage years – and the end of the dotcom days – flying back and forth from the his home base in Omaha to Manhattan, where he worked as a web developer for Fastmusic.com. RockDex was created, he said, for artists to "understand where their fanbase is at and make decisions based on that information."
Back in June, Winter wrote on his blog, "We began RockDex simply as a cool site to track your online buzz, but the response has been so overwhelming we decided to take it a step further." Since then, he's created RockDex Pro, which allows for "deeper tracking, better results, detailed data and more."
Initially launched just before SXSW Music in March 2009, the site provided musicians with a score of their overal presence on the social web. RockDex Pro gives more in-depth information on how artists are represented and discovered across various social networks and blogs. Bands, labels, managers, agents, and others can use this information to understand how their marketing efforts are working, discover rising talent while it's still off the radar, and understand customer behavior.
We played around with RockDex, using indie label band Year Long Disaster as our test subject. We were able to discover a ton of great information about where their fans live online as well as where they are in the real world. (The guitarist/lead singer was shocked to his foundation that Last.fm was generating more plays than MySpace, for example.) It was also enlightening to read the tweets from users who attended the show where they opened for The Cult.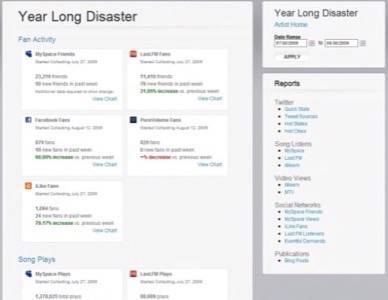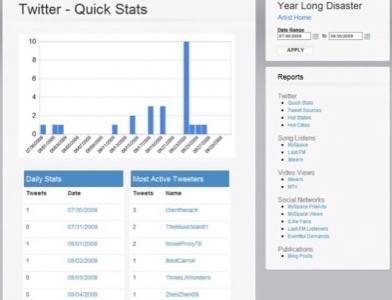 Somewhat similar to NextBigSound, which we reviewed shortly after their TechStars demo, RockDex is nevertheless unique in its offering, which is further enhanced by the Locker Partner merger.
"NextBigSound is just displaying plays or friends," said Winter. "RockDex has single-song information, geographical information, blog data, and it's just more in-depth. They [NBS] are tracking more artists, but it's clear that we're head-to-head competition."
As a use case, Winter mentions an emerging band on a large independent label. "The manager was pushing for a certain track to be the next single, and the label wasn't wanting it. But people were organically gravitating toward to the song the manager wanted to use; it was getting as many MySpace plays as their mega-single that was already out. The manager was able to use that as proof that that track should be used as the single."
And when it comes to touring, Winter said, "People are often surprised to find hidden fanbases" around which they can structure a tour schedule.
As far as Locker Partner is concerned, Kansas City-based Schlappi has been a web/music veteran since 1996. He owned at least one label, worked in distribution, put on shows, and has worked on social media marketing strategies for labels in recent years. In partnering with Winter, Schlappi's company willl bring programming and marketing expertise and help artists build marketing plans around RockDex's analytics and data.
"Not only do we know that Jimmy has the best tool to retrieve to data," said Schlappi, "but we have the tools to help people make smart moves based on what the data's telling them.
"Almost everything that RockDex retrieves – we've been using that data, but we didn't have it easily accessible in real time."
Does this Midwestern merger of two startups and the partnership between two experienced, passionate founders add up to a strong contender in the music metrics and marketing space? Keep an eye out for the RockDex redesign and new offerings to find out.