There's something stupid about smart jewelry. But at least one manufacturer is trying to up the game.

Despite evidence indicating that women are the predominant adopters of major technologies, or that we outnumber men as prospective buyers of wearable gadgets, this device category—which inherently targets us—tends to be rather lame.
See also: Smart Jewelry: 5 Gadgets To Keep Notifications At Your Fingertips
When you look at a smartwatch, a fitness tracker, smart glasses or any other wearable, there's usually some sort of major fail involved when it comes to looks, pricing or functions. Even more so for smart jewelry. This had me ready to dismiss Ringly as just more of the same.
But there was something intriguing about the concept of a smartphone-notifications wearable disguised as a cocktail ring. If the startup could pull it off—i.e. offer something better than toy jewelry that also worked well—it just might have a winner on its hands.
So I agreed to take a closer look at the ring, which just opened for pre-orders this week. I'm glad I did.
Looking Good
There's a higher aesthetic standard for wearables than other types of gadgets. Because you're, well, wearing them, other people look at them all the time (and sometimes judge you on them).
Google finally wised up on this score, bringing in fashion designer and Google Glass nerd Diane Von Furstenberg to redesign the smart spectacles. It's the reason Pebble redesigned its plasticky smartwatch in a metallic version called the Pebble Steel, which goes on sale in Best Buy stores later this month.
Yet smart jewelry makers just don't seem to get it. All too often, the products feel cheap, like plastic pressed and painted to look like metal. Occasional beauties do hit the market, but they frequently carry a ridiculous price tag or boast a "killer feature" that's just too lame to be taken seriously.
According to co-founder and CEO Christina Mercando, Ringly takes this problem very seriously. "We designed it to hold up as jewelry and as a wearable," she said. For the young entrepreneur, who has degrees in human-computer interaction and fine arts from Carnegie Mellon, the device solves the "rudeness" problem of having a smartphone sitting out all the time. It's designed for women who want to stay connected, but don't want the intrusiveness of ever-present technology—or to look like a cyborg donning geek-wear.
As you'd expect, Ringly doesn't look like a gadget at all. It looks like a cocktail ring with a large precious or semi-precious stone set in a matte gold band. The bronze-brass alloy is plated with 3 microns of 18 karat gold, and the whole water-resistant case feels sturdy and well made; not at all cheap. I asked Mercando what would happen if the gold wore away: "Would it change color, or look trashed?" After all, such questions are important when you're assessing jewelry.
"No. At most, it will look less matte and a little shinier," she said. Assuming she's right, the ring seems to hold up as a stylish fashion item. As it turns out, it also holds up as a gadget.
Working Great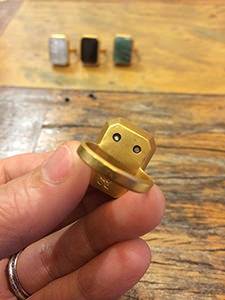 Ringly offers discreet notifications, vibrating as iPhone and Android alerts come in via Bluetooth Low Energy—but only those alerts that require immediate attention. Think calls, texts, emails and appointments, as well as a select choice of other apps, including Facebook, Twitter, Instagram, Uber, eBay and Tinder. Any more than that and your finger would buzz all day long. The ring can also flash a small notification light on its side, if the wearer wants. (If not, it can be shut off.)
Using an accompanying mobile app, Ringly owners can set four different vibration patterns, as well as five different colors for the light. At the moment, though, you can only assign those personalizations to particular apps, not to individuals—say, a spouse, boss or close friend As a special treat, the company will embed a real diamond—a really small one, to be sure—in front of the LED in the first 1,000 pre-ordered units.
Powering the device is also a cute affair. The smart jewelry comes with a ringbox that doubles as a charging station. Just pop Ringly into it, and the magnetic contact points deliver the juice for another two to three days of use. I had hoped battery life would be longer, but the ring's compact design can't exactly house a giant power cell.
Still, it's one of the nicest-looking smart jewelry products I've seen, particularly at this price point. Pre-orders go from $145 to $185 during the pre-order phase, and will go up another 25% when it officially launches this fall.
And Being Fabulous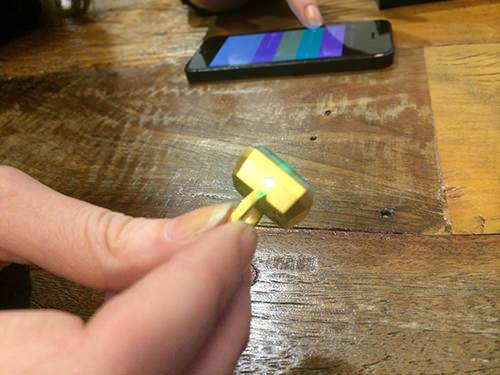 The notion of vibrating smartphone alerts (or lights) on the finger, sans some sort of display, might seem sort of, well, basic these days. You obviously won't get much information as to who's texting, or what they're sending you. But as a work colleague pointed out to me, there's something refreshing about a device that can distill notifications into their most essential form—especially considering how many smart gadgets are bloated with complex features.

Simple, however, doesn't mean boring. Ringly also has an accelerometer, which means that it's capable of recognizing gestures some day. Mercando ran through a possible scenario: "Imagine trying to quit smoking. You could set this gesture," she said, pulling her hand away from her mouth like she just took a drag from a cigarette. In that case, the ring could be used as a nag prompt, with "it vibrating, to remind you that you're trying to quit."

It's an interesting idea, made even more so by the potential of communication moving in two directions. All that finger-waving might actually kick off actions in other devices one day.

In other words … gesture control, anyone?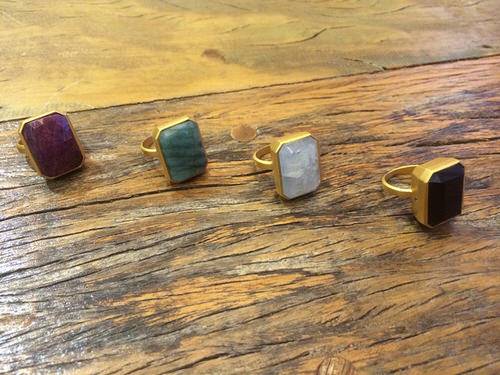 The thought is intriguing, if a bit undeveloped at this point. It's also not clear that it would appeal to Ringly's target customer of decidedly non-geeky women. But I find this kind of impressive. Mercando and her team obviously put more thought into the product than its initial feature set would suggest, meaning it may grow into new uses down the line.

Despite my critical view of smart jewelry, Ringly managed to appeal to me—as a harried professional who needs a handle on important notifications, as an early adopter of technology and, perhaps most importantly, as a woman who likes pretty, shiny things. So I did what I rarely ever do: I placed a pre-order. Apparently, I'm not alone. According to the company, the product drew $60,000 in pre-orders within the first eight hours.
At this point, I'm crossing my untechified fingers that this wearable's smartness and looks will hold up in day-to-day usage in the real world. I'll find out for sure this fall.