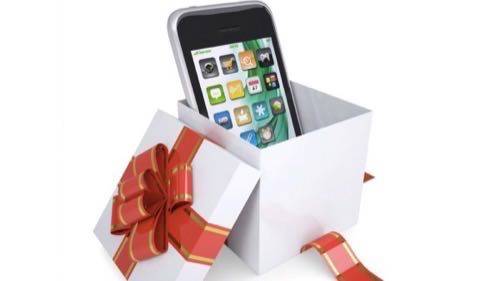 The holiday season is important to the mobile app economy, like it is for so many other industries. Yet, unlike retail businesses or the service economy that benefits in the weeks preceding Christmas Day, December 25th is perhaps the busiest day of the year for app developers. It makes sense. People get new smartphones and tablets as gifts, activate them and start downloading apps.
2012 proved no different. Mobile analytics company Flurry estimates that 17.4 million iOS and Android devices were activated on Dec. 25, 2012. For comparison, the period between Dec. 1 and Dec. 20 saw four million iOS and Android activations per day. Activations on Christmas represented a 332% increase from the first three weeks of December.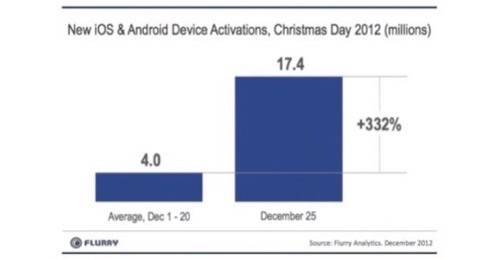 Christmas Day smartphone activations also prove the general theme of mobile in 2012: everything mobile exploded this year. We thought the 2011 growth in smartphones, tablets and apps was impressive. Well, 2012 made 2011 seem like ants crawling up a mountain.
On Dec. 25, 2011, Flurry estimated 6.8 million iOS and Android activations. The 17.4 million activations in 2012 represents 2.5-times that of 2011. It is important to point out that Flurry is considerably larger this year than last, which could effect its projections. Nearly 260,000 apps currently use Flurry's analytics system. The company estimates it can accurately gauge 90% of new device activations in the world.
Once people had all those fancy new devices in their hands, they started to download apps. In droves. Flurry estimates that 328 million apps were downloaded on Dec. 25 (at least on its own platform), a 112% increase from baseline data from Dec. 1 to Dec. 20 (155 million app downloads per day). Flurry says that the 328 million downloads was a record day, "besting that of any previous day in history."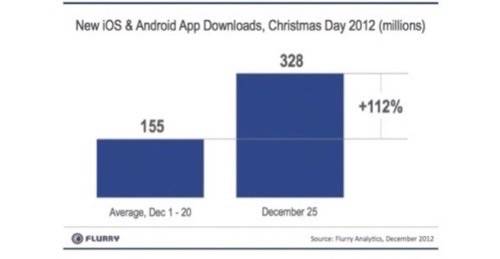 It is interesting to note when people starting downloading apps on Dec. 25. If you household is anything like mine, then we wake up around 8 a.m. and start opening presents (oddly enough, no tablets or smartphones were given among my family this year, an extreme rarity). That means that we were nearly done with presents by 9:30 a.m., which means we would be playing with our gifts by about 10 a.m. Flurry charted app download volumes throughout Dec. 25 and found that downloads peaked around 10 a.m. on Dec. 25 and held steady at that highpoint for the next eleven hours or so, as the next chart illustrates.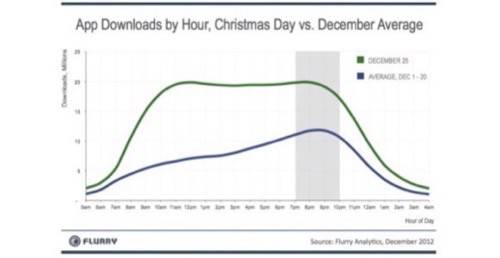 Christmas Day also saw a bounty of tablets under the tree. Dec. 25 saw 51% of all device activations go towards new slates. Flurry notes that the iPad, iPad Mini and Amazon Kindle Fire HD 7-inch were the big winners this year.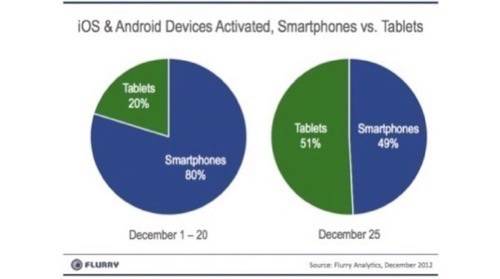 These may seem like impressive numbers, but the entire week between Christmas and New Year's Day is the busiest of the year for app downloads. Smart app publishers got their apps (and marketing plans and in-app purchases/discounts) in to the iOS App Store and Google Play the week before Christmas. That is especially important for iOS, as Apple locks down the App Store for a week every Christmas, this year starting on Dec. 21.
What apps did you download this holiday season? Let us know in the comments.
Top image courtesy Shutterstock