Tuesday's North American release of Asus's new flagship handset, the ZenFone 2, confirms a growing trend that, frankly, fills me with sadness: the rise of the phablet.
Phablet Phatigue
This isn't a new complaint, of course. Our own Adriana Lee had similar thoughts back in 2013, and since then, the problem has only grown worse. It was clear that the phablet was an unstoppable force when even Apple, the aesthetic-obsessed company that wouldn't give up on 4-inch phones, unveiled the giant sized iPhone 6 Plus.
As a result of Apple's journey into the land of giants, the ZenFone 2's similarly sized 5.5-inch screen has barely raised an eyebrow—even though a phone of that size would have been considered utterly huge only a year ago. We're all so used to seeing enormous handsets by now that it barely even registers when another one joins the list.
Obviously, there are plenty of benefits to using a larger phone. Bigger displays mean more potential to get things done. A large phone also gets a large battery, which—again—increases a mobile user's productivity quite a bit.
Put A Ring On It
That said, from an ergonomic standpoint, big phones are also a big pain. At 5'8", I'm just about average in terms of height for an American male, but just about every new phone that comes out is definitively too hard to handle in my statistically normal-sized hands.
Even Adriana, who wished in vain for smaller phones back in 2013, has gone over to the dark side with her iPhone 6 Plus. Her solution? She's got an iRing affixed to her phone's case, which helps her get a grip. And here I thought all you really needed to hold your phone would be, well, hands. Call me old fashioned.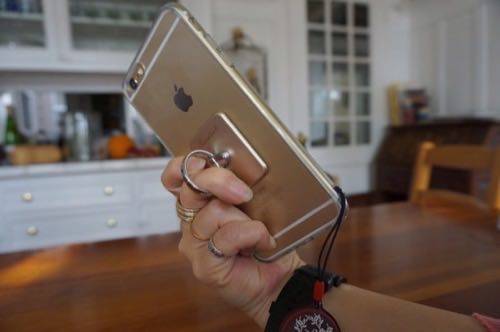 The real problem isn't so much that there are too many phablets, but that there aren't enough non-phablets these days—at least none that are truly interesting. Consider Asus, LG and Google (by way of Motorola). All three of their flagship phones have screens of at least 5.5 inches. And though the HTC One M8 and One M9 have 5-inch screens, once you add in top and bottom speakers, the phones are again mammoth-sized in the average hand.
Samsung, amazingly, has actually shown something resembling restraint, having opted to reserve its truly ginormous handsets for the Galaxy Note series. Of course, the Galaxy Note is primarily responsible for bringing the current phablet craze to the world, so Samsung only gets partial credit for that one.
At the end of the day, there's something to be said for a device that can actually fit comfortably in your hand and pocket. I'm still holding out hope—quite possibly forlorn—that Apple won't let the iPhones 5S and 5C shuffle away without designing a new 4-inch iPhone. We need Apple to lead by example for more modest devices—you know, ones that don't make me look like a baby holding a tablet up to his face.
ZenFone 2 image courtesy of Asus; iPhone 6 Plus photo by Adriana Lee for ReadWrite