This week at the second annual Internet of Things 2010 conference in Brussels, British service Pachube announced a partnership with Current Cost, a producer of real-time energy monitors. Current Cost is using Pachube's Internet of Things platform for the Bridge, an ethernet device that connects Current Cost electricity monitors to the Internet.

Pachube founder and CEO Usman Haque called this "a major step in making the 'internet of things for consumers' a reality."
We've long been a fan of Pachube (pronounced Patch-Bay) and named it one of our Top 10 Internet of Things Products of 2009. Pachube is an open platform for sensor data. We first reviewed it in May last year, and since our last update in October, Pachube has followed through on Haque's promise to develop a viable business model. The Current Cost partnership is a part of that evolution.
The Move From Experimental to Commercial
One of the most exciting things about covering the Internet of Things, is watching the slow but gradual move from experimental apps to commercial ones. I watched – and blogged – this same evolution in the years before Web 2.0 existed (2002-2004) and it's happening again in 2010 with the Internet of Things. Startups like Pachube are literally inventing the business models as they go.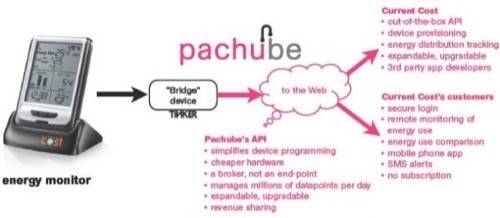 As we've noted in previous posts, up until now Pachube has been mostly used for experimental applications. However, Current Cost may be its first important commercial case study. The Current Cost Bridge enables users to analyze their energy use via a website dashboard, on iPhones and other smart phones, and via Google's energy service, Google PowerMeter.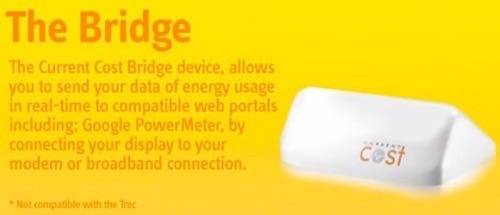 Pachube is being used for data management on the Bridge, enabling the device to deliver tracking, notifications, comparison tools and more. The Bridge also has "enterprise level features" such as privacy groups, statistics API, user management and a device provisioning server.
Pachube's New Revenue Models
Pachube now has what it terms a "corporate" service – essentially a third-party service for companies that want to connect devices to the Internet. For example Pachube provides bulk accounts to "web-enable thousands or millions of devices," such as electricity meters. Other services include delivering out-of-the-box tools for consumer-facing companies, building communities around products, and developing branded Web portals for manufacturers.
In addition, Pachube has added premium accounts to its consumer service offering. These include value-added features such as privacy options, statistics and aggregation, greater bandwidth,
history and search.
It's great to see Pachube develop its business and we'll continue to track its efforts!