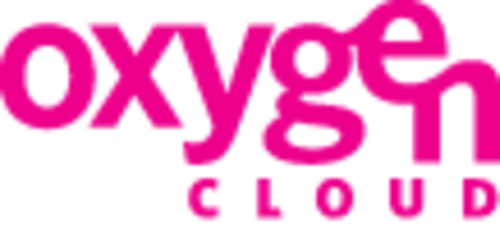 You may know
. It's the wildly popular file storage and syncing service that is driving the geek set gaga. You may also know Box.net. It's the Web-based file storage and collaboration service.
Now meet Oxygen Cloud. We're not talking about a cloud for that cable network with a distinct feminine edge. Still, the logo is a cute pink. At least one fellow blogger at Enterprise 2.0 asked me if they were selling Oprah….in the cloud. He was serious.
Instead, Oxygen Cloud is a desktop file sharing service that combines storage and collaboration features in a cloud-based environment. It may sound odd to think of Oxygen as a cloud-based service on your desktop. But you can pretty much mix anything with the cloud these days. The desktop fits in a cloud environment as a symbol for the relationship between the Web and traditional work environments. Open the icon on your desktop or on any device and the cloud is right there. Dropbox has the feature. It's a Nomadesk feature, too. Nomadesk considers itself to have a collaborative component so the combination Oxygen Cloud provides is not unprecedented.
But there is a gap in the market. Data storage and collaboration are not often viewed in the same context. But they are forces that can be networked together by using the desktop as an abstraction to the concept of the cloud.
Collaboration is still the hot topic. Any number of companies are working on developing services that provide sharing, co-editing, activity streams and associated features. Several popped up at the Enterprise 2.0 conference.
On the contrary, we did not hear much discussion at Enterprise 2.0 about data storage and the amount of structured and unstructered data that is being produced. The amount of data in an enterprise environment will only scale.
Oxygen believes that bringing these forces together create a synergy that provided a place to oput all the dat an collaborate around it, too. The service won't be available until later this summer so we will have to wait for it to go live before testing it out.
But we did get the chance to sit down with Founder and CEO Peter Chang at Enterprise 2.0 last week.
Chang says the Web is not really a place where the enterprise does its work. We'd care to differ a bit on that premise but we can agree that the ability to divest the Web storage from collaboration makes some sense. It may also have some value to serve as a way to mend the relationship between data storage and sharing.
The Oxygen Cloud desktop environment permits people to share files in an end-to-end secure network. Files can be shared in a virtual environment that is connected to a public cloud. In that way, Oxygen Cloud acts as a super broker for Amazon or other cloud services. The data is securely stored. But the people can see the content in the same place. It's a method of packaging that can solve a few problems. It helps mitigate the data storage question. And people can share document in what Oxygen maintains is a secure environment.
Oxygen will also provide a do-it-yourself private cloud through a partnership with Data Robotics. Bandwidth is one of the issues with a service like Oxygen. The company says a private cloud environment may resolve issues with Internet latency.
Oxyen Cloud is subsidiary of LeapFILe, which provides secure file transfer services to the Fortune 500. It's this pedigree that gives the service some additional strength. They are in a position to bridge that file storage experience.
Oxgen Cloud combines collaboration so it is not a pure file storage service. In that respect it is a bit of a departure for LeapFile. We'll see how things look once the beta goes live.