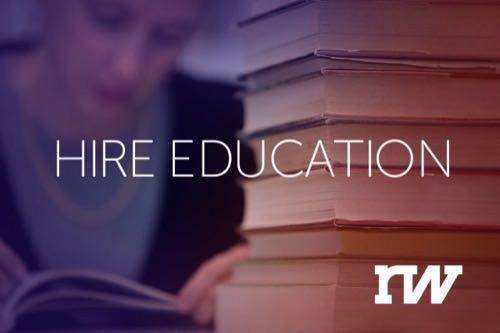 This post is part of Hire Education, an ongoing series in which ReadWrite examines technological innovation in education and how it's reshaping universities that are preparing students for a transformed workforce.
One of Matt Damon's best lines in Good Will Hunting came when he chastised a booksmart Harvard scholar, "You just spent 150 grand on an education you could have gotten for $1.50 in late fees at the public library."
Will Hunting needed real dedication to wrangle an education out of library textbooks, but he'd find it a lot easier these days. The blue collar genius would likely boggle at the number of people piecing together college-like educations using today's free online tools. Thanks to modern technology, self-motivated learning has become easier and more prevalent than ever.
With total student loan debt now at more than $1.1 trillion in the U.S., it's no wonder people are seeking out cheaper options. According to Going the Distance: Online Education in the United States 2011, the most comprehensive study on online learning to date, more than 6.1 million people have turned to online tools to further their own personal and professional development—often enough, to improve their own job prospects. That number is undoubtedly even higher, given a profusion of new online options.
See also: The Traditional College Lecture Is Dead
What you can't typically get from online study—yet—is the resume-burnishing effects of a degree from a reputable and accredited university. Which means that today's online students are placing their bets on other benefits of online study, such as the following.
Study Anything You Want
When you enroll at a college or university, the institution you've chosen determines your field of study, at least to an extent. There's a vast difference in the types of classes offered by a liberal arts university and a technical institution. If you're an aspiring computer scientist with an itch to learn more about the ancient Greeks, you could be out of luck. Same for a business major who wants to know something about biology, or an architect who wants a better grounding in civil engineering.
Online, however, anything goes. At Coursera, one of the Web's largest providers of online courses, the offerings run from accounting to "moralities of everyday life" to "Web intelligence and Big Data"—and everything in between. The company currently boasts 448 free courses spanning a breadth of subjects you'd be hard pressed to find taught at any given academic institution.
That almost ridiculous level of diversity is often the strongest selling point for many online learning tools. That's the case with StudyBlue, a free online flashcard tool. According to CEO Becky Splitt, user make flashcards for everything from English class to yoga poses.
"The majority of our users come to us initially while they're in a traditional class session. Like they'll start for a science class, and then they'll make a set of flashcards that's the entire IHOP menu [for a waitstaffing job]," she said. "They don't stop learning when they walk off a campus or out of a classroom. We have decks on how to tie a parachute for troops, to yoga poses, to wine sommeliers."
The Classroom Is Open—All The Time
The Web's 24-7 mentality is a given for online education tools.
Online-course provider Udacity, for example, doesn't offer live lectures that students have to follow as they're happening, but rather videos users can watch whenever they have a spare moment. Then, if and when it's time to interact with the professor, students can comment in the class forum and expect a response within hours.
But it's not just student-professor relationships that can benefit from an always-open classroom. It also helps students find study buddies, even if they're on the other side of the world. As Splitt notes about StudyBlue users:
We're breaking down the barriers of social inhibition, even language inhibition. Anyone around the world could be studying what the economy was like in Egypt during the Arab Spring, and be commenting on other students' notes and cards. They don't have to have a scheduled time or find the other person who they're interested in sharing information with.
Learners can find courses, professors, and one another even if they're not physically near one another, and even if their schedules aren't close to compatible. That makes online education a snug fit in anyone's busy schedule.
Better Professors
Another fortunate side effect of a classroom with no commute: There's one less barrier for course teachers around the world. If an expert professor is in one country and you're in another, you can still virtually attend her online course.
This is the primary selling point of creativeLive, a company that offers free, live lectures about photography, filmmaking, Web design, and other creative fields. CEO Mika Salmi said it's the instructors that set the startup apart.
"These are not community college instructors," he said. "They're reknown experts at the top of their fields. Some are best-selling authors."
In a previous era, students would have been limited by geography. Living nearby an expert was the only way to get lucky. And that's only if the expert was interesting in taking on a protege. But with creativeLive, hundreds of thousands of students can freely partake in an expert's knowledge at a time, making it worth the expert's while.
"Even if you can't get to MIT or Stanford, you can still get incredible professors," said Salmi. "It's changing what's available for people when they consider their career path and even their life path."
Get Skills, Not Certificates
Traditional education still has one big advantage over online resources when it comes to future employment prospects: a diploma. Most online tools offer an unofficial certificate or nothing at all.
However, just how long is that piece of paper going maintain its relevance? The Gates Foundation, a huge player in educational reform, blogged in August that the future lies in skill based hiring:
It is increasingly seen as a more reliable alternative to traditional hiring practices that focus on a candidate's degree, resume and experience to predict his or her potential to succeed on the job.
Google has already moved on to skills based hiring, according to a New York Times interview with Laszlo Bock, senior vice president of people operations. Bock told the NYT: "One of the things we've seen from all our data crunching is that G.P.A.'s are worthless as a criteria for hiring, and test scores are worthless."
This is probably why so many online education resources focus on making sure learners exit the program with skills instead of a certificate. At University of the People, the Web's most notable free college, graduates don't receive a diploma. At online programming school Treehouse, CEO Ryan Carson said student success is by how long Treehouse users get hired stay employed after completing particular courses.
See also:Why Citizen Developers Are The Future Of Programming
Salmi, who serves on the board of a graduate school, said he hopes traditional programs will move in the same direction.
"You don't know if students do well because of a piece of paper," he said. "The most important thing is making sure graduates have real skills, so that should be our top priority."