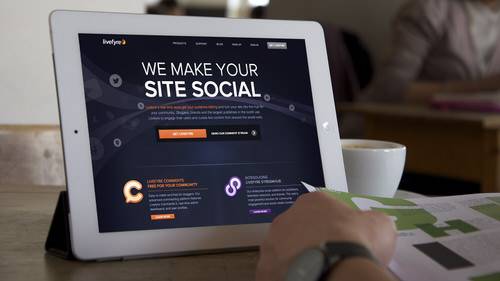 They almost seem like an afterthought, the comments attached to Internet content. These scribblings may seem like the anonymous musings of the masses, but many corporations are viewing them as a high-powered vehicle to drive lead generation and community building, and funding trends for commenting vendors suggests that this is not afterthought: Comments are a very valuable Web business.
Chances are you've used Livefyre and not known it. After all, their clients include some of the biggest media out there. With huge partnerships with Sports Illustrated, The New York Times, and TechCrunch, Livefyre's business is largely enterprise, and geared towards giving its clients, who boast millions of readers, new outlets to express themselves. Way beyond the typical social login, those options include live chat discussions, comment threads where users can embed YouTube videos, media and pictures, and new second screen experiences geared to drive engagement.
So when Livefyre announced a $15 million funding round last month to ramp up their mobile and moderating features, people took note.
If Livefyre is the new kid on the block flexing its muscles, then the tried and true veteran is Disqus, which has raised more than $10.5 million in VC investment. The six-year-old Y Combinator startup is the other major player in this sector, powering a total of 2.5 million sites, including big names like CNN and — ahem — ReadWrite. Disqus operates on a freemium model, with pro accounts at $99 a month. While it may not be fancy as Livefyre, it's effective, just like other commenting services like IntenseDebate and Echo, other players in this space.
That's a lot of choices for publishers, because there's value in giving customers varied options as to how they interact online.
Let Them Comment
Users crave both more options from comments and more ways to engage with other readers and writers. As a result, publishers are shelling out dollars to increase that back-and-forth interaction. At the end of the day, people commenting on a page means longer active time spent on a site, and the potential of driving up click rates on adjacent ads. It's also about community building on these comment threads, and leveraging that community for more page views and reader loyalty.
Robyn Peterson, CTO of Mashable, says Livefyre has amped up conversations in three ways. Comment streaming drives up the "organic and lively feel of the conversation, which in turn drove more commenting from other readers. Second, since Mashable is a very social brand, a lot of our reader conversation takes place on Facebook, and Livefyre is able to cull those conversations and mirror them on our article pages, which coalesces the across-the-web comments into a single comment stream."
Lastly, Peterson says, social functions — like the aforementioned embeddable media — help readers "add more interesting content to a given article."
Interfaces that fuel user engagement creates maximum return on these comments, says Jordan Kretchmer, Livefyre's founder and chief executive officer. He sees comments as way beyond a linear and threaded tool.
"Our approach of integrating all conversations about an article or topic into one place makes us unique, regardless of the format those comments are displayed in," he said. "The centralization of social content is key to getting users to interact more."
Steve Roy, a Disqus VP for marketing and PR, says his company is not trying to build a better comment mousetrap. Instead, he wants to make it easier for people to participate in discussions and introduce them to communities where they can explore their passions:
Our AudienceSync feature enables users to easily connect their Disqus profile to publisher sites with one or two clicks. It makes it easy to participate in discussions on even more sites while enabling publishers to manage their own registration systems.
Roy explained that these tools are getting people to stay on the site and express themselves, a boon for publishers. "Our data shows more than half of all our page visits include time spent engaged in comment, either reading, sharing or leaving comments. Audiences truly care about this discussion. And as page real estate, it's unharvested revenue territory," to the tune of 15 million organic new clicks to publisher content a month.
A new tool called the discovery box recirculates traffic back to the publisher through promoted articles, providing a "new revenue stream each time a reader clicks on an advertiser's content," Roy said. "It's optimizing their comments section much like they already optimize the headlines and articles for search."
That interaction between commenters and blogs is producing real revenue. "This quarter, we're making revenue share payments to our publishers who have participated in our pilot native advertising launch," Roy said.
Real Value?
Comments are seeing a serious build up of online niches and sub-communities, to the point where some sites like Gawker have even toyed with the idea of charging readers to comment.
A year later, it seems they've given up on this pay-to-play approach, but Gawker has since introduced a new level of comment curation. Users who reply to an existing comment are more likely to get their opinions seen higher on the page than an earlier user who added a reaction directly to the original post. Gawker is attempting to highlight the most-trafficked and replied-to material, doing away with the chronological commenting stream, all in an effort to keep readers on site.
It's difficult to imagine a scenario where charging a fee to comment becomes plausible or scalable. It's not something that we believe in culturally since speech tends to be viewed as both free as in freedom and free as in beer.
But publishers are investing in comment systems in an effort to generate more indirect revenue. People are commenting more than ever, driving huge consumption and engagement that publishers would lose if they didn't recognize the value of comments. A value that's at least the equal of the material they're commenting upon.
Photo courtesy of Shutterstock