OkCupid's dating trends research blog is back, reminding us again just how shallow humans are, and that our time spent on the Internet can be modified to a company's whims.
While unveiling the latest social dating data, the dating site also took a shot at critics of online research experiments, specifically Facebook's mood study, and said that, "if you use the Internet, you're the subject of hundreds of experiments at any given time, on every site."
The blog post published on Monday titled "We Experiment On Human Beings!" takes a look at how people judge one another's profile and personality by the type of photo they use, and that OkCupid intentionally matched people who were incompatible to see if suggesting people would like each other did, in fact, make them a good match.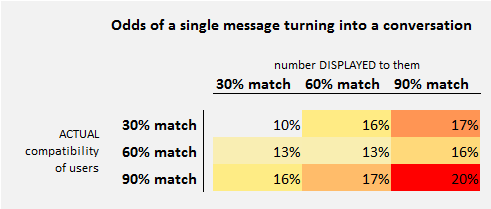 OkCupid has never been shy about revealing data its members provide for tests of the human psyche. Between August 2010 and April 2011, OkCupid's massively popular OkTrends blog used data provided by its members to discern hard-hitting questions like how likely it is someone will masturbate, and how men react to pictures of women online.
This time, though, OkCupid's research explains how it changed data to see if users would notice.
We took pairs of bad matches (actual 30% match) and told them they were exceptionally good for each other (displaying a 90% match.) Not surprisingly, the users sent more first messages when we said they were compatible. After all, that's what the site teaches you to do.
OkCupid likened its experiments to those that Facebook researchers published earlier this year that caused an uproar on the Internet. Facebook consciously tweaked news feeds of users to find out if seeing positive or negative posts changed peoples' moods.
In OkCupid's blog post, the company dismissed concerns for those type of tests. It even put "experimented" in quotes, as if it wasn't that big of a deal.
"Data scientists are confusing what they do with social science," Rey Junco, a social media scholar fellow at the Berkman Center for Internet and Society at Harvard University, told ReadWrite. "I see a major difference between what OkCupid did and what Facebook did."
According to Junco, OkCupid's "experiments," were nothing more than A/B testing an algorithm, but the company didn't present it in a neutral way. They compared their experiments to what Facebook did—the difference being OkCupid experiments didn't have the potential harm someone like Facebook's did.
"What could have happened with the Facebook manipulation was that there was a potential for harm," Junco said. "The worst thing could have happened [with the OkCupid testing] is people send a few more messages, and maybe you went on a date you didn't like."
Is This A Problem?
OkCupid, like Facebook, states in its privacy policy that data the company collects can be used to "perform research and analysis about your use of, or interest in, our products, services, or content, or products, services or content offered by others."
So, just like on Facebook, the only way to avoid being a subject for love tests on OkCupid is to not use the site at all.
The dating site has a point, however.
Any time someone uses the Internet, we open ourselves up to tests. Ads displayed next to our Google searches or Amazon purchases are carefully crafted advertisements designed by data scientists to serve up an ad for something we're likely to click on and buy. Our movements are tracked across the Web to figure out how and why we visit certain sites, and how to make money off our personal data.
Companies are always A/B testing their products—meaning two different people can see two different versions of a website at any given time. When someone agrees to the terms of service, they're agreeing to be part of the company's tests to better their products.
But what happens when companies don't just analyze the data, but actively manipulate it for science?
"When social scientists think about doing an experiment, they have to think about the worst thing that can happen because of your intervention," Junco said. "Is what you get from the research worth doing the intervention, and if the answer is yes, what are you going to do to minimize the effects?"
In Facebook's case, the company worked with researchers at leading universities and submitted the paper describing its findings to a publication. Apart from the frustration users felt about being used in an mood manipulation experiment without first being asked, the controversy also brought up concerns over university institutional review boards and the ethics companies must adhere to when performing educational research.
OkCupid didn't submit this information as an academic paper, nor did it partner with any institutions to scientifically prove or disprove its matching algorithm. The studies it completed were done to see if its matching algorithm worked at all in the first place, or if people, when provided a match percentage, trusted the company's data-backed technology.
"I think that the tech companies have been up in arms like, 'Oh we can't do A/B testing,' and I don't know anyone who is saying that," Junco said. "But if you take it to that degree, then you can't have the conversation as to what's really happening and how to best protect the users if you want to do other research."
There's a difference between a company secretly manipulating data in an attempt to effect user mood and a dating site testing whether its matching algorithm actually works. But these so-called "experiments" by Facebook and OkCupid are important reminders that we live a digital world where users are often test subjects in a company's effort to improve its product.
As such, we have several choices. We can read the site policies and have some idea what we're in for. We can abstain from the internet all together. Or we can remain blissfully ignorant, and in the case of OkCupid, message that person with whom we're potentially incompatible. It could be worse. And in the case of Facebook's mood tests, sometimes it is.
Lead image courtesy of Pablo on Flickr. Matching data image provided by OkCupid.