Jailbreaking, the act of hacking your iPhone or iPod Touch so that it allows for the installation of unapproved third-party applications, is a popular activity among the tech community. But in addition to allowing you greater control over your mobile device, there's another – ahem – benefit, if you will. Jailbreakers can install free versions of paid applications. These pirated, or "cracked" apps as they're called, are distributed through online repositories for easy download to your device. The whole process is as simple as snagging the latest box office release or popular album from the file-sharing site, The Pirate Bay.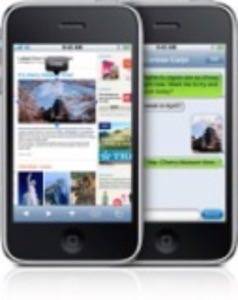 But many jailbreakers claim that they're only pirating apps so they can try them out before purchase – a necessary evil since Apple doesn't offer trial periods for their applications, forcing developers to release "Lite" versions instead. While some do so, many others apps exist only as premium versions. Considering there are now some 85,000 apps to choose from, people want to know if their app purchase is worth the money. Or so they say. However, recent statistics about application piracy prove otherwise.
Piracy a Global Phenomenon
At the recent 360iDev conference, mobile analytics company Pinch Media shared some findings about piracy in the iTunes App Store. They've been tracking jailbroken devices for several months now and have started to get a handle on this previously unexamined ecosystem. According to their data, which includes 4 million jailbroken devices, 38% have at least one pirated application installed. Pinch Media says this estimate is low since pirates often take extra steps to avoid detection. Still, it's worth noting that this percentage is nowhere near being the majority of jailbreaking users. There are more people who just want extra control over their device and not an opportunity to steal apps.
They also discovered that the piracy phenomenon is not limited to any one particular market. Although piracy rates are relatively low in the U.S., the U.K. and Japan, where perhaps Apple iPhone users have more money at their disposal to spend on premium applications, piracy is a global problem. However, it does appear to be much more rampant in markets like China, Russia, Brazil and Mexico, where it's negatively correlated with per capita national GDP, notes Pinch Media.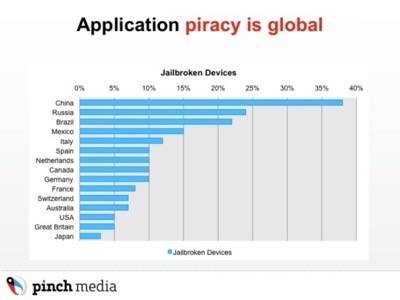 "Try Before you Buy" – Just an Excuse to Steal?
However, the most interesting finding was the one where the "try before you buy" mentality was exposed as being a myth. Despite jailbreakers' claims that the need to "demo" an app is among their top reasons for pirating, Pinch Media found that this simply wasn't the case. To test this, they set a baseline for typical conversion rates of legitimate "lite" to paid applications and found that the conversion rate there is 7.4%. That means about 1 in 14 who try the "lite" version go on to purchase the paid version. However, among the pirate community, pirated-to-legitimate conversions are 0.43%. That's only 1 in about 233 installations. In other words, few users of pirated apps are truly "trying before they buy," they're just trying.
That being said, the pirates aren't necessarily using the pirated apps all that much. Pinch Media found that pirated apps are used less frequently than paid applications and for a shorter amount of time. They theorize that this is due to a few reasons: pirates are less attached to apps considering that they didn't pay for them, pirates often install more applications in bulk and therefore don't have much time to spend with each one and jailbroken iPhones tend to crash, leading to more frequent app uninstalls.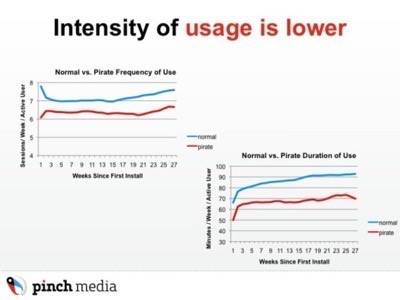 Although these findings may initially disappoint application developers who see piracy as contributing to lost revenue, the argument could be made – as it often is among other content-producing industries – that the people doing the pirating weren't actually going to pay for those apps anyway. They're simply sampling them because they can. While it's still a stretch to say that piracy helps developers, it's hard to really quantify how much it hurts them.