Two announcements in the past month show that the wireless routing marketplace is getting cloud-savvy, with the ability to use the cloud to manage widescale deployments. The advantage of this is clear for companies with several branch offices that want to maintain a single wireless and wired network across their entire enterprise.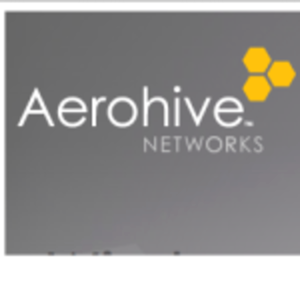 The products are from the Branch on Demand BR100 from Aerohive and the ZyXEL NWA1100N-CE. While not directly comparable, both offer the ability to centrally manage a collection of wireless routers and both are offered on a subscription-pricing model. Aerohive units will be available in mid-December, and the ZyXEL units are available now.
(Here is a typical use case for branch offices, click to enlarge.)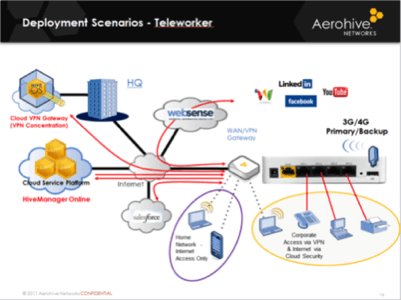 Aerohive will sell the BR100 for a $99 per year subscription. All of their routers will need to have their HiveManager software running at your central site. They will be able to work with other SaaS-based services including Barracuda Networks' spam filtering and Websence Web app firewall along with OpenDNS.org. The BR100 is the first in a line of branch office routers and comes with five wired Ethernet ports and a 11n wireless access point. Aerohive will also sell separately the VMware Cloud VPN Gateway starting at $450 per year.
The ZyXEL router can be remotely controlled over the Internet as well. The cloud service empowers organizations to enforce uniform access rules and policies from a single point, deploy networks using self-configuration features, remotely manage multiple networks in real-time. Customers who purchase a three-year cloud-management service for $299 at PC Connection will receive the NWA1100N-CE at no additional cost., although it can be purchased separate from the service as a traditional access point.
Check out what our experts rated as the best wifi routers.
This is not completely a new idea, and several companies, including Cisco and Sonicwall, have offered routers that can be centrally managed across the Internet for many years. What is new here is the price points being promised, as well as the level of functionality offered at these price points. Also, the Aerohive device discovers the cloud, the cloud identifies who the unit belongs to, maps the device to the particular customer's management instance and is automatically provisioned. This means that a user is working in less than 10 minutes.