Since the device's release 2 months ago, many have praised the iPad for its media consumption capabilities while admitting that media creation is not its strong suit. It may not be the best device to compose a day's worth of emails, but watching video and reading books and news on the large touchscreen is certainly a compelling experience. Feeds are one of the most efficient ways to quickly consume large amounts of information from the Web, and feed reading service Netvibes is bringing their popular Web-based experience to the consumption-friendly iPad.

Netvibes allows users to aggregate, personalize and monitor their favorite blogs and trending topics into customizable dashboards that can also be viewed in a listed RSS reader form. With an iPad version launching today, fans of the service will be able to access their dashboards and feeds on their iPads using a mobile website optimized for the iPad's Safari browser. Since it is still web-based, content marked as read on the app will sync up with the desktop Web-based experience – sidestepping a common annoyance of native RSS readers.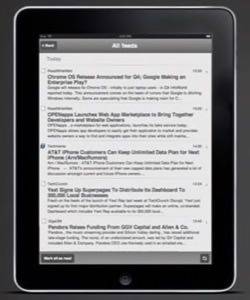 Built-in social network integration also allows users to use the service a social dashboard along with the news and media browser. By connecting the app to their Twitter and Facebook accounts, users can monitor the activity of their friends and followers, as well as publish updates to their profiles from the app. The ability to share news items on these social networks is a feature missing from this release of the iPad version, but the company told ReadWriteWeb that more functionality such as this will come in future releases.
Users can also expect to see more visual magazine-style viewing options, premium dashboard branding and the ability to add, remove and change dashboard configurations in the near future. Personally I haven't found myself straying from good ole Google Reader for reading feeds online, and I feel that a web-based iPad-friendly version may not be enough to sway me away. On the other hand, it would be interesting to see Netvibes, or a similar service like Lazyfeed, develop a native application for the iPad that can fully leverage the device's features and APIs.