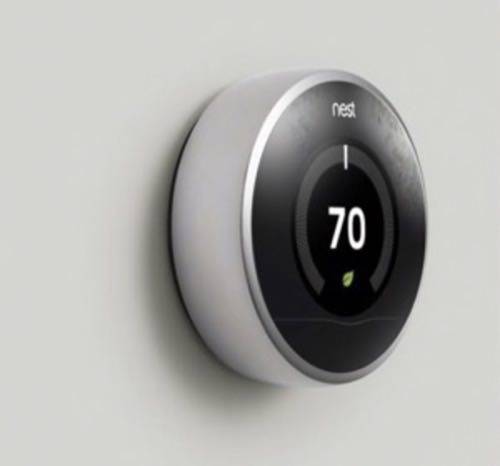 A company that makes a "smart" thermostat wants developers to hack together your connected home. Nest," The Learning Thermostat," yesterday announced a new developer program and Web API that will connect Nest with other items in your home like lighting, home appliances and home automation.
Nest has become one of the poster children of the burgeoning connected home and Internet of Things industries. Its smart thermostat learns your schedule and programs itself to raise or drop your temperature if you are you home or away. It can also be set remotely through smartphone app or your computer.
The Nest Developer Program will officially launch in early 2014. Developers can register for the program now. Nest says that it will partner with anybody that wants to help create the future of the smart home, from indie developers with individual apps to large corporations that are building connected home platforms.
Nest's first partner is Control4, a home automation company that creates products like the Wireless Music Bridge that provides audio listening to an entire house and smart lighting products.
The goal for a company like Nest is to make its Thermostat the hub of everything connected in the home. Nest says that it will "provide a near real-time Web API that allows control of the Nest Thermostat and display of its current configuration."
Nest co-founder, VP of engineering and former Apple employee Matt Rogers explained some of this vision in a blog post for the new developer program:
What if Auto-Away could turn off your lights? What if your dryer knew not to run when energy prices were high? What if your robot vacuum knew when you were gone and cleaned up before you got home?
The connected home is more than just about the ability to control your house or apartment remotely through your smartphone or computer. The smart homes of the future will run more efficiently, save energy costs and anticipate their occupants wants and needs. Nest wants to be the company that is on the forefront of the next generation of homes and its new developer program is likely just the start.