Smartphone users are becoming increasingly comfortable with using their phones to shop online. According to new data from Compete, about 37% of smartphone users have purchased something with their handset in the last six months. Among the most popular items that these users bought were music, books, DVDs, video games and movie tickets. At the same time, though, Compete also found that smartphone users are very likely to abandon shopping sites that haven't been optimized for mobile usage. Almost 8% of smartphone owners who tried to buy something from their phone were simply unable to do so.

Most Popular Shopping-Related Activities: Price Comparison and Finding Reviews
Researching products is still the most popular shopping-related activity on the smartphones. According to Compete's survey, 41% of iPhone users and 43% of Android owners check sale prices while they are shopping. Surely, the popularity of mobile apps like ShopSavvy and RedLaser – which make checking prices as easy as scanning a barcode – will only drive these numbers up in the coming months.
The second most popular shopping-related activity for smartphone owners is finding consumer reviews. 39% of iPhone users and 31% of Android users use their devices for this.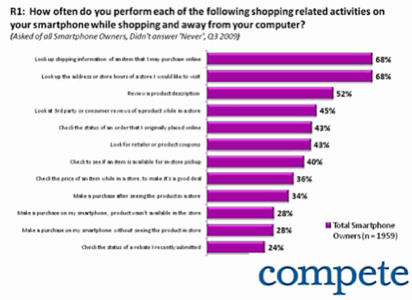 Big-Ticket Items
Only 9% of iPhone users and 11% of Android users said that they would buy big-ticket items over $500 from their phone. In general, the majority of smartphone owners are most likely to buy lower-priced items under $10.