by Ajit
Jaokar
(Richard's Note: Ajit is the second of my guest bloggers on Read/WriteWeb
and he will be writing on Mobile Web 2.0 and digital convergence. Ajit runs a book
publishing company called futuretext, which
specializes in these topics. He also chairs Oxford university's next generation mobile
applications panel and is a member of the Web 2.0
Workgroup.)
In the next
five years the number of global web surfers will quadruple from 500
million to 2 billion people. One billion of those people will come onto the Web
using cheap pocket and wrist devices running multimedia content.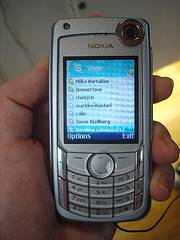 In parallel, as web 2.0 starts to become mainstream, browser technology is becoming
pervasive. In the PC/Internet world, the browser is fast becoming the universal client.
However, there is a crucial difference between the PC world and the browser world.
In the PC world: for desktop apps we need one type of program to run a specific type of application (MS
Word to view word documents, Excel to view spreadsheets and so on). In contrast, we can
use the browser to view any type of application – i.e. one client for many applications.
This makes application development more optimal and less susceptible to the vagaries of
software running on the client, in this case the PC.
So with higher spec mobile devices and greater bandwidth, let us consider the
question: can or should ALL mobile applications be implemented using browser
technology?
After all, the browser works well on the PC as a universal client – why not on the
mobile device? A corollary to this question is: are there fundamental differences with
browsing on a mobile device vs. browsing on the web?
To understand the differences between browsing on the web and on a mobile device, we
have to consider factors such as:
a) Intermittent connections – unlike on the web, the wireless network
connection is relatively unstable and is affected by factors such as coverage (e.g. you
lose your connection in a tunnel);

b) Bandwidth limitations – for example even when 3G coverage is available, the
actual bandwidth is far less;

c) The need for data storage on the client – if the device has no (or little)
local storage, all data has to be downloaded every time. This is not optimal given
intermittent and expensive bandwidth;

d) Finally, and most importantly, a local application provides a richer user
experience – especially for applications such as games.
There are other factors such as limited user input capabilities, screen sizes and so
on.
Some of the above factors are getting better, for example coverage blackspots are
decreasing. But the overall user experience remains one of the most important
factors.
So, to answer our question – no, we cannot develop all mobile applications using the
browser only. However, as we shall show in subsequent posts, these limitations are being
overcome through Ajax and mobile web 2.0.
Ajit Jaokar's blog about mobile
web 2.0 is Open Gardens.