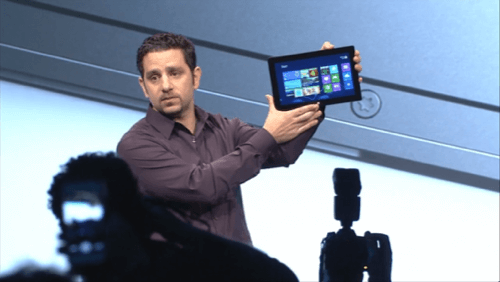 Microsoft has quietly set out to convince consumers that they should buy a Surface tablet now, rather than wait for a Windows 8 version to arrive.
In a way, it's reminiscent of a line from Ghostbusters: "There is no Dana. Only Zuul." Likewise, there is no Surface with Windows 8 or Windows RT. There is just Surface. And it happens to run Windows RT at the moment.
Microsoft formally launched the Windows Surface tablet at an event in New York on Thursday afternoon, following the formal launch of Windows 8 earlier in the day. Both products will be sold in the Windows Store and throughout the world on Friday, although the Surface will be available in just eight markets to begin with. The Surface will also compete with Windows RT tablets from Dell and other hardware partners, who said they will emphasize their battery-powered docking stations and other features to differentiate themselves from Microsoft's offering.
That should mean that the Surface tablet with Windows 8, which Microsoft touted as a true content-creation device, has yet to arrive. But you'd never know it. In fact, as analyst Bob O'Donnell of IDC noted via Twitter, the Windows 8 version of the Surface tablet, also known as the Surface Pro, wasn't mentioned. Not even once. I can't be certain, but Panos Panay, general manager of the Microsoft Surface, may not have mentioned Windows RT at all.
Buy Now, Buy Windows RT
Steven Sinofsky, the general manager for the Windows and Windows Live Division, did, introducing the Surface as the "imagining and reimagining of hardware for Windows RT." The company has built on 21 years of work in the tablet space; Microsoft began experimenting with tablets as much as 21 years ago, when a young, enthusiastic Bill Gates debuted Windows for Pen Computing in conjunction with Windows 3.1
"The thing that I'm most intrigued by, is what everybody wants to call it," Sinofsky said. "We think you should just call it Surface. But the idea – is it a laptop, is it a tablet, what column does it go in? – and it sounds like an 18-year-old arguing, is it ska, reggae, punk, whatever. For me, Surface is not just a tablet. It's actually the best tablet I've ever used. It's also not just a laptop. But it's also the best laptop I've ever used, as well."
Microsoft representatives confirmed that a Windows 8 version of Surface is still in the works, however. "Surface with Windows Pro has been announced and pricing details and availability will be announced early next year," a spokesman said via email, referring to a Web site that explained the differences between the two.
Microsoft previously announced that the 32GB version of the tablet will cost $499, without the innovative Touch Cover that doubles as a keyboard. Adding a black Touch Cover tacks on an additional $100, bringing the total price to $599. For the 64GB model, customers will need to spend $699, which also includes the Touch Cover. Individual Touch Covers will cost $119.99, while the Type Cover will cost $129.99.
The Surface with Windows RT will measure 10.81 x 6.77 x 0.37 inches and weigh 1.5 pounds, Micorosoft said, It will be encased in an ultra-durable "VaporMg" casing. Inside it will have an Nvidia T30 processor and 2GB of RAM. The tablet will have two 720p cameras, mounted front and rear, and will connect via Wi-Fi (802.11n) only.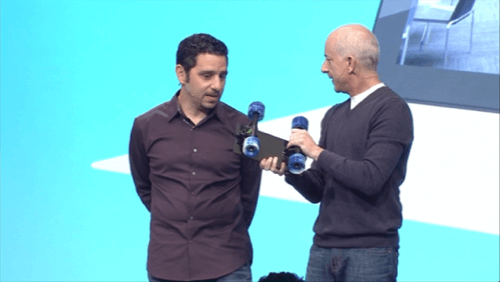 Panay's launch presentation was impassioned and well-received, showing off everything from SmartGlass, or using the Surface as a "second screen" to control an Xbox, as well as the PowerPoint software used to drive the presentation itself. Although the Surface doesn't quite measure up to the resolution of the "retina display" used by the Apple iPad, Microsoft executives said that they had focused on the contrast of the display, making blacks blacker and whites brighter. Panay also said that the 2×2 MIMO Wi-Fi antenna built into the Surface would offer better Wi-Fi reception than competing tablets.
Finally, Sinofsky appeared on stage to show off a pair of skateboard trucks that the team had attached to the frame itself, to demonstrate its structural integrity. The Surface hardware attracted almost uniform approval in the initial round of reviews.