On Tuesday, Microsoft unveiled the latest addition to its line of Surface tablet-PC hybrids: the Surface 3, set to ship on May 5. Starting at $499, it's the most powerful Surface that doesn't have "Pro" in its name. Best of all, it runs full Windows 8.1 rather than Windows RT, the underpowered operating system that ran on the original Surface and Surface 2. The Surface 3 will also be upgradeable to Windows 10 when Microsoft officially releases the new OS this summer.
https://www.youtube.com/watch?v=vPto6XpRq-U
But before you get too excited, the Surface 3 isn't so affordable because of Microsoft's generosity. Even with Intel's most powerful Atom x7 processor, the new Surface may not be quite the laptop replacement Microsoft might want you to believe.
How Surface 3 Stacks Up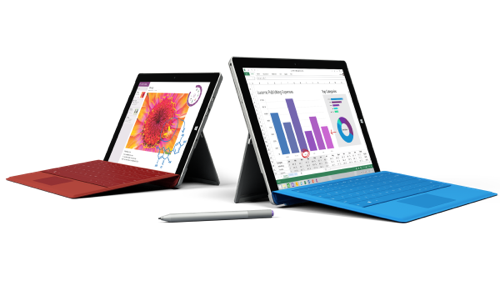 The Surface 3 shares a lot of design choices with its older brother, the Surface Pro 3. Both offer a 3:2 aspect ratio, with the Windows button placed on their right bezels.
But while the Pro clocks in at 12 inches, the Surface 3 is a little smaller at 10.8 inches with 1920 x 1280 resolution. The new Surface also weighs in at only 1.37 pounds (without the keyboard), and 0.34 inches thick. It's also lousy with ports, offering a full USB 3.0 port, a Mini DisplayPort, a microSD card reader and a Micro USB charging port.
Sadly, gone is the fully adjustable kickstand Microsoft had perfected for the Surface Pro 3. In its place is a three-position stand which locks at 22, 40, and 60 degrees. On a happier note, the Surface 3's rear camera has been bumped up from the Pro's five megapixels to 8MP, with added auto-focus—a huge help when taking photos of documents.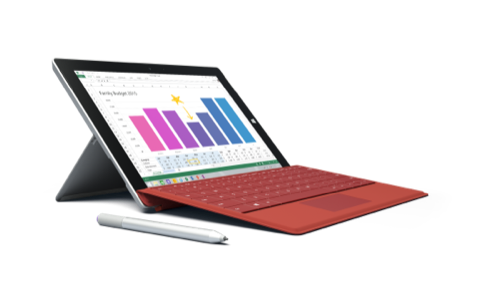 The Surface 3 will reportedly provide 10 hours of battery life, edging out the Surface Pro 3's nine hours. It'll also come in two different Wi-Fi capable configurations: $500 for 64GB of internal storage and 2GB of RAM, or $600 for 128GB and 4GB.
Both of those options will also be sold sometime later with optional 4G LTE wireless data, and Microsoft told us that those models will retail for $600 and $700, respectively. The Surface 3 Type Cover will set you back another $130.
Finally, all models of the Surface 3 run on the Intel Atom x7 processor, which reveals the device's true nature. While it runs 64-bit Windows 8.1 and can offer plenty in the way of video playback, web browsing, and productivity with Office Suite, the Atom processor means the Surface 3 will never be much more than a very powerful tablet.
That's okay, though! It doesn't seem as though the Surface 3 is here to outperform the new MacBook or even the new Chromebook Pixel (though it kills the former on ports and the latter on price and internal storage space). The Surface 3 is Microsoft's true iPad killer—or at least, its best attempt at one.
The Best Microsoft Tablet, But Not Quite A PC
There's a reason that the Surface 3's product page compares the device to the iPad Air 2. For a similar price, the Surface 3 offers stylus support, keyboard, and kickstand—all compelling arguments against Apple's flagship tablet. While earlier Surfaces were limited by Windows RT, the Surface 3 might finally stand a chance against the iPad by offering a true productivity tablet.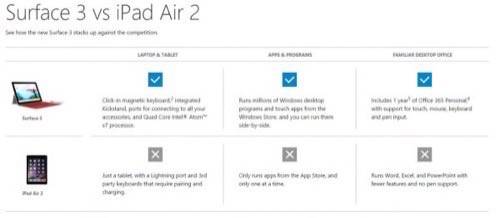 On the other hand, one of Apple's greatest successes with the iPad was proving that people don't necessarily want all their devices for productivity. The iPad is still one of the world's greatest recreation devices, with a huge list of iOS-exclusive apps and games to choose from. The Surface 3 may run Windows, but its Atom processor means high performance gaming just isn't in the cards.
With iPad sales on the decline and rumors of an iPad Pro continuing to swirl, it seems like Microsoft is looking to stay relevant in the tablet world. Whether or not consumers agree that the Surface 3 will do that remains to be seen. But if nothing else, Microsoft seems determined to keep trying until it gets it right.
Images courtesy of Microsoft