Microsoft may be busy wowing gamers today at E3 in Los Angeles, in particular with a rather amazing Minecraft demo built for its HoloLens augmented reality glasses, but that doesn't mean the company has overlooked its non-gaming users. Monday, it also just extended the reach of its popular Skype chat application by rolling out the Web app to users worldwide.
"Skype for Web is perfect if you normally use Skype on your mobile, but want to quickly get to your calls and IMs on a bigger screen, writes Microsoft's Jonathan Watson. "Or perhaps you're sitting at a Windows or Mac computer in an Internet café or hotel that doesn't already have Skype downloaded."
See also: Windows Wants Apps! Specifically, Android And iOS Apps
After several months of beta testing in limited locations, the instant messaging component of the app now works on Chrome OS and Linux, as well as Windows and Mac OS X. Even in its currently limited form, the update should offer a boost for Chromebook users—and another validation of Google's Web-only approach for its Chrome OS platform, a strategy that looked rather questionable when it launched back in 2009.
Unleashing Skype
With everything from Office to Spotify now able to run happily in a Web browser, Chrome OS is a much more viable proposition than it was six years ago, and Skype will be the latest essential app to make the transition. Heavy-duty programs like Adobe Creative Cloud, the full Office suite and iTunes are now the exception rather than the rule.
Not that Microsoft particularly cares about keeping Google happy though—it's much more interested in getting its apps on as many devices and platforms as possible, a relatively recent strategy that it doesn't seem to be easing back on.
See also: It's Official: Microsoft's Cortana Is Coming To iOS And Android
When it comes to Skype, it seems unlikely that Microsoft's engineers have only just realized the benefits of broadening its scope. Features, like syncing conversations and calls through a browser, have been available on Google Hangouts for a while; Facebook Messenger does it as well, as does its sibling service, WhatsApp. Now Microsoft is prepared to allow non-Windows platforms to enter its peripheral vision too.
Staying On Message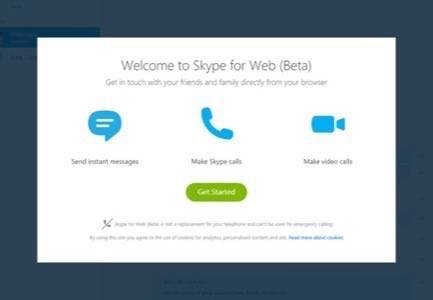 You can pick almost any aspect of today's technology to find an area where the big names are competing directly against each other—VR, maps, office apps, wearables—and messaging is no different.
Microsoft engineers have confirmed that Skype will be an integral part of Windows 10, which itself is designed to move fluidly between computers, tablets and smartphones. Apple's iMessage also syncs across multiple (Apple) devices, while Google's Hangouts is available just about everywhere.
Facebook doesn't have an OS to call its own, but it would like Messenger to turn into one; if not, it can always use WhatsApp as a safety net. Text, audio and video messaging is a crucial part of the puzzle for dominating desktop and mobile, and the tech giants know it.
Which brings us back to Skype for the Web—it ultimately means access for more users in more places, and that's a win for Microsoft, even if along the way it has to shift some of its focus away from the desktop and the Windows behemoth it created.
As Microsoft becomes more Google-like in its approach to putting apps on competing platforms and the Web, it leaves Apple out on a limb: Apple Music, iTunes and some limited online iCloud functionality aside, its software is very much locked into its hardware. Time will tell which of the two old rivals has backed the right horse.
Images courtesy of Skype