Acompli built an Outlook-like mobile app that was so good, Microsoft bought it, renamed it and just released it as the company's own official Outlook app for iOS and Android.
Microsoft has been pushing to extend the reach of its Office productivity software to iPhones and iPads, as well as a preview version for Android tablets. (The latter now loses the "preview" label, graduating to a full release.) Meanwhile, the company also gave Windows mobile users Office apps and its own version of the email and calendar software. The lack of Outlook apps for iOS and Android, the world's most popular mobile platforms, seemed like a huge gaping hole.
Turns out, Acompli managed to fill that annoying, inefficient void just fine.
See also: Microsoft Office Comes To iOS For Free
Like Outlook, Acompli combined email, appointments, contacts and an attachment manager into one app, so users don't have to bounce between separate, incompatible applications. Microsoft acquired Acompli last December, and appears to have wasted no time in slapping a new name on it and pushing it out the door. Here's what you need to know.
Building A Better Outlook: Mission Acompli'ed
There's no question that Outlook on the desktop is a powerhouse email client. On Apple's iOS and Google's Android platforms, however, it looked like a power failure.
The Microsoft program has been dominant on the desktop literally for decades—which is no surprise, since it comes bundled with versions of Microsoft Office. But before Thursday, Outlook on iPhones and Androids existed mostly as glorified Web apps for Office 365 users or via numerous third-party Outlook alternatives.
Most of the choices paled in comparison to full-fledged Outlook, but one managed to do better. Launched less than a year ago, Acompli garnered immediate rave reviews after its April 2014 release and quickly became a hit—so much so that Microsoft itself couldn't resist scooping it up.
For the startup, the deal gave it access to "over a billion Office users," Javier Soltero, co-founder of Acompli and now general manager for Outlook, wrote on the Microsoft Office blog. It also allowed for "tighter integration with Office and [the official] Outlook, the most popular desktop email app on the planet."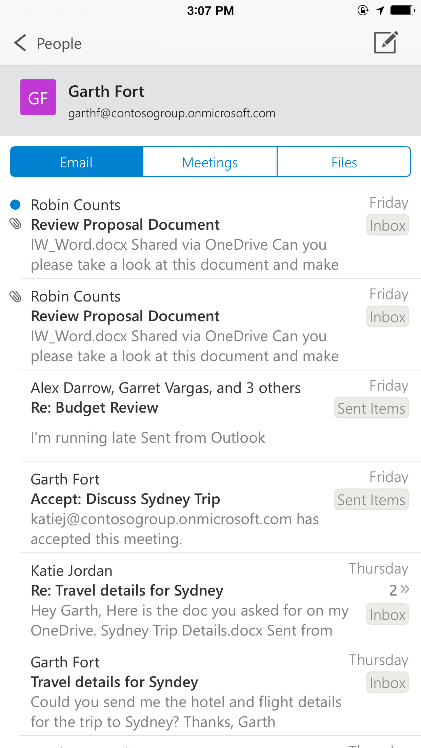 The new Outlook is a dead ringer for the old Acompli, an app I've been using on the iPhone for several months now. In that time, three features have stood out for me: choice of Web browsers, priority message filtering and the attachment viewer.
I can choose Chrome as the default Web browser for email or document links, instead of Safari. The "focused inbox" for priority messages may not be perfect at picking out important emails, but it's helpful enough to be handy. The app also offers a handy attachment viewer that integrates with cloud storage providers such as Dropbox, Google Drive, Box and, of course, Microsoft's OneDrive service.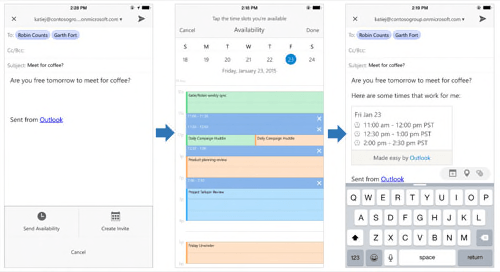 All of these features remain in the new app. At least for now. However, Microsoft plans to make a lot of changes, and in rapid fire.
"For our Acompli users, Outlook will be a familiar experience, as we're developing the apps from this code base," the Official Microsoft Blog states. "You will see us continue to rapidly update the Outlook app, delivering on the familiar Outlook experience our customers know and love."
In other words, Microsoft wants the former Acompli app to resemble the Outlook experience, and it's in a hurry to get it there. How much of a hurry became plain when Julia White, Microsoft's general manager of Office, told the Verge, "We have been and we'll continue to update the app weekly."
Those updates will likely lead to heavier emphasis on the company's own offerings. Hopefully that won't come at the expense of integration with Google Drive or other external cloud storage services.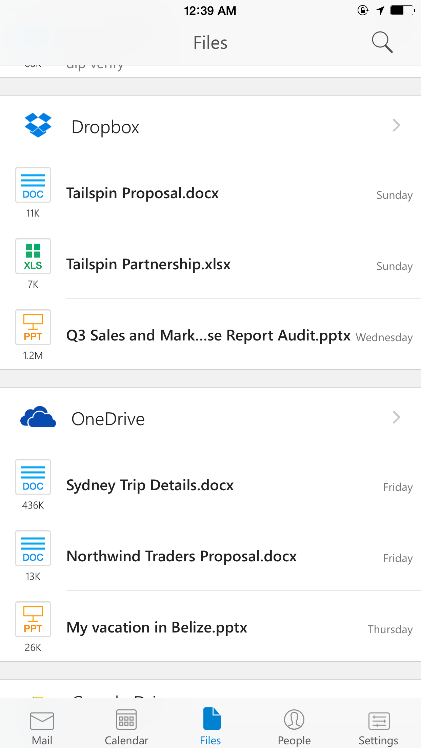 Super Email Busting Powers
When it comes to email on Acompli—er, Outlook—support for Gmail, Yahoo and iCloud, as well as Microsoft's own Outlook.com and Exchange, won't go anywhere. In fact, it would benefit Microsoft to link up with as many major email providers as possible, to keep users relying on the app.
Outlook also offers one of the most popular email features these days: Like with Google's Inbox, Dropbox's Mailbox and the now-defunct Acompli, users can swipe to schedule, archive or delete.
The finger-flinging really slaps a jetpack on the act of zipping through piles of email messages, which should appeal to the businesses and workers that form Microsoft's key user base.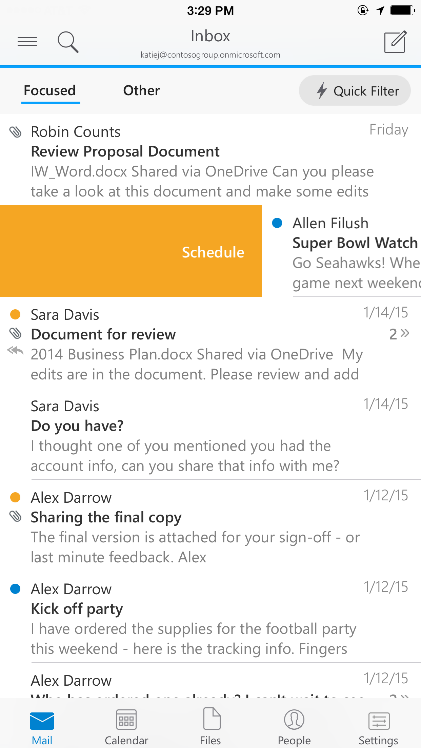 Serving businesses has always been a primary focus for Microsoft, which has seen competition heat up in this area—most recently by Amazon, which just introduced its own WorkMail service. White said, "we'll be rounding out the really important business and organizational capability of the app too," though she didn't elaborate on what exactly that means yet. But with weekly updates, we may not have long to find out.
For now, Outlook for iOS and a preview for Android are both available for download. Early user reviews seem solid for the iPhone version, and generally positive on Android, though apparently some people report various bugs. That's understandable, given that the preview app is essentially an early beta-type release.
The user interface supports 30 languages, and the apps require iOS 8.0 and higher, or Android 4.0 and above. To check them out, visit the Apple App Store or Google Play, or play the promo video embedded below.
Lead photo by Adriana Lee for ReadWrite; all others courtesy of Microsoft