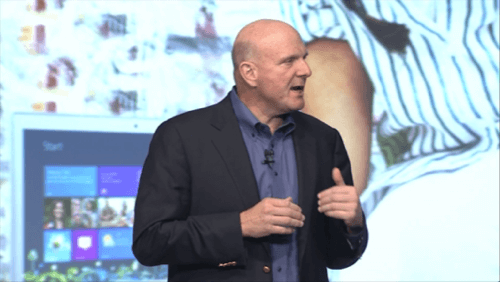 After months of anticipation, on Thursday Microsoft officially launched Windows 8, which Windows chief Steven Sinofsky called the "best release of Windows ever." Ironically, Microsoft executives tried to emphasize that Windows 8 wasn't that different from Windows 7, either. So similar, in fact, that Microsoft didn't announce a standalone price for Windows 8.
At midnight around the world, Microsoft and its partners will begin selling Windows 8 – through retail, Microsoft's hardware partners and the Microsoft Store. Users will have two options: either upgrade their existing Windows PCs, or else buy new hardware that has Windows 8 (or its little brother, Windows RT) pre-installed. A touchscreen-enabled Windows 8 PC will cost as little as $499, an unprecedented low price, executives claimed.
"Windows 8 is a major milestone in the evolution and the revolution of personal computing," Sinofsky said.
Microsoft chief executive Steve Ballmer also chimed in. "What you've seen and heard should leave no doubt that Windows 8 shatters perceptions of what a PC really is," he told an audience in New York City on Thursday.
Can Windows 8 Top Windows 7?
Still trying to have it both ways, Microsoft opened its launch event by reminding consumers of the success of Windows 7, an extremely popular operating system that consumers will have to decide whether or not to upgrade. "Windows 7 has become the most widely used and widely praised OS ever," Sinofsky said, with more than 670 million licenses sold to businesses and consumers. In fact, Windows 7 saw the fastest adoption by businesses ever, Sinofsky said.
Nevertheless, "We shunned the incremental," Sinofsky said of Windows 8. "We boldly reimagined the experience."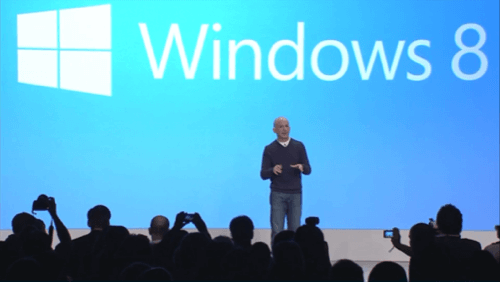 The last time that Microsoft promised such a revamp of the operating system was with Windows Vista, an upgrade from Windows XP that was roundly panned for being bloated and awkward. Obviously mindful of that, Microsoft emphasized the advantages of simply taking a Windows 7 machine and installing Windows 8 on it: battery life improvements of up to 13%, and a reduction of memory usage by 22%. Overall, the Windows experience can be made 45% faster – whatever that means – simply by installing Windows 8, said Microsoft's corporate vice president of the Windows planning, hardware and PC ecosystem, Mike Angiulo.
Already, more than 16 million pre-release installations of Windows 8 have been installed, Microsoft executives said, meaning that computer users have had time to become familiar and to hammer out bugs. In total, the pre-release program and Microsoft's own work has equated to 1.24 billion hours of pre-release testing, the most of any product ever, according to the company.
Windows 8: Different, But Still The Same
Microsoft also took pains to address the familiarity issue. In a short rundown of Windows 8's features, Microsoft executives took pains to emphasise, for example, that the Start button might be gone, but that a (hidden) button in the lower left-hand corner, the same default location as Windows 7's Start button, also hid Windows 8's application switcher, so that users could easily navigate between applications, as they had before. And although executives showed off the advantages of the Windows UI or "Metro" interface, they also spent time in the traditional desktop mode, which mimics Windows 7.
For example, Julie Larson-Green, corporate vice president of program management for the Windows Experience, who was tasked with reimagining the Windows environment, noted that users could swipe and perform gestures with either a mouse or touchscreen, another nod to the familiar Windows environment and peripherals.
Windows RT, the version of Windows designed for tablets powered by ARM processors, will represent the "Windows experience" on cheaper hardware, executives said. Fifty of the 53 most popular printers work with Windows RT, and most apps sold via the Windows Store will work with RT.
Solid PC Support
More than 1,000 certified PCs will run Windows 8, Microsoft executives said, with Steve Ballmer claiming that hardware partners like Dell, HP, Lenovo and others had created the "best PCs ever made."
Many will work both as a PC or tablet, Ballmer said. "With Windows 8 we brought together the best of both worlds: the PC and the tablet, your work life and play," he added.
PC manufacturers used the occasion to disclose the prices of PCs they had previously disclosed; Microsoft, for its part, encouraged consumers to visit the Microsoft Store to get an idea of the breadth and range of prices that those manufacturers offered.
Apps Still A Question Mark
But Microsoft executives spoke with somewhat less assurance when describing the Windows Store, the central repository for apps for Windows RT, and a key source for apps for Windows 8. Sinofsky called the Windows Store a "grand opening," but didn't specify exactly how many apps have been added to the Store, or how many will run Windows RT as well. Executives highlighted apps like UrbanSpoon, for example, which can be shared among users.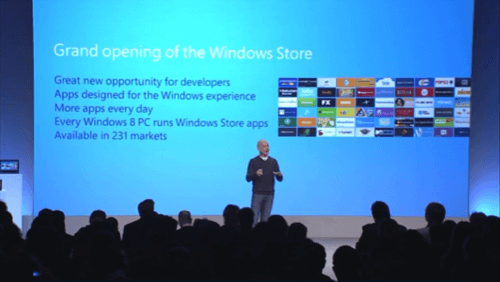 Sinofsky did claim, however, that the Windows Store would launch with more apps than any competing apps store contained at its opening.
Web sites can also be pinned to the Start screen, so that Web pages can be somewhat considered apps, executives said. Microsoft's own apps, powered by Bing, include News, Finance, Maps, Weather, and Sports. Microsoft also recently integrated Skype, which Ballmer called "useful" and "fun", and an integral part of the OS.
Microsoft also tied its Xbox gaming console with Smartglass, the Windows 8 tablet app that can be used to control and order movies to be played back on the user's TV screen. Windows Phone 8, which will be formally unveiled on Monday, will also share the user's data in the "live tile" interface used by Windows 8.
Microsoft – And The PC Industry – Banking On Windows 8
What's clear, though, is Microsoft needs a hit. IDC and Gartner reported that PC unit sales fell more than 8% during the third quarter, although whether that is because of consumers moving to alternatives like tablets or just waiting for Windows 8 remains to be seen. Meanwhile, Microsoft is hurting. In the quarter that ended in September, sales and earnings both declined from from last year, although that doesn't reflect $1.36 billion of deferred revenue.
"There are 670 million PCs just waiting to be upgraded to Windows 8," Ballmer said. "That is a very large number." In the next year, analysts are projecting that the PC industry will sell 400 million new PCs, most of which will run Windows 8, he added.
What's interesting is that, although Microsoft spent some time describing the differences between Windows 8 and Windows RT, it never announced the price.
Retailers like Newegg had previously revealed the prices of Windows 8, including that the full version would be released for $99.99, and that Windows 8 Professional would be released for $139.99. A digital upgrade to Windows 8 Pro will cost $69.99, NewEgg had said, the same price as the Pro Pack. But a Microsoft representative didn't confirm either the $99.99 or $139.99 offering.
For its part, Microsoft said that through the end of January, consumers currently running PCs with Windows XP, Windows Vista or Windows 7 are qualified to download an upgrade to Windows 8 Pro for $39.99. Windows 7 PCs purchased between June 2, 2012, and Jan. 31, 2013, can download an upgrade to Windows 8 Pro for $14.99 with the Windows Upgrade Offer site. An upgrade to Windows Pro can be purchased on DVD for $69.99, Microsoft said.
There are two versions of Windows 8 (aside from Windows RT): the basic and undoubtedly the most popular version, as well as Windows 8 Pro, which adds the Media Center functionality that allows a PC to serve as a DVR of sorts.