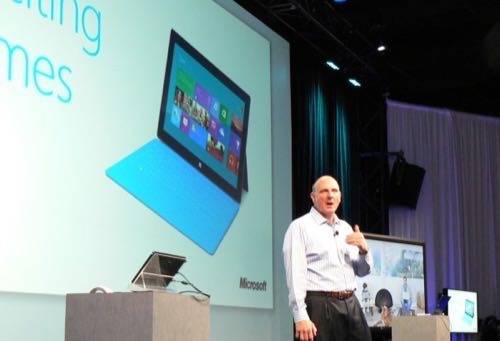 Something is rotten in the state of Redmond.
When Microsoft said that it would fork its new Windows 8 operating system in two to support both x86 and ARM-based chips, most pundits figured that was a good idea. Windows had for too long been stuck in the world of x86 and was missing the Mobile Revolution with its reluctance to adopt ARM. Henceforth, two types of Windows tablets were born: Windows 8 on x86 and Windows RT on ARM.
And both have more or less flopped.
Research firm International Data Corporation (IDC) has revised its tablet predictions for 2013-2017. Surprise, surprise: Microsoft is projected to get its butt kicked by iOS and Android.
Windows 8 is expected to garner a 2.8% market share of tablets in 2013. Windows RT is projected towards a sickly 1.9%. Android is expected to take the lead in tablets this year with 48.8% of the market and Apple's iPad comes in at 46%.
Not much changes in IDC's predictions by 2017. Android will sit at 46%, the iPad at 43.5% with Windows 8 (or whatever derivations of Windows is available at the time) and RT expected to take 7.4% and 2.7%, respectively.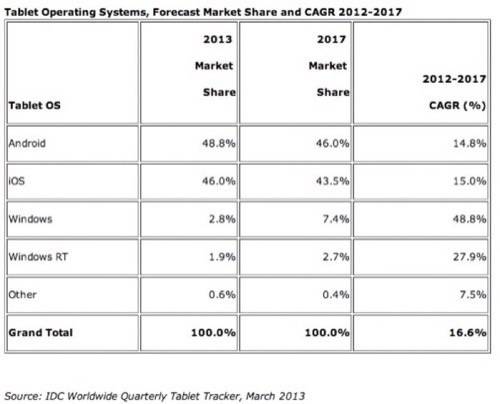 Overall, IDC has pegged the 2013 worldwide tablet market in 2013 to 190.9 million, ahead of its 172.4 million projection. This is the second straight quarter that IDC has increased its tablet projection.
The reason for the increase comes as IDC recognizes a growing market for smaller, cheaper tablets. That means tablets that are below 8-inches and likely below $500. That bodes well for Android, an operating system that has a plethora of commendable tablets like the Nexus 7 and Kindle Fire HD, which retail at $199. Even a company like HP may benefit from the cheap Android tablet market with its $169 – the Slate 7.
Microsoft will have to learn to change its wicked ways if it wants to get into game. It will need to produce (or encourage its manufacturing partners to produce) cheaper, smaller tablets running either Windows 8 or Windows RT, and price them to sell.
"Microsoft's decision to push two different tablet operating systems, Windows 8 and Windows RT, has yielded poor results in the market so far," said Tom Mainelli, IDC's research director for tablets in a press release. "Consumers aren't buying Windows RT's value proposition, and long term we think Microsoft and its partners would be better served by focusing their attention on improving Windows 8. Such a focus could drive better share growth in the tablet category down the road."