My introductory post last week about Microcontent Design
got such a good response that I need to pause and consider all the feedback, before I
move onto Part 2. Basically what I call 'microcontent design' involves: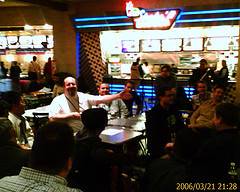 …microchunking your content, taking advantage of open standards, employing
microformats, letting users subscribe to all kinds of RSS feeds, freeing your content via
APIs and other means, designing for re-use of information, monetizing it, and more.
Of those things, RSS, XHTML, APIs and microformats are key building blocks.
In the comments to my first post, several people noted that microformats and Structured Blogging are too hard for
normal people to use – and that is true currently. But the goal of Structured Blogging is to provide
easy-to-use tools for using microformats. Currently there are just two plugins available
that achieve this (for WordPress and Movable Type), but over time there will be more
mainstream tools released – such as integration with hosted blog platforms like Typepad
and 'instant blogging' web forms such as what edgeio
recently introduced. Also some
browsers are integrating microformats into their
product.
Another concern raised was about the number of microformats that will be released –
will a proliferation of microformats hamper uptake? For this I have to defer to Marc Canter, who went as far as to
create a 'law' to address this. He calls it Canter's Law #1 and
it basically says: support all formats and don't take sides, because the user doesn't
care about your geeky format wars. As Marc put it :
"No human cares about what format is supported. Only us. Flickr proved that they could
be completely format agnostic and provide a compelling experience to all."
Fred Simmons pointed out in his
comment that we need structured microcontent in order to better filter and find the
quality microcontent – and keep spam at bay. This to me has always been the corollary of
microcontent: having good filters to sort it. It's why I declared 2006 to be The Year of the
Filter. Currently tools like Memeorandum,
Topix, TailRank,
Rojo and Findory
are doing a good job of tackling this issue.
Thomas Bate left a long
comment, noting:
"This discussion needs to extend a bit further to include REALLY structured blogging
via enclosures containing not just audio and video, but images, maps and detailed tabular
structured data as well. […] REAL business involves VERY structured data with no room
for ambiguity…detailed product specifications, prices, serial numbers for instruction
manuals, etc."
It's an intriguing analysis from Thomas, because he says that "Container design is far
from dead, but it HAS moved away from the server-side web page as container." So in
Thomas' view, although content has been freed from its website container – there are new
containers to take its place in the form of "portable web feed enclosures". He calls it
'datacasting'. Interesting point and I will explore that some more…
Software developer Joel Hoard at Browserless Web wrote an interesting post in response to mine. I
especially liked this point:
"My primary problem with structured blogging is that it's a very powerful
concept that doesn't provide a lot of immediate value to individual bloggers.
It's what in VC terms is a "vitamin product" (as opposed to a
"painkiller") in that while it's very beneficial, it doesn't
solve an immediate need."
That's so true and is one of the big challenges of the Structured Blogging initiative
– to show users where the value is.
Sean McGrath, CTO of Propylon, wrote:
"The future of structured content in my opinion is content tunnelled inside human
readable content. *Not* machine readable content that can be converted/published for
human readability."
Sean thinks ODF and XHTML will play a big part in this new microcontent world and he
has a theory about "Hi XML and Lo XML", which developers should read.
Finally we get to
Ryan King's post. Despite the inflammatory title ("Richard MacManus gets microformats
wrong"), what it boils down to is that Ryan thinks HTML is more important in the grand
scheme of things than XML and its dialects. Said Ryan:
"XML has come no where near matching HTML in terms of distribution and
interoperability."
Well firstly I don't see the point of an XML vs HTML us-vs-them conversation – that's
format wars and I'm not interested in those. The Structured Blogging initiative actually
spits out microformats in both HTML and XML (RSS etc) formats. Plus XML
itself has wormed its way into HTML, via XHTML, so the two (xml and html) complement each
other well.
Secondly I'm not saying HTML still isn't really important, perhaps still
moreso than XML. However I do think the future of data formats on the Web is XML
and its dialects – especially RSS/Atom. As a delivery method, RSS has already proven
itself and it will continue to be extended into a more general purpose content format on
the Web – look at the developments around
Atom for example, or at the things Microsoft is doing with
RSS.
OK, that wraps up the responses to my first article.
Next up: Microcontent Design in action at the BBC.
Photo: Dion Hinchcliffe (of Marc Canter and the microformats BoF at MIX 06)