Recently I wrote a series
of posts about Microcontent Design,
using BBC Backstage as the main casestudy. As a segue
from that theme, one of the product types I've been looking at recently is
Microcontent Aggregators. One type of Microcontent Aggregator is a service that
aggregates microcontent about a person (usually via RSS) and displays it on a new page/site
for users to view in aggregate. Usually such services also have external RSS feeds, so
that users may subscribe to an aggregate feed for a person. It's probably easiest if I
explain using an example… these are a bunch of feeds associated with me currently:
– Read/WriteWeb

– My ZDNet blog

– My Flickr account

– My del.icio.us account

– My 43Things account

– My Allconsuming account
The list could go on, but the point is I (like many others) publish my content in
more than a few places. A Microcontent Aggregator brings all that content together
in one interface – and feed.
I looked at a number of these people-focused mc aggregators and narrowed it down to 3 that were 'best of
breed' – peoplefeeds, Suprglu, and 43Things. I'll profile these and others in a series of posts. My favourite currently is 43Things, because of its functionality and also unlike the other two it has an API.
43Things was built
by a Seattle startup called The Robot Coop, formed
by some ex-Amazon developers in late 2004. I had the pleasure of meeting them in person while I
was in Seattle in January. 43Things has a number of subsites, which to be honest makes it
somewhat difficult to navigate around. But the functionality and range of things you
can do is top notch. You can publish your goals (43things), track people (43people), enter reviews (allconsuming), list cities (43places), create list of bests (a recent
acquisition).

One of the great things about 43Things is that there are RSS feeds for
everything. What's more, you can aggregate feeds on your People > Feeds page.
For example my aggregator page is: http://ricmac.43people.com/feeds.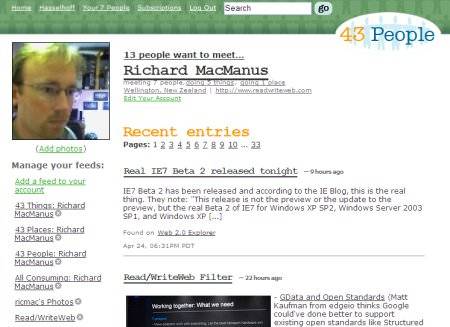 As you can see, I can view all my main feeds from the one page. Now to be honest, I
don't use it very often – perhaps because I'm more of a 'professional' blogger than a
social one. Which would explain why my Flickr account hasn't been updated for a while!
But I can definitely see a use for this – and microcontent aggregators in general – for
those people who use the Web for social networking and personal blogging. For
example I know that a large number of younger people have both MySpace and Facebook
accounts – not to mention Xanga, LiveJournal, etc. So a tool like 43Things is a good
option to aggregate all those accounts together in one interface and feed (for those who
want to subscribe to your activities).
Another plus for 43Things is the ability to filter the aggregate feed. People who have been reading R/WW for a while know that filtering is one of my hot buttons this
year. With 43Things you can add and personalize feeds by going to your subscriptions
page, e.g.:
http://ricmac.43people.com/subscriptions/add_feed
Robot Coop co-founder Erik Benson wrote
a post earlier this year explaining the process:
"Now, some people (like me) probably are a little overzealous about adding
content… so there's a chance that you don't actually want to see every
blurry camera phone picture I post. For cases like this, you can unsubscribe from
particular feeds within a person's set of feeds and still be subscribed to the
person as a whole. You do this by clicking on their name in the sidebar and selecting
only the content that you want."
The filtering aspect is excellent and proof that 43Things is a forward-thinking app.
The one thing that could be improved (imho) is the navigation, to make it easier to use
and find your way around. But all in all, if you're looking for a fun and highly
functional microcontent aggregator then give 43Things a go. I'll profile the other people-focused mc
aggregators in posts to come.