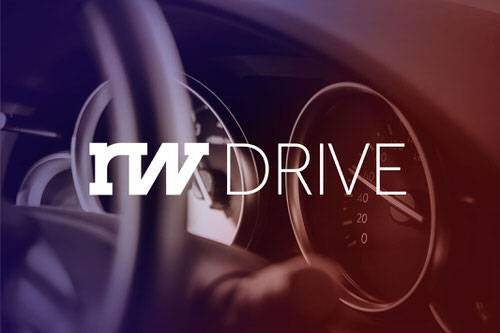 ReadWriteDrive is an ongoing series covering the future of transportation.
When I first heard that Mercedes is integrating wearable technology—such as Pebble smartwatches and Google Glass—with its smart-vehicle systems, I thought the luxury automaker had a taken just a sip or two of Silicon Valley Kool-Aid. So I tried it out.
Turns out, a week of driving a 2014 Mercedes CLA with Pebble tied to the car's digital nervous system didn't dispel my doubts about either the wisdom or usefulness of what I came to think of as wearing-while-driving. But I do have to give Mercedes credit for a gallant inaugural try at making the concept work.
Driving While Wearing
My smart-meets-smart experience started with plugging an iPhone into the car's Lightning connector, which is tucked away in the glove box. It's a good move that forces drivers to stow the phone away from temptation. The center dash's 7-inch screen then turns into the interface for the Mercedes Digital DriveStyle app, which is still running on the iPhone.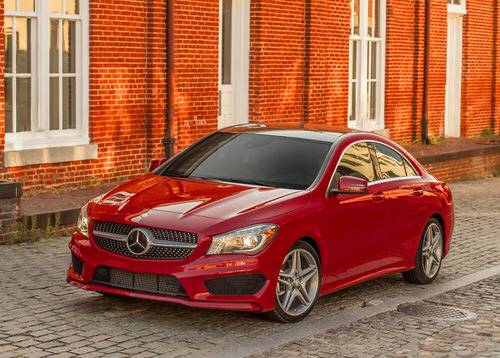 Think of DriveStyle as the main infotainment and navigation platform, delivered from the iPhone to the center console. (DriveStyle is only available for iOS at the moment.) You can then pair the Pebble to the phone via Bluetooth, after which it acts as a peripheral controller. It's quite the daisy chain of devices, and yet it's still not sufficient to complete the setup—the driver also needs to use the analog rotary dial controller between the front seats.
I spun the dial to the "Media" category and then "Aux," where I finished adding the Pebble to the chain. It takes a minute to wrap your mind around how everything is connected, but once you do, the setup isn't particularly complicated. When everything works and vehicle's engine is running, a little icon of a car appears on the top left corner of the watch.
Bear in mind that my loaner Mercedes CLA 250 already has its own native dashboard infotainment and navigation functions, controlled by analog buttons and viewed on the center dash's 7-inch screen. DriveStyle and Pebble supplant those old-school buttons. The digital high road aims to trump the analog world and its puny apps.
Eyes on the Road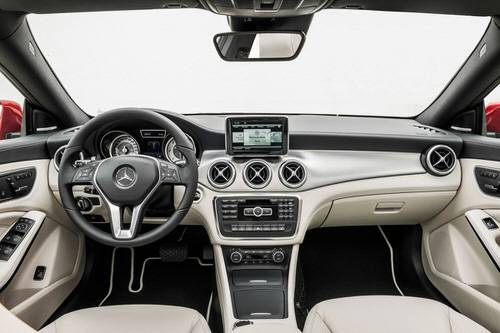 What could not be overlooked is that I was driving a $43,245 Mercedes luxury automobile. Even without a lot of high-tech gear, the sporty CLA 250—with its 208-horsepower four-cylinder turbocharged engine, and paddle-controllable 7-speed transmission—would have provided sufficient cognitive engagement. All I really needed was an open stretch of pavement and an easy way to crank up the volume on satellite radio.
DriveStyle and the Pebble, however, offer an added layer of digital clutter. DriveStyle itself is a particularly flagrant offender. Start it up and the first thing you see are three vaguely named navigation categories—Social, Media and Places—each containing a bewildering set of apps.
The Pebble aims to cut through some of that. Its primary function while driving is to get you to particular DriveStyle apps with a minimum of fuss. With my eyes mostly on the road, I could reach to the set of three buttons on the right side of the watch, and jump the dashboard screen into one of three pre-designated apps. (You can set these yourself, though not while you're driving.)
A single push on the watch, for example, can start Google's traffic map, Apple's Siri, or Glympse, an app that lets you share your location with family or friends. Mercedes's Pebble smartwatch effort—unveiled in January at 2014 CES, and made available a few weeks later—is ironically an attempt to re-focus drivers on driving by paring connectivity back to essential functions.
Digital Shortcuts
I came to think of the three buttons on the watch as an elaborate workaround to find things in DriveStyle, which itself supplanted the simpler use of analog buttons on the dash. Once you start daisy-chaining, I guess, it's hard to stop.
While parked in my driveway, I had taken a look at DriveStyle's social functionality—like access to bite-sized Facebook posts, Tweets or a social playlist of videos posted by friends. Those social tasks didn't make sense to me. When I hit the road, I have zero desire to hear a robotic voice reading Ellen Degeneres's latest tweets, one of the preset favorites on the loaner car. Things might be different if DriveStyle could read my texts or emails to me—but it can't, because iOS won't give it access to them.
That left me looking for watch-based enhancements to the actual driving experience. I found the first example when I clicked my Pebble watch to bring up the Glympse app. The watch's only contribution to the proceedings was providing a shortcut to start the app.
From there, I used the analog rotary dial on the center console to find my wife's email address in the phone's contacts, and set a time limit of 30 minutes. A moment later, my wife (back home) clicked on a link to open a page where she could track my progress on a map—eliminating any question about when I would be home. That was kind of handy, helping to avoid those inevitable texts: "R u close?" and "Be there in 5."
As I drove, I found another item called "Places, Powered by Google" helpful, at least up to a point. That enabled searching for points of interest in a way that offers some improvement over the convoluted process most car-navigation systems force upon their users—usually by forcing them through a series of clumsy menus.
The Places function, by contrast, at least allows you to search on words like "coffee," even if you do have to use the rotary dial to pick letters off the screen one at a time. The plus side here is that the DriveStyle app offers autocomplete results on the 7-inch screen, trumping the vehicle's native navigation system, and was available even on the move. (There's no voice-recognition in the DriveStyle app for text entry.)
A list of nearby cafes came up, providing distance from my location. Selecting one of the results allowed me to see open hours, star ratings, and a Google street view (controllable by the rotary dial). The way the street view images displayed, moving across as the dial spins, was slick.
Mercedes realizes that smartphone innovation far outpaces the auto industry's lumbering development cycle. By the time an automotive OEM can update its hardware, interface and apps, the electronics industry is at least a generation or two ahead. For example, the demo car natively connected to the Internet via 3G, while the tethered phone in the glove box was streaming by 4G LTE. The DriveStyle platform can add new apps as developers roll them out. Eventually, developers' kits will allow third-party innovators to add driving apps.
Good Vibrations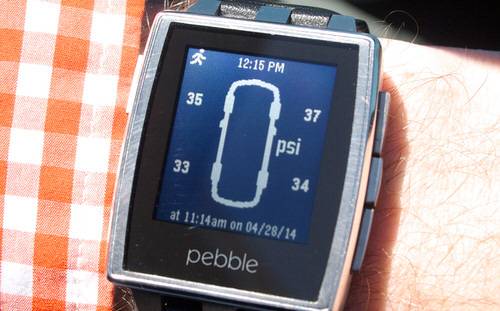 A day or two of strapping on a Pebble watch only to use it for three shortcut buttons on my wrist left me wondering why Mercedes bothered. So I continued to toss the CLA around city streets and the winding roads of the Berkeley hills near where I live.
And then the Pebble buzzed and flashed a screen reading, "Slow Down." Turns out the DriveStyle's Garmin integration, combined with GPS, had loaded up my location and local speed limits. When I exceeded the speed limit by about 10 percent, the watch vibrated and issued its warning.
It's standard Pebble functionality to push notifications when you get a text message, a phone call, or an email. Based on the type of vibration, you know what's up without taking the phone out of your pocket. Mercedes took the idea of push notifications and repurposed it for driving safety. Different warnings for, say, a reported accident or road construction, each have their signature type of vibration, so you don't have to take your eyes off the road to know lies ahead.
I didn't encounter an accident or road hazard during my week, so "Slow Down" was the only vibration I experienced. It was effective, and the only interaction with the watch that didn't duplicate what the car would have provided without the wearable. Something about feeling the buzz—sort of a literal slap on the wrist—grabbed my attention. I slowed down.
Another button on the Pebble would have let me push road condition notifications in the other direction—for instance, had I seen an accident that I wanted to report. Like the other functions started by the watch, completing the process would have required using the rotary dial, causing more distraction, and increasing chances that I would become the next accident.
Yet Mercedes told me that on some models, if the driver pulls off the road, lifts the hood and puts on the emergency flashers, the car will automatically report the problem to other Mercedes app users. The company is looking to integrate this functionality with Waze and similar services not limited to Mercedes cars.
Car Apps Outside the Car
When you reach your destination and power down the car, the mode-icon on the top left of the phone switches from a car to a walking person. As you step away from the car, the watch receives a full download of your car's precise location, the trip distance, the amount of fuel left in the tank, and—apparently for use in case your car is stolen—the car's model name and VIN number.
On some models, though not my loaner CLA, you also get a reading of air pressure for all four tires. I liked these functions, but saw them more as a curiosity than essential aids.
In addition to Mercedes's Pebble integration, I also got a five-minute run-through of how Google Glass could become part of the driving experience. The same diagnostics delivered to the watch after a drive—as well as walking directions from where you parked to where you need to go—can be deployed to Glass. This was my very first experience with Google Glass, so most of my time was spent simply fitting the device to my face and making the screen visible. The simplicity of the watch made more sense for getting a quick read on fuel and tire pressure.
Google Glass is also put to use prior to getting into the car. As you stroll to your car, speak your desired point of interest to Glass. The eyeglass screen then provides walking turn-by-turn directions first to your car, and then driving turn-by-turn instructions to the dashboard navigation. Theoretically, there's no downtime, and the act of driving and living become a single blurred experience.
That idea, and more generally the use of wearables behind the wheel, has some merit. I'm sure that Mercedes and other automakers will continue to experiment. But I have to admit that after a week, I was relieved to return the CLA and Pebble—and get back to my own dumb car, with its simple singular interface designed simply for driving.