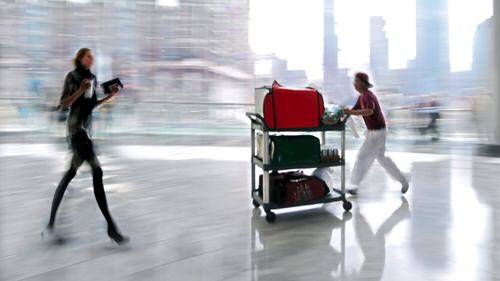 Thanks to your smartphone, we spend arguably almost every waking moment online. And the past few years have taught retailers and consumers the value of e-commerce on these multi-function devices. But are we missing something? Is this platform also the future of online food ordering and delivery?
A flurry of major moves in the space practically scream that online, specifically mobile, is becoming the new driving force in food sales. And it's not just one company leading the charge; several are demonstrating that digital devices are the hunting and gathering tools of our society.
This past quarter, Domino's Pizza saw a 5% rise in sales internationally. Five percent may not sound like a big number, but when you realize the company has a market cap of $30 billion, that's $1.5 billion – literally, tons of dough. Breaking it down where all the sales came from, 40% of Domino's delivery sales were from the Web.
The bottom line is, people are lazy and crave the easiest possible methods to get what they want. A 2012 report from the National Restaurant Association found that in the past year, 36% of Americans placed an order online; 46% said they would order via a smartphone app if that option were available. Huge numbers of consumers are taking advantage of the convenience of pocket technology to do what Americans love to do: Eat.
But if you're thinking it's just the big, household name brands that are tapping in, or the online giants like
and
that's not the full story. Turns out both established Web companies
and
startups are getting a taste.
House Specials
Last week OpenTable, the online reservation giant that books 10 million diners a month at over 26,000 restaurants, announced an agreement to acquire Foodspotting for $10 million in cash. Foodspotting is an app for finding and sharing great dishes. The deal is a chess move on the part of OpenTable to seize the growing mobile market, and capitalize on that company's community of more than 3 million users.
In late January, Venice-based social dining prix-fixe community Grubwithus launched GrubTonight, an iPhone app for dinner reservations geared towards meeting new people. Amy Partridge, Grubwithus' director of communications, says the plan is to scale quickly and host meals in L.A., San Francisco, Chicago and New York by the Fall. Grubwithus has more than 40,000 registered diners in about 1,000 restaurants across 50 cities in the U.S., Canada and the UK.
Eddy Lu, Grubwithus' co-founder and chief executive, says the company built the new app in two months, with the goal to deliver spur-of-the-moment dining experiences.
"Everyday I ask myself the question 'what am I going to do tonight,'" Lu said. The answer always involves dinner. "We built GrubTonight for the spontaneous person who doesn't have time or the ability to make plans days in advance."
Also in Venice (currently experiencing a dining renaissance in brick-and-mortar locations), food delivery startup ChowNow announced a $3 million funding round a few weeks ago. The service, which debuted in May 2012, allows eaters to order and pick up food using their Facebook account or mobile device. With the new funding, ChowNow is set to expand to more locations, and is eyeing catering services, as well as new venues like delis inside grocery stores, gyms, juice bars, resorts and food trucks.
"The vast majority of to go orders come from repeat-loyal customers," explained Christopher Webb, ChowNow's co-founder and chief executive. Webb thinks his company can help foster long-term relationships between diners and vendors. Although not as well known as others, his service was one of the first to incorporate social networking and smartphones as tools to make orders.
Beyond The U.S.
This isn't just an American trend. In August, Berlin, Germany-based ordering site Delivery Hero raised $49 million in funding. Delivery Hero is basically a hub for finding menus and placing online orders. Founded in late 2010, the company operates in 11 countries across four continents, with more than 30,000 participating restaurants. Each region the company operates in has their own separate site in that nation's native tongue; plus corresponding mobile app.
In Latin America, mobile service and content publisher Movile just invested $2.6 million in iFood, a Brazilian iOS and Android ordering service similar to Grubhub. Now Movile is planning on taking that product global, shooting for reaching 5,000 restaurants by 2014. Before its acquisition, iFood generated $10 million in revenue for its 1,000 restaurant partners. In many ways Brazil's booming tech scene is a microcosm of global trends, a region expected to generate $4 billion in home delivery sales in 2013.
This space will only continue to get bigger and more lucrative as more restaurants get on board and more diners take note. Perhaps the best, under-the-radar move for an entrepreneur or Web developer is to take advantage of a hungry public and get some food-related apps and services ready for the table as soon as possible.
Image courtesy Of Shutterstock