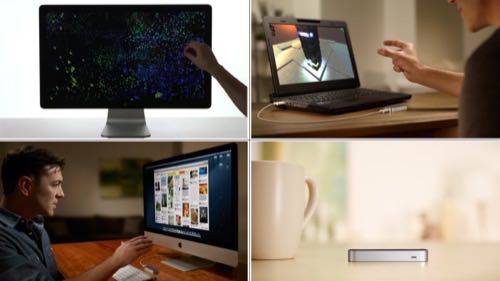 Leap Motion, the flash drive-sized controller that lets you manipulate your computer's interface with a multitude of precise hand gestures, will begin shipping to customers who pre-ordered the device on May 13. In a partnership with Best Buy, the Leap Motion controller will also hit physical store shelves in the U.S. starting May 19.
Since the company's founding last year, Leap Motion has advertised its product as a life-changing technological jump toward intuitive 3D software, while drawing in developers who will shortly offer a impressive suite of apps with functionality ranging from gaming and art to web browsing and 3D modeling. All these apps will be available in Leap Motion's new app store, Airspace, says Leap Motion VP of Product Marketing Mike Zagorsek.
Starting with the sci-fi-influenced idea that computing of the future will be done seamlessly with hand gestures alone (think Minority Report), CEO Mike Buckwald and CTO David Holz co-founded Leap Motion with the aim of delivering a truly futuristic product. They predict that this kind of interface could change the way we interact with technology forever, from kitchen screens at McDonald's to electronic music-creation tools for DJs, as ReadWrite editor in chief Dan Lyons wrote last December.

Apps Confirmed For Airspace
After launching its software development kit last year, Leap Motion began crafting a long string of partnerships with both high profile and independent developers. The list of confirmed app partners with products in the pipeline now includes 3D design software company Autodesk, painting and illustration app-maker Corel, Disney Interactive (with racing game Wreck-It Ralph: Sugar Rush Speedway), independent game studio Double Fine (with music game Dischord), The Weather Channel, and ZeptoLab (with casual mobile game Cut the Rope).
Buckwald and Holz will be at SXSW on Saturday, March 9 to talk with the Wall Street Journal's Jessica Lessin in an event titled, "Leap Motion & The Disappearing Interface." The company will also have a booth at the Austin, Texas-based festival that weekend to give the public its first chance to try out the device.
Pre-orders are still available from Leapmotion.com, for both U.S. and international orders. Bestbuy.com will also begin taking pre-orders as well starting today, but only for the U.S. The price, once $69.99, is now $79.99.
And just yesterday, the makers of the wildly successful productivity Mac app Clear announced that they will be adding Leap Motion support to the aesthetically pleasing list-maker. Check out Realmac Software's video below for a demonstration:
Images courtesy of Leap Motion