Kik, makers of the cross-platform mobile messaging service by the same name, recently launched a new SDK aimed at mobile app developers. The Kik Mobile SDK lets developers add user-to-user sharing within mobile applications in a matter of minutes. This is a different take on the "app sharing apps" of late, which allow users to share lists of apps with friends. Instead, with Kik, users are sharing actual content from within the app itself.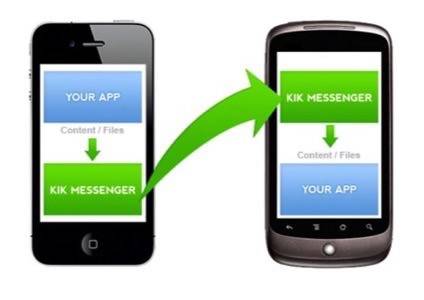 The SDK, available for both iOS and Android, is simple to use, says the company. It can be integrated into your app in just 10 minutes, they claim. All you have to do is drop in the library and paste in some code. The rest is handled by the Kik API.
How it Works
When users share something from the app with a friend not using Kik, it offers to take them directly to a download page for the application. So yes, this is sort of back-handed way for Kik to boost its own app installs. Still, if you have an app that could benefit from this type of sharing mechanism, it may be worth a look.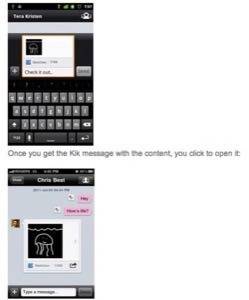 The sample app that showcases this functionality is called Sketchee – a simple drawing app that lets you send your pictures to friends. When a friend receives the picture in Kik, they can open it up, draw on it some more and then send it back. (The source code for the app comes with the SDK).
The versions of the Kik Messenger clients on the iPhone and Android already support the new functionality, and combined their install base equates to a community of 4 million users sending over 4 million "kiks" per day, reports Kik.
In addition, to kick off the launch (oh yes I did!), the company is offering a $5,000 prize to the top 3 developers who write and launch the best apps using the SDK before August 8th.