Whiteboards, also known as marker boards and dry-erase boards, have been used for decades as a learning and brainstorming platform. These glossy whiteboards have been a fixture in many work environments, especially in meeting rooms where teams or staff must work on a problem, share ideas, and collaborate.
Now, carry that platform forward to the digital age, when more companies and startups are working with a virtual team. While the whiteboard still works for those who do physically come to offices each day and need to collaborate in person, what about all those virtual meetings and communication via instant messaging? Additionally, with the expansion of online education courses and universities, there's demand for whiteboards that work in these online classrooms.
A New Digital Collaboration Whiteboard Tool
That's what innovative new companies are now working on. Because of the collaborative ability granted by using whiteboards, it made sense to think that this process could be migrated to the digital environment.
Kaptivo is revolutionizing whiteboard collaboration technology to assist companies that have virtual teams who need to work together, no matter where in the world they're located. Kaptivo is especially useful during video conference calls or remote teaching sessions.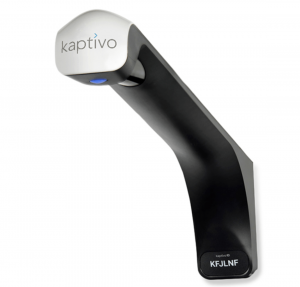 Kaptivo offers a camera that sits above a standard whiteboard, allowing it to capture images and live stream content. Plus, it integrates with Slack and Trello.
Digital Collaboration Technology Gets Funding
And the innovative solution now has the backing of numerous investors who believe in what the digital whiteboard technology can do for organizations and enterprises. Kaptivo just completed a $6 million round of financing.
Benhamou Global Ventures (BGV), Draper Esprit, and Generation Ventures led the funding. Janice Roberts, partner at Benhamou Global Ventures, provided a number of reasons why her investment firm believed in what Kaptivo has developed. "Kaptivo brings the most used offline collaboration method — the whiteboard — online with a sophisticated, yet frictionless, solution. The team has solved a universal problem, enabling companies to greatly enhance the performance of their global organizations, secure and manage their most important information, and integrate with leading-edge productivity tools."
Along with the acknowledgement that it was a solution for a new pain point for numerous companies, the investors also saw a long-term opportunity and significant return on their investment.
Putting the Financing to Work
Kaptivo is already empowering numerous companies and assisting a wide range of  educational institutions. The company has deployed more than 2,000 devices globally, expanded its VAR network, and secured major OEM partners.
This financing will now help Kaptivo get its digital whiteboard technology into the hands of those who need it most, including the education and enterprise markets. To reach new channels around the world, the company's funding will be applied toward building strategic partnerships, accelerating product development, and bringing on more talent.
In this way, thse accustomed to using whiteboards can still use them in the same way, regardless of where they're located. Also, those on virtual teams can benefit from the collaborative power of whiteboards.
From there, Kaptivo hopes to fulfill its mission to assist as many companies and organizations as possible to effectively collaborate anywhere and leverage the creative and learning processes that develop through using whiteboards.