In a gritty intersection on Folsom Street, the famous thoroughfare of San Francisco's SoMa district, the past and future of wearables face off.
On the south side, there's Mr. S Leather, which has offered a certain genre of hardware to its clientele for decades. Across the way, in a sun-dappled loft, there's a new outpost of Intel. Since they became employees of the giant chipmaker in March, the hardware and software engineers of Basis Science have been working on a new fitness-tracking smartwatch.
If Mr. S's wares make people's heart race, then Basis wants its gear to be on hand to record every beat. On Tuesday, Intel is announcing the Basis Peak, a device it will start selling in November for $199, in matte-black and brushed-aluminum styles. Amazon, Best Buy, and REI will stock the device.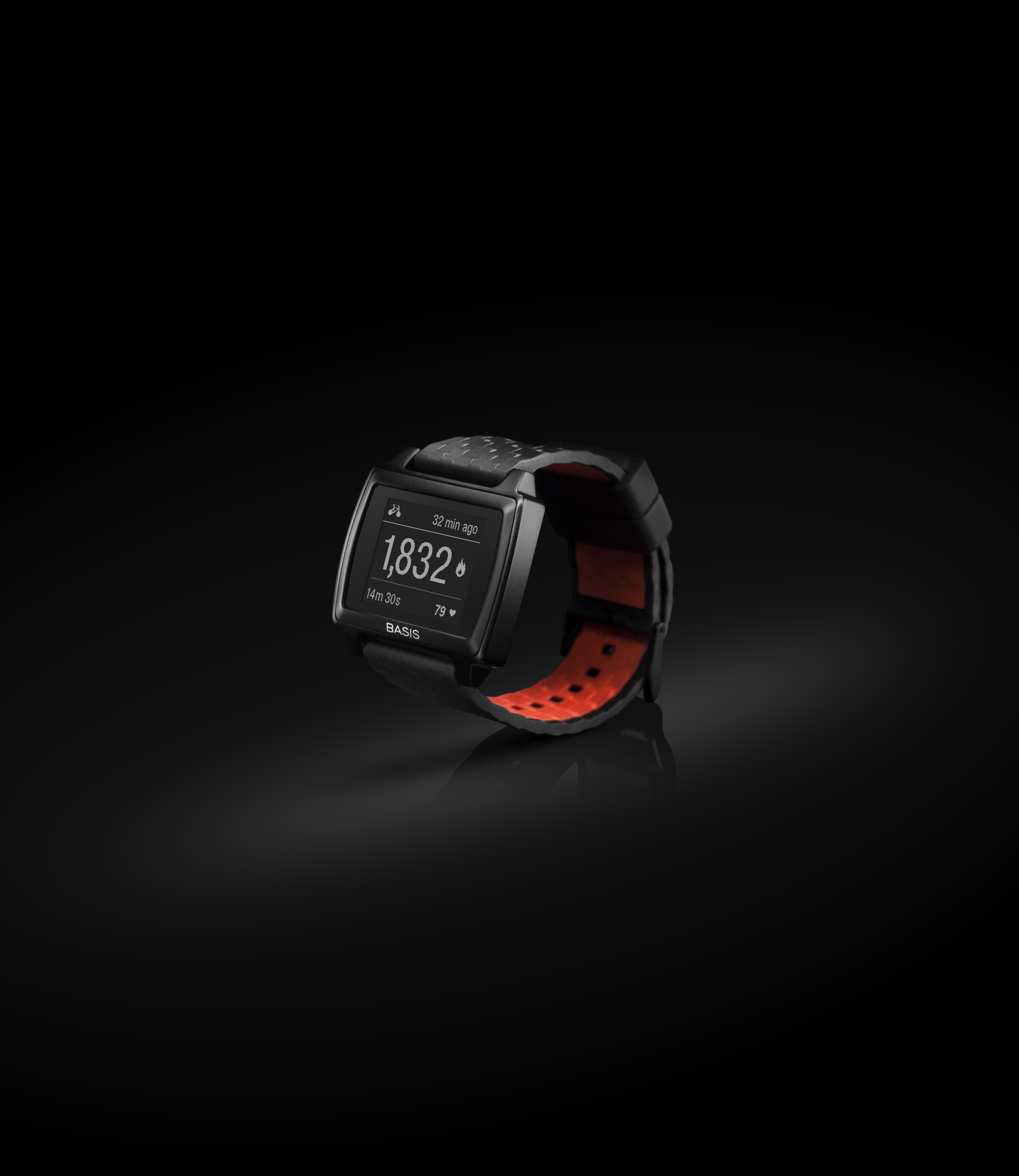 A Fitness Tracker With Heart
Like Basis's original B1 band, the Peak will capture users' heart rate all day. That's a key differentiator from simple fitness trackers like the Jawbone Up and Fitbit.
So what's new? The Peak will—how to put this delicately?—actually do the job right. There are a host of improvements in the Peak, from the charger design to the setup process to the wristbands, but the most important is in its core heart-rate function.
The problem with the B1's optical heart-rate technology, Basis CEO Jef Holove acknowledged in a recent interview, is that it got heart rate right for most of the day, but it failed to capture the swings in heart rate that people achieve during vigorous exercise.
If you look at the backside of the B1 and the Peak, you notice a glaring difference: Basis has dramatically boosted the power of the LEDs that light up your skin to read minute variations in your blood vessels that indicate your pulse. That power boost allows the Peak—as the name suggests—to better capture variations in heart rate. (Basis's sensors also detect perspiration and body temperature.)
At the same time, the Peak still uses all-day heart-rate data to assess your overall health, including factors like sleep quality. (There's some controversy among scientists over Basis's claims about sleep tracking via heart rate.)
"We still value 24/7 tracking," Holove told me. "It turns out you can do both."
And a little more, too: Basis says a future software update will let the Peak, which has a touchscreen, display notifications from a paired smartphone. That will put it in competition with the likes of the Pebble, smartwatches running Android Wear, and the forthcoming Apple Watch. The Peak's price and capabilities put it in the middle of the pack—more expensive than a Pebble, cheaper than a Moto 360 or Apple's heart-rate-tracking smartwatch.
But health measurement will remain the crucial differentiator for the Basis Peak. Its jacked-up heart-rate capabilities will make it more appealing to runners and cyclists, who are more likely to spend $199 on a piece of gear that tracks their heart rate.
The challenge for Basis and Intel will be to market the Peak to the rest of us.
"Our job is to make heart rate relevant to people who don't have a clue about heart rate," said Holove. "People who are intrinsically motivated, the thing they love about devices like us is how much data we give them. It's like sports tuning. But the vast, vast majority aren't that. They're extrinsically motivated."
What that means is that most people need some kind of push to pursue healthy habits. Basis's companion mobile apps for iOS and Android will provide that, giving users a sense of "virtual progress," Holove said, until they can see visible improvements in their health from pursuing new habits like exercise.
From the brief look I got at the Peak, Basis under Intel has made more than just virtual progress. The device is a substantial improvement over the B1, which I found deficient in both performance and design. But it's entering a far more crowded market. If the Peak on Holove's wrist is measuring an increase in his heart rate today, he's got good reason.