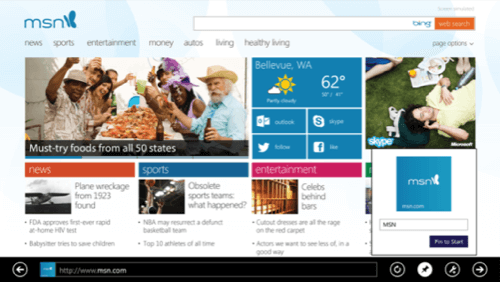 Internet Explorer is slowly, slightly, but significantly changing the Web.
Tuesday, Microsoft released a preview of IE10 running on Windows 7, as expected — the same version that's available for the new Windows 8, but translated into the older Windows 7. At the same time, executives with Microsoft's IE team made the case that content providers have begun incorporating IE10-specific features into their sites, which would benefit those surfing on Microsoft's latest OS, Windows 8, which has IE10 built in.
The move may be a response to Google's Chrome, whose download page tells people to "get their Google back." Google released both Google search apps and Chrome for Windows 8 last month, as well as a Windows RT-specific search app on Monday afternoon.
But with just the tiniest change to the functionality of Etsy.com, Pulse.me, and MSN, Microsoft is signaling that IE 10 might be taking a small step toward a more useful, and Microsoft-centric, Web.
Swiping To Save Time
Take Etsy, where shoppers can browse from literally hundreds of items in the jewelry section alone. Scroll down in the "brooch" section, for example, and a shopper can scroll, scroll, scroll down to the bottom. To get to the next page, those using IE9 and others have to click the right arrow at the bottom. On IE10, they simply swipe right anywhere along the list.
Is this revolutionary? Maybe not. Etsy could simply break up the list of items into smaller chunks, adding a floating navigation arrow on the site, or even adding navigation elements at the top of the list. But, according to Ryan Gavin, the general manager of Internet Explorer, the simple left and right swipe on sites that offer pages and pages of text — shopping sites, discussion forums, and others — is a feature that only IE10 offers. Under Windows 8, Google says that Chrome doesn't even offer pinch-to-zoom. It's a change that Windows 8 and its touch-centric interface has affected the Web.
"When I'm working with apps, when I'm working with People, when I'm working with the core Start Screen experience, all that works well," Gavin said. "And then I go onto the Web. And then you have an experience bolted on to something else [with Chrome]. Consumers are saying that's not what they want any more. They don't want to think about those two [experiences]. That part, that touch, that whole fluidity, I think that will play a huge part of people's choice on Windows 8."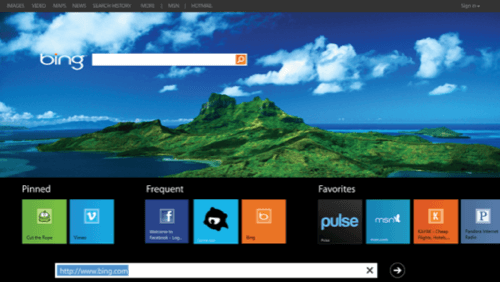 The difference between Chrome and Windows 8's implementation of IE10 is also an aesthetic one: On a tablet, Chrome shows up as a typical browser, with tabs. Microsoft's recent work with Contre Jour pulls the Web out of the browser, so that the Web app fills the screen. People can swipe in and out to expose the Windows 8 charms and other controls, but for the most part, the content fills the screen with no indication that it's inside a browser.
Windows 7: Speed, Windows 8: Touch
Within Windows 7, Chrome, Firefox, Internet Explorer, Opera and even Safari are merely tenants in an office building: All five can hang their signs on the front door, and they all work well.
In that traditional environment, the focus is on speed, features and the ecosystem, Microsoft cited studies from NewRelic and StrangeLoop Networks showing that IE10 was significantly faster (if fractions of a second are significant) than other browsers. Rob Mauceri, the group program manager for Internet Explorer, said that maybe the most notable addition to IE10 on Windows 7 was hardware support for its approach to implementing standard 3D transformations, providing a "consistent and interoperable experience," he said in an interview.
Within the Bing/IE combination and Google/Chrome ecosystem within Windows 7, data matters as much as presentation. Google's search and Chrome apps tap into the Google ecosystem, creating value by leveraging past searches, referencing sites that Google+ friends may have highlighted, and sharing information back and forth across Google services, which, as Microsoft has pointed out, people don't necessarily want.
Those ising IE9 won't have to worry. The automatic upgrade capabilities built into Internet Explorer will mean that IE9 will upgrade itself to IE10 when the final version is released, probably some time next year. (You will still have to manually upgrade the preview version if they want to try it out.
IE has about 32.9% market share, according to StatCounter, versus 34.8% for Chrome. Net Applications calculates that IE has 54% of the desktop-PC market, followed by Firefox and Chrome. On Wikimedia, 30.6% of the site's visitors use Chrome, followed by 22.01% on IE and 19.11% on Firefox. This all means that IE10, on Windows 7 or on Windows 8, will capture a significant portion of the Web.
Do You Want The Old Web, Or The New One?
That will influence content developers, too.
"We're going to be active on the tooling front, as well as more broadly active with the community, the libraries, the multiple building blocks that make developer's' lives easier as they start building these experiences," Gavin said, when asked whether developer tools or the browser itself were more important.
According to Gavin, developers will have to choose whether they build optimized experiences for browsers like Windows 8, or "lowest-common denominator" experiences that will work across the Web in a blah, vanilla fashion. Pulse.me went this route, supporting the swipe gesture within the Web page to allow users to move to the next story. That's a feature other content developers will have to choose to support, and they'll all have different answers, he said.
Originally, Gavin said, he "may or may not have been a huge fan of MSN," which was recently optimized for Windows 8 and IE10. "But I like this version," Gavin said. "It's so much like Windows 8. It feels consistent."
Gavin acknowledged that other browser vendors had designed in some of their own touch capabilities. And Windows 7's version of IE10 won't include any overt roadblocks, features that the browser will explictly identify as belonging to Windows 8. But the layout of these updated Web sites may underscore the real message: With Windows 8, Microsoft has designed its own Web. In it, Google, Mozilla, Opera and the others are merely guests.