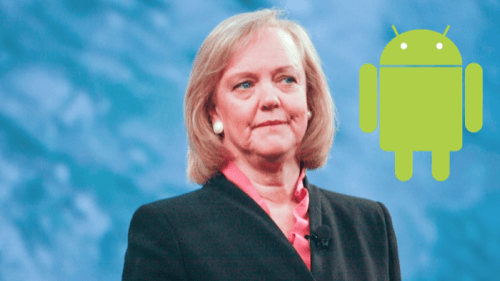 Having failed to carve out a place for itself in the post-PC era, Hewlett-Packard is now taking drastic measures — by adopting Google's Android operating system to run a series of upcoming mobile devices.
It's a bit of a Hail Mary pass for HP, which has fallen years behind its rivals in the mobile space. It's also a big win for Google, which adds another powerful partner to the Android ecosystem.
HP's first Android device will be a high-end tablet that is powered by NVIDIA's Tegra 4 chip, and it could be announced soon, according to two sources familiar with the matter (the sources spoke on the condition that they not be named because they are not authorized to discuss unreleased products).
The tablet has been in the works since before Thanksgiving and sources say it could be one of the first tablets to ship with the Tegra 4. NVIDIA's latest mobile chip was just announced during the Consumer Electronics Show (CES) in January and it features some impressive specs, but we have not seen many devices adopt it yet. NVIDIA's own Project Shield gaming system is slated to debut Tegra 4 in the second quarter of 2013, while partners Toshiba and VIZIO are also reported to be working on Tegra 4 tablets.
Sources also say that HP is currently exploring the launch of an Android-powered smartphone, but recent comments from CEO Meg Whitman indicate HP will not offer a mobile phone this year.
HP declined to comment on its plans, but the news of such a tablet shouldn't come as a big surprise. HP has been toying with Android devices since 2010, and some might remember the mysterious TouchPads that shipped with Android installed instead of webOS. Most recently, HP has teamed up with Google and released its own Chromebook.
HP Plays Mobile Catch-Up
The move to Android could help HP regain ground in mobile computing, where so far it has lagged behind Apple, Samsung, HTC, Motorola and many others.
Over the last couple of years HP's mobile scorecard has been a disaster. In 2010 the company spent $1.2 billion to acquire Palm and announced it would double down on webOS after Palm's smartphones had failed to catch on with consumers. But the resulting products were massive failures and HP decided to stop making mobile devices and went on to open source webOS.
HP recently regained the top spot in the PC market by leapfrogging Lenovo, according to research firm Canalys. However, HP leads the PC market only when tablets are taken out of the equation. If tablets are counted as PCs, Apple jumps to first with 27 million units shipped in Q4 2012 and HP falls to second place with just 15 million PCs shipped.
At first glance adopting Android looks like yet another desperation move from a lumbering giant that can't seem to figure out the new mobile erane. HP has no choice but to figure out something here. The truth is, PCs are over, and the future is all about mobile.
A Big Win For Google
It's unclear how many mobile OSes HP will support going forward, but the news that it is going down the Android path is a significant win for Google. Android has been slowly evolving towards the desktop PC market, and HP could be the partner that helps Google turn the corner in that area.
"HP supporting Android at this point in time is deeply strategic," said Ben Bajarin, Principal analyst covering consumer market intelligence and trends for Creative Strategies, Inc. "As any vendor who has history in the PC industry knows, it can be rough when you are completely dependent on only one OS platform provider."
"It worked out well during the PC growth period because Windows was the standard computing platform. That is no longer the case when it comes to mobile computing where Android is the leading licensable mobile OS platform," said Bajarin. "The reality is that if HP, or any vendor for that matter, wants to have a relevant tablet / mobile strategy, it has to include Android."
Most of the traditional PC OEMs have already experimented with Android tablets, though several have trimmed their roadmaps after discovering there's no money to be made in the low-end of the market. HP will face the tough challenge of releasing just another Android tablet, so it will be interesting to see what kinds of software and services the company will provide to help differentiate them from the competition.
HP is holding private meetings during the Mobile World Congress in Barcleona, Spain, later this month, and it might show off the new Android tablet there behind closed doors. But we were told not to expect an official announcement until after the show. Look for more details in the coming weeks.
Meg Whitman image courtesy of drserg / Shutterstock.com.