Android made a jump today that signals the future of the platform. Anybody familiar with Android will take a look at its new Ice Cream Sandwich platform and know that Google has truly morphed its tablet version of the platform, Honeycomb, and the previous smartphone versions into an entirely new user interface. Whether or not users will respond favorably to it remains to be seen, but Android 4.0 is a dynamic update to the leading smartphone operating system.
What is new with Ice Cream Sandwich? Well, Google is playing to Android's strengths with ICS by creating new multi-tasking capabilities, resizable widgets, improved voice controls and quicker communication controls. Android has also tied its browser to the cloud, which will drastically improve how it renders and saves pages. Check out what is new with Android 4.0 below and how Android now stacks up against its competition.
For all you users who prefer the quick-hit version, take a look at the video that Google and Samsung released with the new Nexus Prime device and how it integrates Ice Cream Sandwich:
Multi-Tasking & New User Interface
The Android developer team recognized early that it could differentiate itself from Apple's iOS with multi-tasking. Apple has since caught up with multi-tasking in iOS, but Android still does it better and Ice Cream Sandwich gives multi-tasking a better user interface than previous Android versions.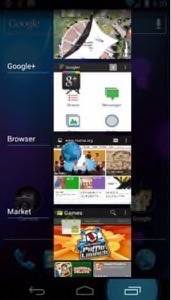 The big jump for Ice Cream Sandwich multi-tasking is the "Recent Apps" function that will bring up users' most-used apps from the system bar icon either at the top or the bottom of the device. The system bar icon is a feature from Honeycomb, as are a lot of the new user interface changes in Android 4.0.
Android has a new home screen folder for users to group their apps, get app info or uninstall it. There is even the promise of being able to disable a pre-installed app, which a lot of people will be happy about if it allows them to get rid of the bloatware that the carriers and original equipment manufacturers put on their devices. We will see how well it works in practice.
Resizable widgets are also an improvement from Gingerbread that takes a hint from Honeycomb. This is a product of the developer environment that Android created with Ice Cream Sandwich as developers now have the ability to set device specifications with backwards functionality. That will allow developers to create different options for the size of widgets and applications with a few additional lines of code in the Android developer ecosystem. Resizable widgets will help users with different screen sizes take advantage of the landscape of Android devices, from large tablets on down.
Data, Voice Input & Photo Editing
Android had the early lead in voice input, another area where the platforms' developers could take a step ahead of iOS. Apple has caught up, in a big way, with iOS 5 and Siri.
From a marketing and user interface standpoint, Siri is a brilliant creation from Apple. Android 4.0 voice controls may work as well or better than Siri, but it cannot match the fact that Siri is a likable character that lives inside your iPhone and says some weird stuff sometimes. The voice input engine in Ice Cream Sandwich allows users to dictate text to the phone for as long as they want in any language. Forget the comparisons with Siri, that is a pretty neat innovation in its own right.
Last week, Opera Mobile released a browser tied to the cloud that can allow users to moderate data usage. The third-party Bolt browser that was announced at CTIA in San Diego does the same thing. In a way, Bolt and Opera were lucky that Google and Samsung pulled out of CTIA and made the Ice Cream Sandwich announcement in Hong Kong this morning, because the Android browser now has the same exact functionality and may do it better.
Ice Cream Sandwich also brings native photo editing to the Android camera interface. This is another space where Android is stealing some of the thunder from the application ecosystem that had previously filled the holes that the platform did not provide. There is an array of photo editing features for both pictures and video. The biggest change here – and one that brings it much closer to iOS – is the ability to easily take screenshots. Apple has had this functionality for a long time and it was more difficult to perform in Android.
Android's Native Browser Makes A Leap
Why are there so many third-party Android browsers? A couple of reasons. Unlike iOS, Android as an open application ecosystem is much friendlier to mobile browser developers. The second is that developers saw an opportunity with browsers because the native Android browser offered a subpar experience. That is about to change.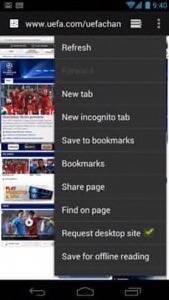 Mobile browsers are taking to the cloud. It is not actually a difficult implementation. Offloading page rendering to the cloud speeds up the browser. Google claims that the new browser in ICS shows a 220% improvement over the Gingerbread browser. It can switch between desktop and mobile versions of a site, allow for tab preferences and Instapaper/Read It Later functionality with offline reading.
The new Android browser is actually very similar to what Amazon did with Silk and improvements that Mozilla has made with its Fennec mobile browser. The cloud functionality will help with mobile developers creating HTML5 applications and make for a better user experience on the mobile Web.
The cloud also helps with text input and email. Android 4.0 has an improved auto-completion feature. There is also an integrated menu in the new email application that will help organize IMAP, EAS v14 and Exchange email, which will be a boon to enterprise users that have had a frustrating experience with the Android email client so far.
Android Beam & Connectivity Innovations
Near-field communications is often tied to mobile payments. Google Wallet is Android's big push in that direction. Yet, as is often pointed out in the comments section of ReadWriteWeb, NFC can be used for much more than just payments.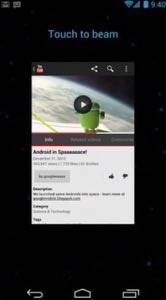 Android Beam is like the next evolution of Bump that lets users share content and contacts between two NFC-enabled devices. Users can share apps, contacts, photos, documents. Ice Cream Sandwich also allows users to do this through Wi-Fi Direct and Bluetooth.
Big Picture: How Does Ice Cream Sandwich Stand Up?
Google just put the smartphone and tablet world on notice. There is a lot to like in Ice Cream Sandwich. Some of it is new (like the Face Unlock feature for security), a lot of it involves improvements to existing systems (multi-tasking, voice input, camera and calendar upgrades) and some of it is riding new trends that Android is trying to do better (NFC, cloud browsing).
There is a reason that it took Google and the Android ecosystem a long time to release Ice Cream Sandwich. Morphing the smartphone versions with Honeycomb took a lot of work but following what the competition was doing and then improving upon it is a daunting undertaking. If there is a unique feature in any mobile platform, Google just integrated it.
Ice Cream Sandwich shows us why a lot of tech pundits found the iPhone 4S so disappointing. Apple could have done almost all of these things (and probably will very soon) but the iPhone refresh was not a jump like Android 4.0. It is a game of leapfrog. Google jumped iOS with Ice Cream Sandwich and Apple may come back and jump Android with the eventual release of the iPhone 5. Everybody else, from Windows Phone, BlackBerry and even smaller platforms like Tizen, are going to be playing catch-up to Google and Apple in the near future.