Most people who have access to the internet have probably taken an online quiz – and we're sure you might have too. The truth is that we love quizzes, mostly for their ability to give us a sense of belonging and exclusivity.
When so many quizzes online go viral, an online quiz might just be the next best thing for your business. As a marketer, you can harness the engagement and shareability of quizzes to help you attract more qualified leads for your company.
Want to see how to do just that? In this post, we'll show you why quizzes can be a fantastic arm for your online marketing efforts, as well as a step by step guide to design, create, and promote a quiz with the potential to go viral and attract thousands of qualified leads.
Why use quizzes for lead generation.
As marketers, it's our responsibility to be open to new ways to generate leads for our businesses. Here's why you should consider quizzes:
Quizzes don't always need to be entertainment.
We're sure you've seen everyone and their neighbor share those fun Facebook and Buzzfeed quizzes on their social media accounts, but the truth is you don't need to feel limited to keeping them purely for entertainment.
You can create quizzes that test people's knowledge about certain things in your industry or segment people into a group that makes them feel like they're a part of something bigger.

The questions in your quiz can show your industry expertise.
Quizzes can also position your business as an expert in your field. When you're able to use a quiz to categorize people into groups or score them according to a test, you show visitors that you have enough knowledge and insights that other people don't.
Quizzes require some work and effort to create, so when visitors see that you've created a great quiz for your niche that makes sense, they're more likely to trust your brand as an expert in your industry.
A quiz can get qualified leads instantly.
When you create a quiz for your business within your niche, you can filter in qualified leads right away. As long as your quiz is something highly relevant to your audience and they see some value in taking your quiz, then you can rest assured that the people who take your quiz are warm leads.
It also takes them through the marketing journey much quicker when they interact with your brand in a more immersive way. In a 2016 CMI survey, over 80% of respondents say that interactive content was more attention-grabbing than static content.
Compared to visitors who only read your blog posts or skim your website, quiz takers have taken the time and effort to engage with your business online. This means you can take them through the Know-Like-Trust journey quicker, which can then boost your chances of making a sale.
Quizzes and their software are incredibly flexible.
Last but not least, quizzes are incredibly flexible marketing assets. Aside from being able to display quizzes on your website, you can embed them on emails to make interactive newsletters and campaigns that increase email click-through rates and overall deliverability.
And quiz-building software themselves can also be used creatively. Take, for example, how Hosting Facts editor Brad Smith added quiz boxes to his site in order to solicit customer feedback on controversial company reviews. Because of this small addition, the website saw a 43.1% improvement in time on site as well as a lower bounce rate. The company was also able to generate hundreds of qualified leads in the process.
How to Use Quizzes to Get More Qualified Leads
Convinced you should be using quizzes to get better leads for your business? Here's a step-by-step guide that walks you through exactly how to create a high-converting online quiz.
Decide on your quiz type.
First and foremost, decide on what kind of quiz you want to have. In this post, we identify three types to choose from.
Personality Type Quiz.
The more popular type with the potential to go viral is personality type quizzes. These are more likely to go viral because people love sharing the results and seeing what other people get.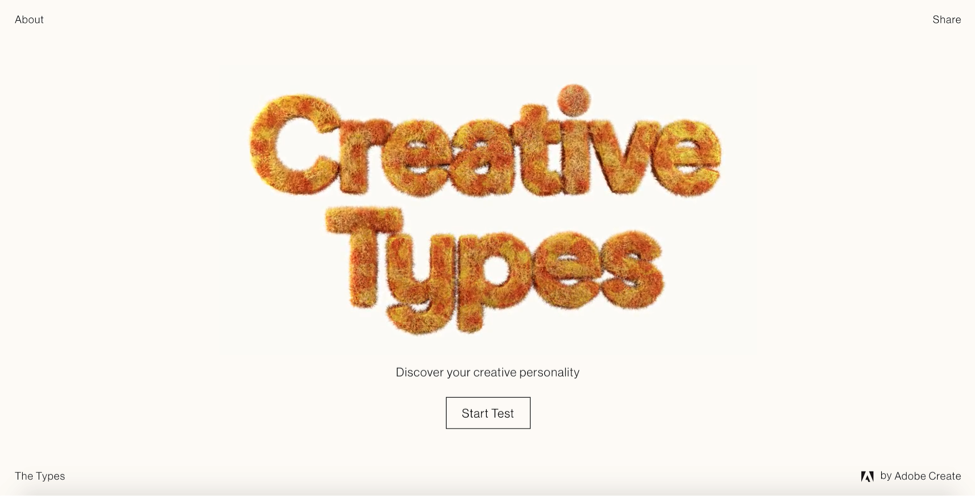 Adobe Create launched a personality quiz that quickly went viral. It grouped visitors into different creative types, such as Artists, Visionaries, Innovators, and the like.
As an additional note, this quiz type typically performs best if you're in B2C but you can also get great results in B2B if you have an irresistible quiz other businesses and marketers may benefit from.
Scored or Knowledge Quiz.
The second type is the scored or knowledge quiz. Here, you test visitors about how much they know in your niche. People love to find out if they know more than others in their industry, so this is an effective way to allow them to test their knowledge. At the end of the quiz, you either provide a total score or percentage based on how many answers they got right as well as what that might mean about them.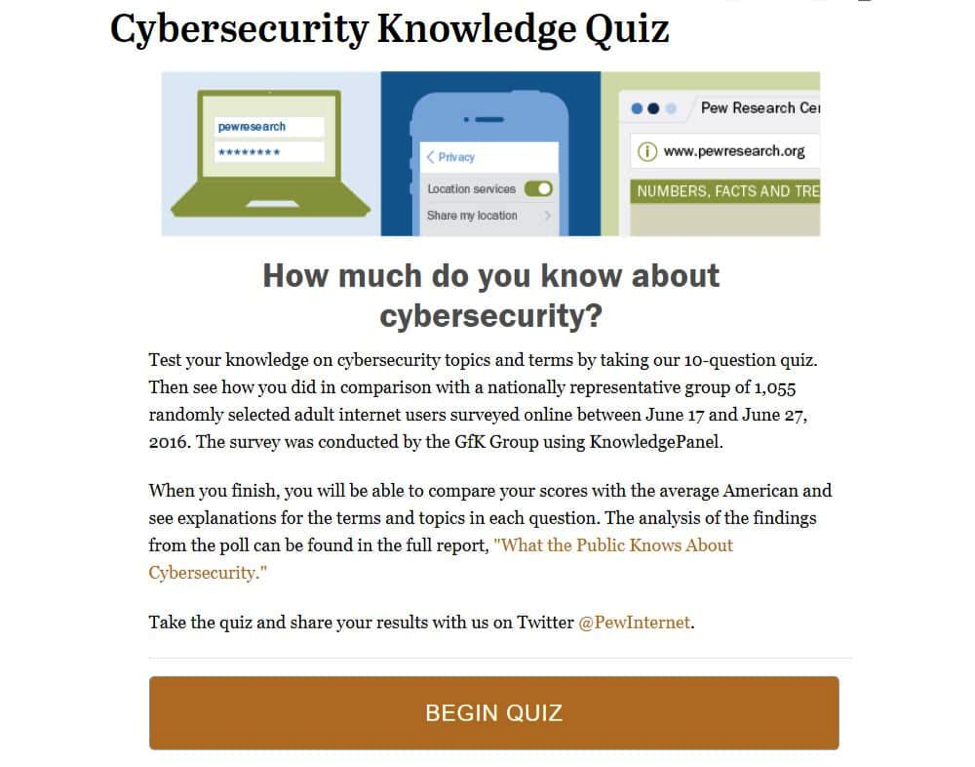 A cybersecurity quiz is a great one for B2B companies since you're able to offer leads tailored recommendations based on where they are in their funnels, and what they already know. It's a fun validation technique.
Get Started Quiz.
The last type of quiz is the Get Started quiz. With the get started quiz type, marketers are able to learn important information about where their audience might be vis-a-vis their product or service. In the get started quizzes, people normally do a self-assessment to see how they can get started in a specific area of their life or business.
Many B2C online shopping retailers use Get Started quizzes for consumers to inform them about initial recommendations based on their preferences. On the other hand, B2B companies can use this quiz type to give leads specific and actionable ideas based on where they're starting from.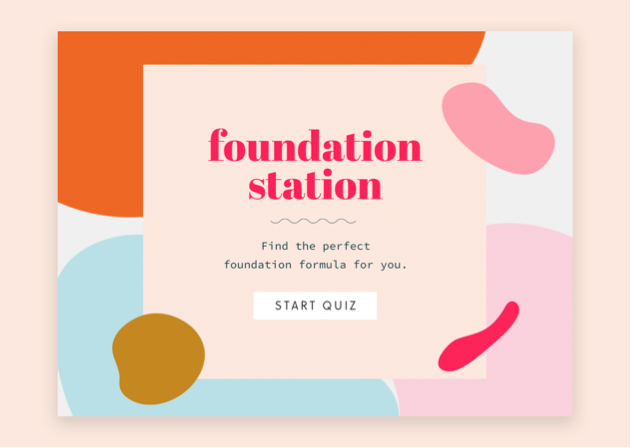 B2C retailers like Brit + Co use Get Started quizzes to show consumers where to start looking in their extensive catalogs.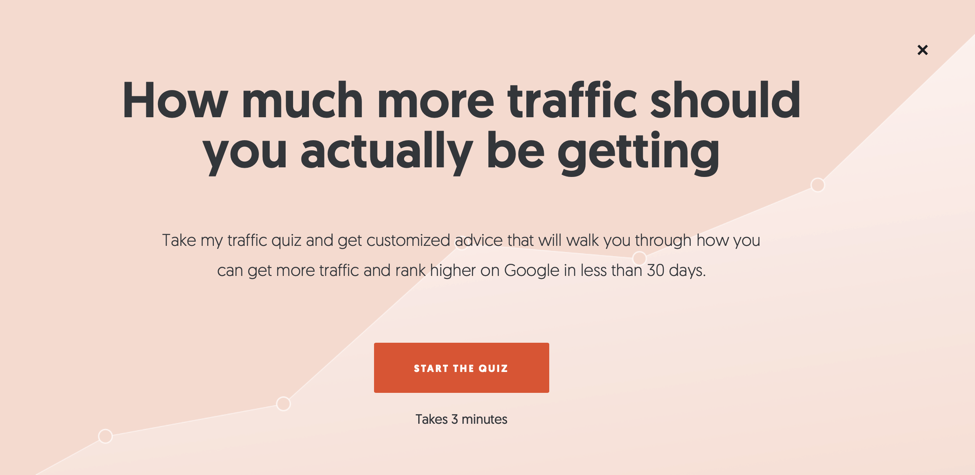 Have an enticing quiz title.
Next, your quiz title ought to be catchy and informative so people can see at a glance what your quiz is all about.
Keep the title short and descriptive, and use words that your audience would typically use in day to day life. Don't use vague or highfalutin language – focus on clarity and brevity.
Try using a headline checker to see if your quiz title is too long or contains too many difficult words. You can also conduct A/B testing on your website to see which headline gets more clicks.
You can also craft irresistible quiz titles by focusing on the desired result that visitors might want.
As a cheatsheet, here are some high-converting title formats to help you create your own.
How [adjective] are you? (e.g. How self-aware are you?)
What kind of [general type] are you? (e.g. What kind of blogger are you?)
How much do you know about [topic]? (e.g. How much do you know about vegan nutrition?)
Know your [type]. (e.g. Know your entrepreneurial archetype)
Plot out your quiz results then quiz questions.
Generally, you'll want to work backward as you design your actual quiz. Start with the results you want your visitors to get, particularly if you're creating a Personality Type or Get Started quiz.
Knowledge quizzes will have your visitors' scores as a result, so you can jump straight into designing the questions and answers.
Once you know what results you want visitors to get — you can flesh them out with characteristics, traits, and other defining factors. These are the things that can help your quiz takers establish a sense of belonging to a group, unlock a uniquely personal insight, or magnify as true something they already know about themselves.
After you've done this, it's easier to start creating your quiz questions.
Design beautiful quiz pages.
If your quiz isn't designed well, users might either click away from your website or have a difficult time completing said quiz. Because of this, great design and copywriting are key.
As a best practice, consider adding images for each response and question to encourage visitors to complete your quiz. Keep questions succinct, and make sure answers are limited to a sentence at most.
You'll also want to keep your quiz pages free from any distracting elements. Disable other pop-ups and exit-intent forms from appearing, limit sidebar content, and try to add a progress bar to help visitors know how long your quiz is.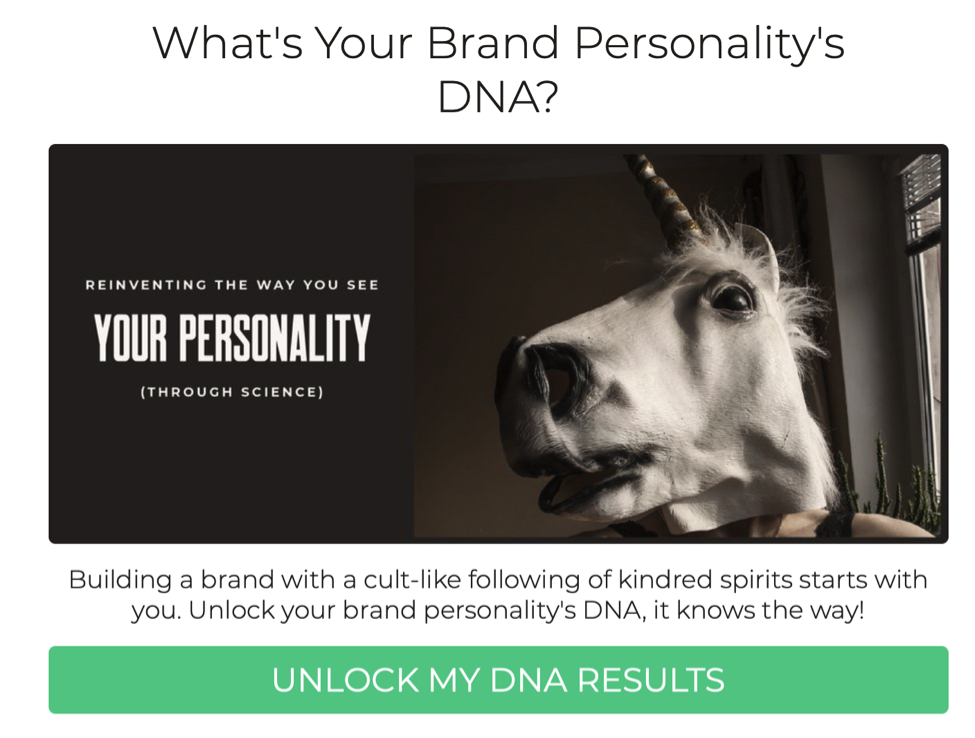 A compelling call-to-action (CTA) on your splash page – or quiz homepage – like this one from The Branded Solopreneur can help reduce bounce rate and encourage click-throughs.
Connect results to your customer segments.
Once you've designed your quiz, you'll want to connect the results to your email service provider (ESP). On your ESP, create new segments or groups where each result or group will fall under. Then with your quiz software, connect each result to the particular segment.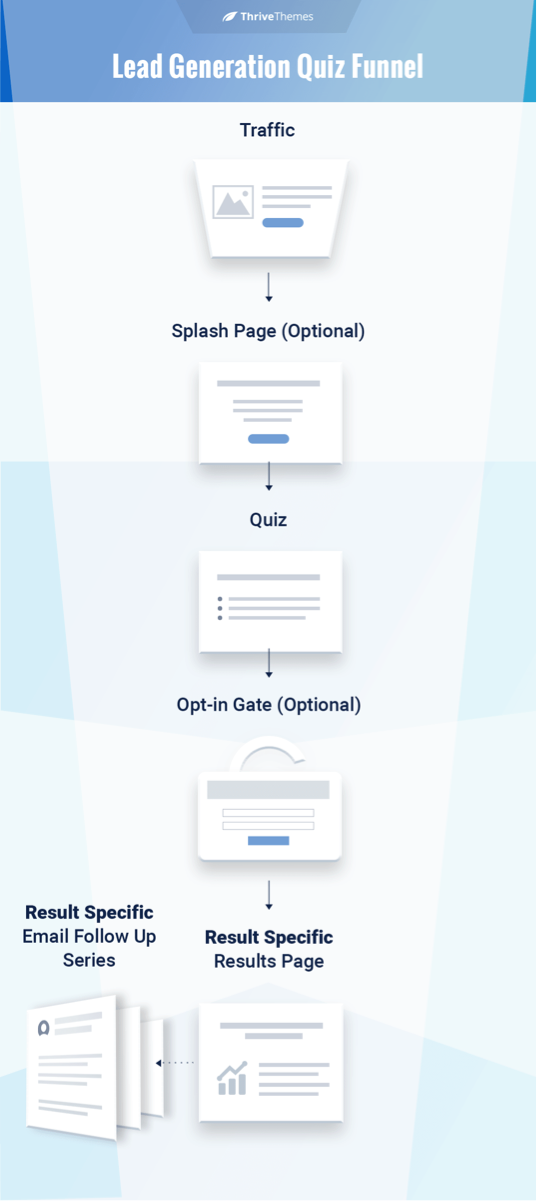 You can plot out all the pages and steps for your quiz in a lead generation funnel, like this one from Thrive Themes.
Offer an irresistible value add-on to supplement users' results.
Some online quizzes don't require users to input their personal data like names and emails to get their results. Whether or not to do the same is entirely up to you.
The easiest way to ensure sign-ups to your list is to gate your results page. By asking people to opt-in to your list to get their results in their inbox, you don't have to worry about people taking your quiz and clicking away.
This can be a great strategy to get a lot of leads right away. But the downside is it might be attracting unqualified leads. Instead, here's what we recommend: make your results pages free to access but provide an incredible high-value lead magnet that will help leads take action or learn more.
By implementing this step, you're able to weed out visitors who take quizzes for fun. But you're also ensuring that you're keeping the right people on your list. If they sign up for additional resources, after all, you can guarantee they're a qualified lead.
Your exclusive lead magnet ought to be related to users' results, such as a way to learn more about their type or an actionable guidebook to help them get started based on their results.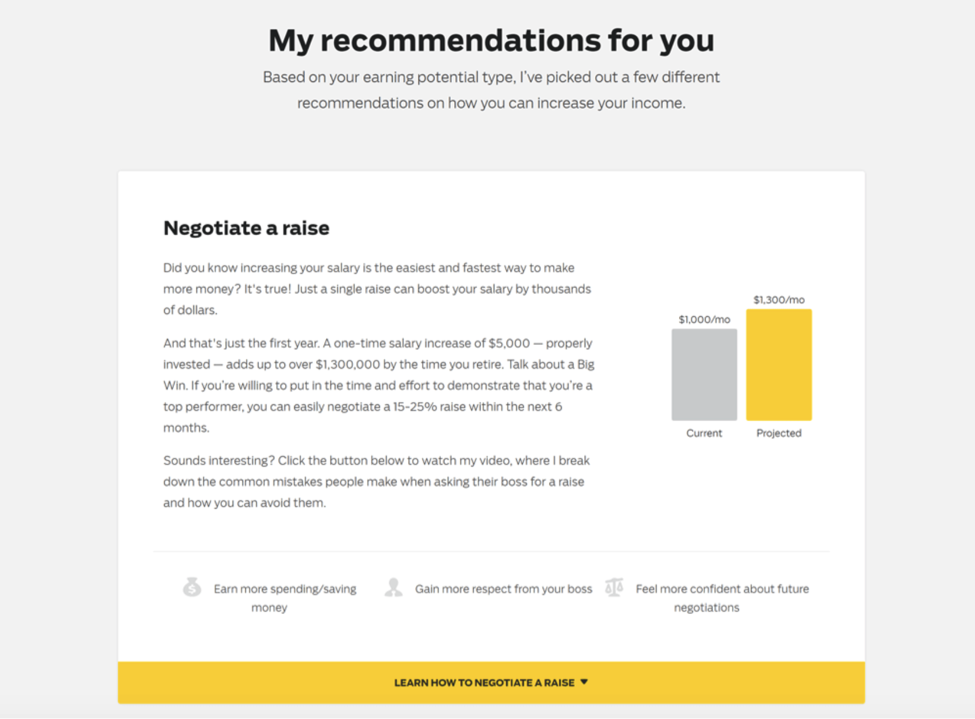 Ramit Sethi from I Will Teach You to Be Rich, uses highly personalized and high-value quiz results pages to take visitors through more content and eventually sign up for his email list.
Using these types of quizzes is also the beginning of your lead nurturing efforts with quiz takers. [For some great ideas on quizzes, check out kevin payne dot com.] You'll want users to get value right away so they associate your brand as more than just a place where they took an online quiz that one time.
Keep all pages and forms legal.
Online privacy is a big deal nowadays, with new data privacy policies sprouting up left and right. Because of this, it's incredibly important to stay compliant so you're not flagged as spam or phishing.
To keep your quiz legal, use secure HTTP or SSL encryption, especially if you chose to host your quiz on its own site like in our Adobe Create example above.
Your opt-in forms where users sign up for their results or additional results must also be compliant with privacy laws like GDPR or CCPA. Include all relevant disclaimers, such as privacy policy links, as well as information about how you intend to use your visitors' data.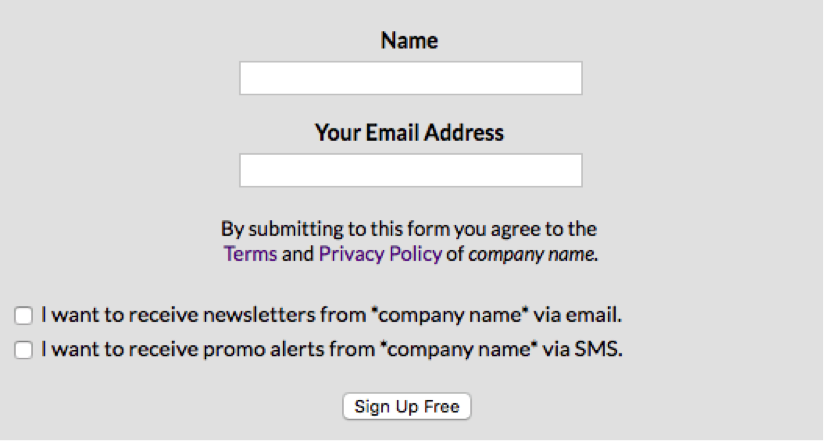 Promote your quiz.
Once everything is set up on your website and ESP, it's time to start promoting your quiz. Display CTAs across your website – like in the header menu, sidebar, within blog posts, pop-ups, etc. to boost awareness and encourage participation.
Quizzes have a huge potential to go viral, even if just in a very specific niche. So include all social sharing buttons, especially on your results pages.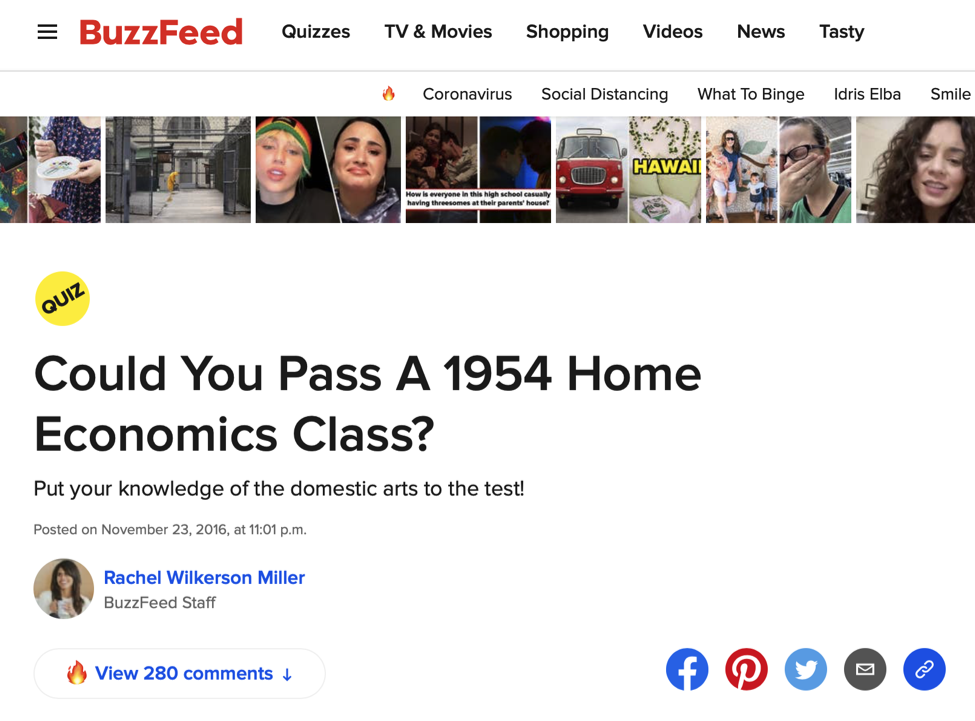 The Buzzfeed display is on its top header and includes all social sharing buttons on individual quiz pages to encourage shares.
Use quiz analytics wisely.
When your quiz is live, your work has only just begun. While you promote your quiz, pay attention to the results and analytics.
Quiz results can give you a lot of information about your audience and leads. This informs your future content, opt-ins, and even products and services.
On the other hand, be sure to check your quiz performance as well. Check conversion rates and bounce rates to see whether or not more people are participating or if they leave your site before completing the quiz.
Conclusion
It's time to design your own high-converting quiz. Be sure your quiz adds value to your consumers' lives by helping them know that they belonging to a group. Let your clients and customers test their information and become a part of your company through your quizzes.
Leads are a natural collection from quizzes, but the most essential part of quizzes is that your customers will start identifying with your brand. Through quizzes, your clients are becoming your brand ambassadors.
Top Image Credit: John Schnobrich; Unsplash