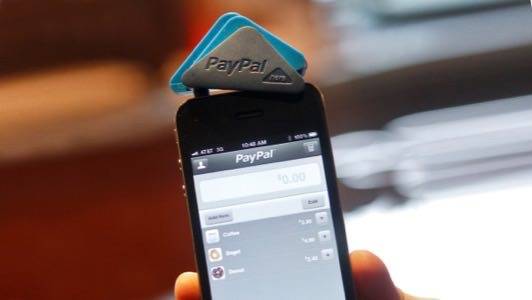 As the world moves at the speed of technology, the way you pay for it all needs to be fast, secure and broadly available. PayPal has been filling that role online for more than a decade.
Initially launched as a way to let people pay for goods and services online without sharing your credit card information, PayPal has expanded its range of Internet financial services to let people not just pay online with PayPal, but now in stores and via their phones. As currencies continue to go digital, PayPal is helping lead the way toward the digital wallet – and beyond.
Available Wherever You Are
Sheer breadth of availability is one of PayPal's most alluring but most overlooked features. The service is available in 190 countries and supports payments in 25 different currencies. Millions of merchants in the U.S. and globally accept PayPal. PayPal is also widely accepted by millions of active users, making it a safe bet that you or someone you know has a PayPal account.
But that's only part of the story. Users can also download the PayPal app for mobile phones or tablets to help manage account and receive deals. They can also conveniently make purchases using PayPal when shopping via mobile phone. Thinking about that new set of skis while you're on the beach? PayPal can help make that happen.
Thinking beyond the browser, PayPal has launched an effort to make itself available in other venues. The service can already be used offline at such stores as Jamba Juice, Home Depot, Abercrombie & Fitch and Foot Locker.
While shopping at a store that supports PayPal, you can make your purchase in a couple of ways. First, you can type in your mobile phone number and your PayPal PIN to complete the transaction. You can also swipe your PayPal card. It's automatically attached to your digital wallet.
For coupon fans, PayPal has also eliminated the need to clip and carry paper coupons – PayPal sends you relevant coupons for you to choose which ones you want to save to your account, then, they're automatically applied when you make a purchase using PayPal. With PayPal, all your debit and credit cards, money and bank accounts are stored in one virtual location, giving you the flexibility to pay with the card or account of your choice. You can also set up your PayPal account to link your favorite loyalty cards. When you pay with PayPal, you still get your miles, rewards, or even cash back.
Security Where It Counts
PayPal is not a bank, but since it's been the financial platform of choice of eBay for more than a decade, PayPal's security and privacy systems have been battle tested. PayPal keeps your financial information private and protected when you shop. You never have to give out your financial details to merchants or sellers – because they are secure inside PayPal.
To pay with PayPal online, you need only your email address and a password. When paying offline, you need either a mobile phone and a PIN, or a card that is linked directly to your PayPal account. Either way, you don't have to retype and share your sensitive information at various merchants. Rest assured, this takes nearly all of the security risk out of shopping. PayPal also includes a stringent fraud protection program that protects shoppers from any unsolicited financial transactions.
You can also receive payments through PayPal. If friends or family owe you money – or if you're collecting funds from various people to pitch in on a gift – they can send you the money via PayPal. All they need is your email address linked to your PayPal account. Even better news is that it's very fast – as soon as the money is sent, it is available for the recipient to use. Unlike waiting for a check to clear or your account to be credited by a card company, you don't have to wait for funds to be reflected in your account with PayPal.
Innovation For E-Commerce – Moving It To Offline
PayPal offers multiple offline solutions depending on the size of the merchant to accommodate their needs. For example, PayPal Here offers solutions for small merchants that don't have a permanent location, such as home remodelers, caterers, make- up artists, booths at a farmer's market, etc. PayPal also has a mobile check in solution for small to midsize merchants that do have a storefront and need inventory management – but don't need the full integration mentioned above where consumers pay using mobile phone and PIN or with a card.
In these smaller stores, customers can pay through the PayPal app on their smartphones by "checking in" to the store through the app. The customer's photo pops up on the cashier's screen and when they're ready to pay, the cashier uses the photo to verify identity, taps on it, and the transaction is automatically paid through the customer's PayPal account. No cash or credit cards ever trade hands.
The company has fine-tuned its financial services to accept payment methods such as bank deposits, checks and money orders, escrow payments and credit cards. Instead of using embedded chips in credit cards to authenticate, PayPal relies on cloud-computing services to secure information and provide always-on access to finances.
As the world becomes more digitized, a fast, secure and broadly available financial system is increasingly critical. PayPal is in a unique position to deliver that functionality and help digital wallets become the de-facto standard for even basic transactions. And the new payment options can only help shoppers by making it easier to buy what they want, when they want, where they want, and how they want.